Kranji racing 101 for Sabah jockeys
Five jockeys from the Royal Sabah Turf Club are currently touring Kranji to gain further experience in all things horse racing.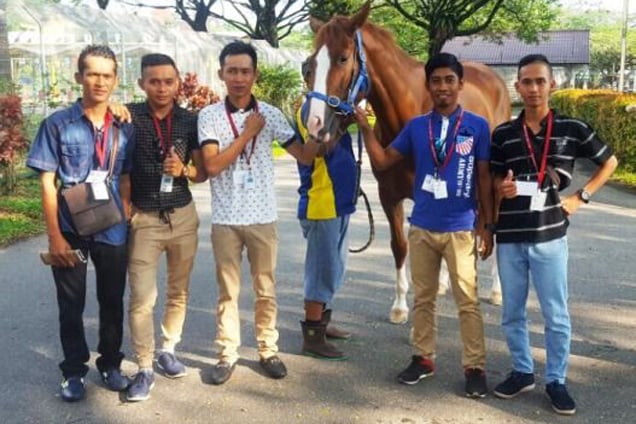 Accompanied by the Club's Director of Racing John Gorton and Committee Member Ronald Ubing, Nazri, Mohd Sairie, Iduan, Fazli D and apprentice jockey Clinton have already visited the main track, watched trackwork, barrier trials, met with other jockeys and trainers, as well as having a go on the mechanical horse, all under the watchful eye of Singapore Turf Club Riding Master Damien Kinninmont.
The five young lads were all excited to meet Kranji-based fellow Malaysian jockeys like A'Isisuhairi Kasim (Kelantan) and Amirul Ismadi (Ipoh) as well as former jockey Saimee Jumaat, and now assistant-trainer to Sonny Yeoh.
While the four senior riders have already shared more than 200 wins between them at the sole Sabah racecourse north of Kota Kinabalu (Clinton has yet to open his account in 16 rides), they all avidly absorbed every morsel of advice handed to them.
Gorton, 71, a former South African champion jockey (won the 1967 July Handicap on Jollify, dead-heating with champion Sea Cottage and the 1969 English Oaks on Sleeping Partner) who rode around the world including England, Australia and spent time developing racing in Mongolia before landing the job at the Royal Sabah Turf Club, explained that Sabah racing was gradually phasing out its pony racing towards thoroughbred racing, and one of the long list of steps to achieve that aim was to give their locally-trained jockeys a chance to immerse themselves in other racing jurisdictions.
Singapore was for one an ideal training platform as the Singapore Turf Club has often lent a helping hand to its East Malaysian counterpart.
"We are aiming to tighten the law of our racing with a Sabah twist. For example, we want to establish a horse rating system for the 40-45 thoroughbreds (mainly from New Zealand) we have, but also for the 300-odd ponies," said Gorton at Kranji on Tuesday.
"We would also like to become a member of the Asian Racing Federation. We are aware there is a lot to do, but we are slowly getting there.
"This visit is just one of those many steps, and it is to give our jockeys the opportunity to learn about other racing centres.
"We race all year long, every Sunday between the 1st of November to the 31st of October. So, they get a lot of chances to ride in races, but to see first-hand how things are done elsewhere can only be beneficial to them.
"Of the five, only Sairie has been overseas when he went to Wuhan in China to ride at an invitational meeting.
"The help we have received from the Singapore Turf Club over the years has been fantastic and that's why Singapore is the best place for such a visit.
"The facilities are also great and the boys are also familiar with the racing here as we show Singapore races 'live' on TV at the races back home.
"We also have a few horses who raced in Singapore now racing in Sabah like The Comedian and Argy Bargy. So, there is a close relationship with Singapore."
Sairie, 28, who has ridden more than 100 winners and is currently second on the Sabah ladder behind Nazri, was thrilled to bits with the five-day visit which will also include attending Friday's night meeting.
"I have learned a few new things about balance and rhythm from Mr Damien," said Sairie, who was the only one who could speak English.
"I will try and apply what I learned when I go back home. Mr Gorton helps us a lot, too, in telling us what we do wrong.
"My favourite jockey is Joao Moreira. I know he used to ride in Singapore and is now in Hong Kong.
"I like his style, but I have my own style. I hope I get the chance to ride in Singapore one day, why not?"
Kinninmont said he was quite impressed with their riding ability, even if Clinton was the one who was obviously the least experienced of the bunch.
"It's great to have those five jockeys from Sabah here to gain a bit of overseas experience. John is himself a bit of a legend and has done a great job with them," said Kinninmont.
"It's too short a stay for me to teach them everything, but I tried to expose them to training techniques that may not be available in Sabah, like the mechanical horse and even the bouncing ball.
"I wanted to teach them how to improve their balance and at the same time strengthen up their leg muscles. It's all about going back to basics."