Lucky Six wins his lucky sixth at big odds
The shock of the night had to be $203 longshot Lucky Six springing back to winning form in the $60,000 Class 4 Division 2 race over 1200m on Friday night.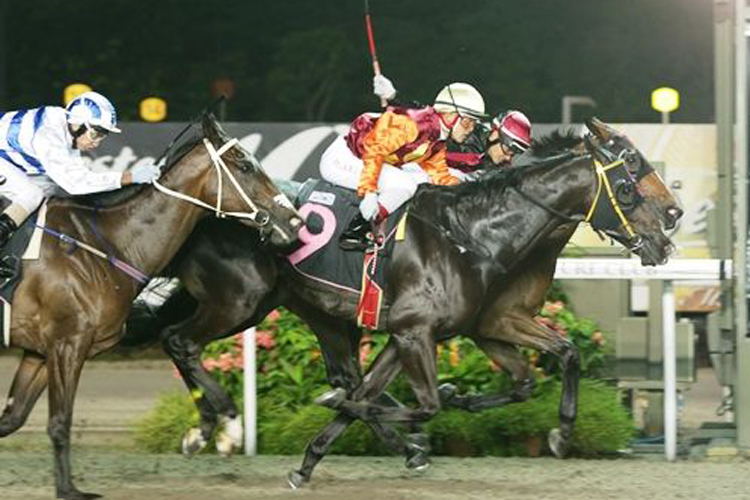 No doubt the Red Arrow six-year-old has ability, but his last two outings after a come-from-behind win in Class 5 company had been lacklustre.
Unwanted in the betting, Lucky Six
, however, looked in a winning mood when he was parked in a gun spot by jockey Mohd Zaki from dispatch, albeit three wide outside leader Elise (Benny Woodworth) and favourite Columbus (Saifudin Ismail).
Swinging for home, a royal showdown between Elise and Columbus was shaping up, but they had not reckoned with Lucky Six who was not getting shaken off so easily.
At the 200m, it was clear that Columbus was done for, but not Lucky Six who kept chipping away at the margin on Elise, who was also not shirking a fight.
The pair flattened out and lunged at the post, but the photo print showed that Lucky Six on the outside had got the money by a nose from Elise. Columbus compounded late to lose third place to Auspicious Ace (Alan Munro). The winning time was 1min 11.31secs for the 1200m on the Polytrack.
At the winner's enclosure, winning trainer Leticia Dragon was pleased the Happy Life Stable-owned gelding had come up trumps in the most unexpected fashion.
"He's always been racing in good form and tonight he was around his winning weight of 510 to 515kgs," said Kranji's only lady trainer.
"He is pretty honest and he has put in another gear in the last couple of months. It's great for the owner who has been a great supporter of mine from Day 1 and on Sunday they have another good horse running, Wonderful Era.
"I've had a tough season last year with most of my horses reaching their mark. But some of them have dropped to the right level now and things are improving for us."
Zaki, who is better known for winning his races from the front, said he only heeded Dragon's instructions to take a sit in behind.
"The instructions from Leticia was to ride him in third place," said Zaki in his usual no-nonsense style.
"I was able to do that and it paid off. The horse quickened when I asked him and we just beat Benny's horse."
Lucky Six has now brought his stakes earnings past the $200,000 mark for the Happy Life Stable with that sixth win.