Moment of truth for Chopin's Fantaisie
The Michael Clements camp is banking on a rise in trip to the mile for exciting prospect Chopin's Fantaisie to bounce back to winning ways on Sunday.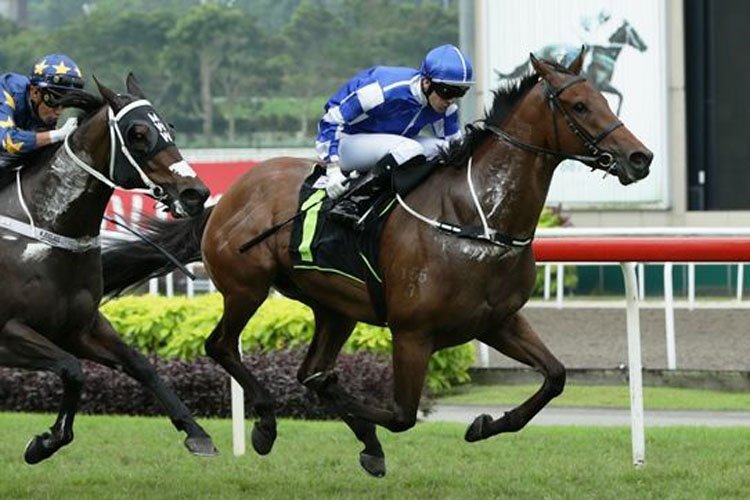 The Pins four-year-old had been on a roll with five wins in a row until Eclipse Splash beat him to it in a Class 3 race over 1400m at his last start on August 28.
Ridden by Glen Boss for the second time, Chopin's Fantaisie was further back than usual, but still did his best work at the finish to run second only half-a-length away.
Clements has saved the Jubilant Racing-owned four-year-old for three weeks before launching him in Sunday's $100,000 Open Benchmark 83 race over 1600m.
On paper, it looks like Chopin's Fantaisie
does not have any rivals who can measure up with him, but connections were still treading carefully. To them, that race will give them a better idea if the goals they are setting for him are realistic or not.
"He will have to win well this Sunday. We are eventually looking at the Gold Cup for him, but that race will dictate where we go from here," said assistant-trainer Michael White.
"It's unlikely he will go to the Kranji Mile but the Raffles Cup and the Gold Cup are options we are looking at for him.
"The Kranji Mile is in two weeks' time. We would rather look at a BM97 race over 2000m which will be run on the same day.
"Currently, he is a bit lowly-rated on 76 points. He has done everything we wanted him to do, but this run will tell us if he can get ready for better races."
White, or "Chopsy" as he is more commonly known as, said the writing was on the wall at his last run that he was cherry-ripe for longer journeys.
"He caught us by surprise at his last start. He was more dour than usual," said White who is still filling in for Clements who is currently away in South America.
"In work, he is incredibly lazy and he can be quite hard to read. Like yesterday morning during his gallop, he was just going through his motions.
"Vlad (Duric) will jump back on him this Sunday as he will carry 58.5kgs which works out well for him."
The current leading jockey in the Singapore standings missed the last two rides on Chopin's Fantaisie through suspension. He is obviouslu looking forward to his reunion with the promising galloper.
"I haven't ridden him since my last ride on him (June 26 when victorious in a Class 4 race over 1400m)," said Duric.
"I think the 1600m is much better for him as I always felt he was a horse who was looking to go further. I'm pretty sure Bossy would have said the same thing at his last start.
"I think there was an on-pace bias to the track which worked against him on that day. I actually rode Big Man in that race and we sat outside the leader.
"I really think that race was overall against his pattern. To finish the way he did, it was still a huge run."
Duric was, however, not too impressed with the barrier they were handed on Sunday – 11 from 12.
"He's drawn wide, and that means we will have to go back a little bit again. Anyway, I think he's like that sort of horse who likes to get back, balance up and finish off.
"It's the Long Course C, anyway, so he should have plenty of time to unwind."