NZ breeder proud of his Guineas, Saas Fee runners
Trainer Michael Clements and owner Joe Singh got off their seats when rank-outsider Hip Hip Hooray came within a whisker of pulling off the impossible in the $200,000 Group 3 Saas Fee Stakes (1400m) on Sunday, but they were not the only ones.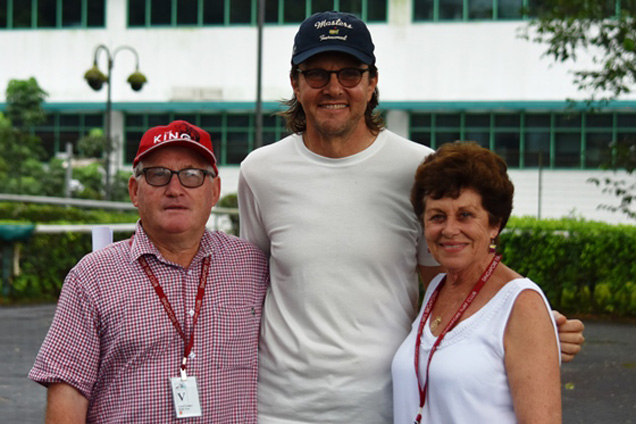 His New Zealand breeders Peter and Heather Crofskey were also in the stands, and just could not believe their eyes when the horse they bred by Tavistock out of Pins mare Timpin was being hailed as a most unlikely protagonist in a tight three-way battle.
But the winning post came a fraction too late. Clements, Singh and the Crofskeys came so close to letting out a loud Hip Hip Hooray, both as their pride and joy's name and cheer all wrapped in one, but the dead-heating pair of War Affair
and Storm Troops finished a touch better to deny the $765 shot by a short head.
The Crofskeys made the trip all the way from a small village in Taranaki called Lepperton to Kranji over the weekend to not only watch Hip Hip Hooray
, but also Countofmontecristo
, whom they also bred.
Unlike Hip Hip Hooray, a lot was riding on Countofmontecristo (x Echoes Of Heaven out of Towkay mare Replicate) as he was going for the Triple Crown in the Singapore Three-Year-Old Challenge. After sweeping the first two Legs, all he needed was to win the third and last Leg, the Group 1 Singapore Guineas (1600m), but he unfortunately came up short, running third to Forever Young.
Like a father who cannot split his kids, Crofskey was equally excited to see two horses he saw from "little bubbas" gambolling around on his dairy farm to contesting Group races in faraway Singapore!
But racing can be a funny old game and it was the less fancied half of the pair who gave him and his wife a few more goosebumps!
"It was so exciting to see two horses I bred run in Group races here on Sunday," said Crofskey whose best horse he every owned and bred was 2013 New Zealand Derby winner Habibi.
"It's just a coincidence they're both owned by Mr Joe Singh and trained by Mike Clements. We just bred them and they ended up in the same yard!
"Both ran very well, even if they didn't win. We love horses and to us, what matters more is to see them go around doing their best.
"But I have to say, Hip Hip Hooray made my heart beat faster. I really thought he could go all the way under little Zaki, but unfortunately he just got beat.
"I think he actually came back to put his head back in front after the line. That was such a great run."
Crofskey were again seen at the barrier trials on Tuesday, enjoying a hot cup of coffee while taking in another facet of racing in Singapore.
"It's our first visit to Singapore and Kranji for Heather and myself, and we had a really great time here," said Crofskey who has been breeding horses for around 15 years.
"The track and the facilities are outstanding. Down from where we watched the race on Sunday, we could really feel the crowd atmosphere.
"We've never met Mike Clements before, but he's a very nice man, quiet and unassuming, and we're glad to see he's having a great season.
"I hope to see more of my horses coming up here. You need horses to be on the speed here, and right now I have a Per Incanto two-year-old who might be a nice horse for the races here."