Peters and Thompson team up for big upset
Irish-bred galloper Black Jade sprang a $153 shock to hand both trainer James Peters and jockey Ben Thompson their first 2019 winner on Friday night.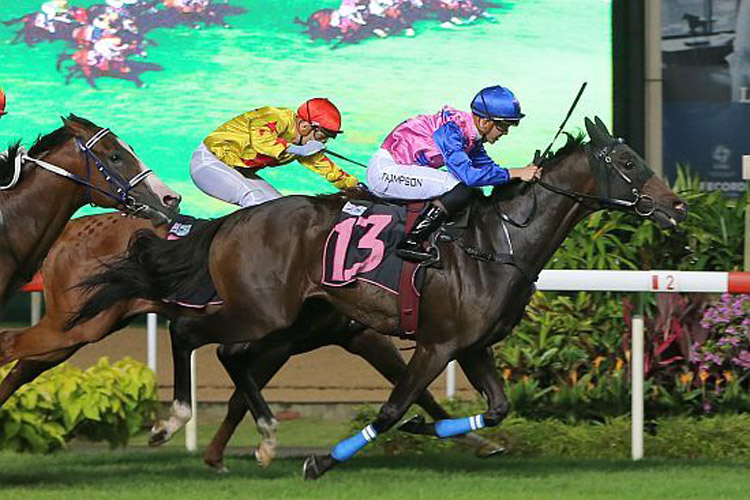 In a handy field made up of the likes of impressive debut winner Heliosphere, Lord Of Cloud, Shahbaa and former Gai Waterhouse galloper Sun Marshal (ex Han Xin), not many had included Peters' two-time UK winner (when known as Firefright for trainer Jeremy Noseda) in their calculations.
Though Black Jade
had one second place to show for at Kranji, his other five starts have not been much to write home about.
Even when he took up a prominent spot in the $70,000 Kranji Stakes C race over 1400m, third behind Red Dawn (Matthew Kellady) and Sun Marshal (Vlad Duric) but three wide without cover, most thought he would bow out once the top picks take centrestage.
But at the business end, the big guns were misfiring, except for Sun Marshal who was slowly getting the upperhand of Red Dawn. On the other hand, hot favourite Heliosphere (Daniel Moor) looked all at sea a couple of lengths astern, nowhere as clinical as at his debut win.
Suddenly, a whiff of an upset was in the air. Black Jade had not dropped out of the picture; on the contrary, he was the one shaping up as the biggest threat.
Both Red Dawn and Sun Marshal capitulated when he came poking his head in front to eventually salute the judge by half-a-length. Sun Marshal took a laudable second place while Heliosphere eventually sprouted wings when he found daylight, but could only run third another head away.
The winning time was 1min 23.16 secs for the 1400m on the Long Course.
Peters said he knew Black Jade was not without ability, but it's taken some time to work him out.
"He's a tricky horse. He doesn't like to be in a closed space, even in the barriers, he is claustrophobic, he gets worked up," said the British handler.
"He showed good form back in the UK but it took him a while to perform here. He's quite a difficult horse.
"But he was nice and relaxed tonight. Still, on paper, I thought the field was too strong for him.
"I would have been happy if he ran third or fourth, and I'm very happy he won. I can't see why he cannot run a mile here.
"Ben is a great rider and gave him a perfect ride as well. I'm also happy for the horse's owners Dr (Kai Chah) KC Tan and Christopher Tan (T & T Stable).
"The sire Dragon Pulse is actually a horse Dr Tan raced as well, and that's his first winner in Singapore."
While Black Jade was not Thompson's first win at Kranji, it was still a significant milestone for the 21-year-old rider - his first winner under a new one-year licence for the 2019 Singapore season.
Last November, he came up as a short-term visitor, scoring aboard Mister Yeoh in the Group 2 EW Barker Trophy (1400m) for his first career Group win.
Friday's win was arguably not as high-profile, but he still got a special kick from beating one of his former seniors in Victoria in a tight finish, two-time Singapore champion jockey Duric.
"It's an almost perfect way to start. I can't thank James and the team enough for tonight's winning ride," said Thompson who did not ride any winners at his first 2019 meeting on January 6.
"I remember how I looked up to Vlad when I was riding in the bush, and he then came up here.
"He is a topline jockey and not easy to pass. It's nice to get the win tonight.
"This is a new challenge in my career, and hopefully I'll be riding more winners from now on."