Placais bids Kranji adieu with fond memories
Olivier Placais is bowing out of Singapore having all but given up on leaving with a first champion jockey trophy in his suitcase, but one still packed with fond memories.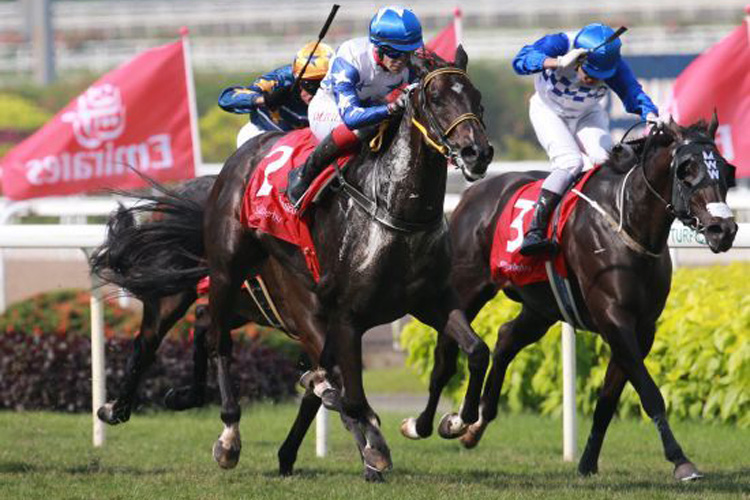 The French jockey from Angers, popularly known as "The Conductor" due to the way he vigorously wields the persuader like a baton, was not renewed for another licence for the 2019 season at Kranji.
For a couple of weeks, the 34-year-old was neck-and-neck with Vlad Duric and Michael Rodd in this year's championship bout, but has since lost steam.
The title decider will most probably be sorted between the two Australians on the final day on December 9. Mathematically, Placais being third on 65 winners, six winners behind Duric (Rodd is on 69), still has a faint hope of toppling them, but remained realistic.
"It's over. My rides are okay, no standouts, and even if I win seven, Vlad and Michael must not win any races, which is very unlikely," said Placais whose pet horse Super Fortune (rode him at all his five Kranji wins) will even be ridden by Rodd on Sunday.
"I was booked on Nowyousee, but he was scratched. Super Fortune was my favourite horse, but someone else has to ride him now."
While sad he was at the dawn of his farewell weekend at a place where he has notched up a total tally of 189 races including three at Group level, the highlight being no doubt the Group 1 Emirates Singapore Derby with Jupiter Gold in July, Placais thoroughly enjoyed his Singapore sling.
The former Jean Lesbordes (of Urban Sea fame) apprentice jockey first landed in Singapore at the invitation of ex-Kranji trainer Arnaud de Moussac as a fresh-faced apprentice jockey just out of his time from 2002 to 2003, before coming back in 2009-2012 and finally in 2016-2018.
With the final season being the most prolific on 65 winners, it unsurprisingly etched the most lasting impression, one painted in nippon colours.
"My biggest thanks will go to Mr Hideyuki Takaoka. At my third stint here, things were average in the first 1 ½ years, but my season really went through the roof this year thanks to him," said Placais.
"He has supported me with a lot of horses and winners, none bigger than Jupiter Gold in the Derby. I'd also like to thank Mr Masa Otani, his main owner and Mr Kaz Hosaka, Jupiter Gold
's owner.
"The thing I really appreciate with Mr Takaoka is we have a good understanding together. He's a true professional and never ties me down to instructions; he trusts me.
"If he disagrees, we will discuss and will always find a common ground. I work his horses every morning and he appreciates my feedback.
"I also enjoyed working with his senior track rider Ryo Hatano who is to me the best track rider at Kranji."
Placais did not forget other people who played more than a bit part in his Singapore success.
"I can't list down all the people I'm indebted to, but special thanks go to Titanium Stable, Falcon Stable, Michael Clements and Lee Freedman who supported me with a lot of good horses," he added.
"Daniel Meagher and James Peters are two young trainers who supported me a lot as well, but they were also two very good friends."
Placais said he would be enjoying his usual Christmas break before worrying about next year.
"I am taking a break for a while. I will spend Christmas in France with my family, a festive season I always look forward to," said Placais.
"I will then have no other choice but to go and look for another job elsewhere. It's a pity as I really loved Singapore and gave it my all.
"I've worked really hard, the first to show up on Monday morning and the last to leave on Saturday morning. I don't count the rides.
"Even when I was injured, like when I fractured my sternum, ribs, right hip and toes, I rode through until the pain was unbearable.
"But that's the way it is. Life goes on, I must look at other horizons, and hopefully, I can come back one day."