Polytrack expert Crouching Sun sees out the mile
Connections' unwavering belief that Crouching Sun could run out a strong mile was vindicated on Sunday despite an earlier failure.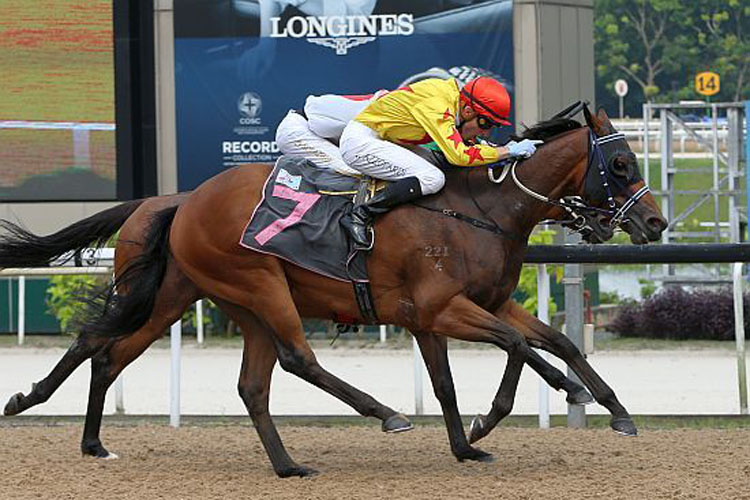 After his debut win in a Polytrack 1200m race last August, the son of Street Cry was gradually stepped up (via 1200m and 1400m) to 1600m, but to Macau owner Cheng Ting Kong's dismay, he did not live up to those hopes.
When trainer Lee Freedman tested the four-year-old in a Class 4 Non Premier race over the Polytrack mile itself in October, he went ordinary – finishing a distant seventh to Molineux.
Brought back to short sprints this season, Crouching Sun
was back in the swing of things, finishing in the money three times in as many starts, with the late turn of foot shown at his last two outings rekindling hopes he could go the extra mile again.
Lined up in Sunday's $50,000 Class 4 Division 2 race over 1600m on Polytrack, the former David Hayes and Tom Dabernig-trained galloper (when known as Crouching Dragon) settled in an ideal one-out one-back position for Joseph Azzopardi before collaring race-leader Supernova (Zy Nor Azman) at the top of the straight.
The $21 shot was cantering as he levelled up with the rising 11-year-old trained by Bruce Marsh, looking like he could give his 10 rivals the heave-ho anytime he pleased.
But Supernova is tough as nails. For a second, it looked like the veteran of 76 runs and 10 wins could upstage his much younger rival when he came butting his head back in along the running rails, but Crouching Sun gamely held him off by half-a-length in the end.
Sun Pittsburgh (Daniel Moor) ran third another four lengths away. The winning time was 1min 39.5secs for the Polytrack mile.
"We tried him over 1600m on grass and he faded. But the racing manager Jasper Choi still believed he could run a mile, and he was proven right today," said Freedman.
"As he is a dead-set Polytrack horse, I thought let's try him back over the mile but on Polytrack, and it's paid off.
"He looked like he would win easy, but I did tell Joseph that Bruce's horse (Supernova) would be his biggest danger. He was dropping to Class 4.
"This is the second quinella I've had with Bruce today. Earlier in the day, Super Dynasty beat his horse (Dreamer Legend in the $50,000 Class 4 Division 1 race over 1600m).
"Bruce told me I owed him some champagne if he got beat a second time. Cheers, Bruce!"
If not for obvious restrictions on jockeys enjoying a celebratory toast while they still have rides, Azzopardi would have certainly loved to join Freedman and Marsh in the Champagne room. It was his fourth win in only two weeks of riding, but also his first for a famous racing family.
"It's my first win for Mr Lee Freedman, hopefully it's the first of more rides to come," said the Perth jockey.
"He's a lovely tough horse. The inside horse was tough, too, but we had him covered.
"He'll be a nice horse over 1200m to 1600m."
With that second win, Crouching Sun, who had four placings from his previous eight Kranji starts, has amassed around $65,000 for Mr Cheng.