Premier Gateway International Jockeys Challenge Teams
Four riding teams will contest the inaugural Premier Gateway International Jockeys Challenge at Kranji on 25 September, 2018. The composition of Team Asia, Team South Africa, Team Australia and Team UK is as follows:
TEAM ASIA
JOAO MOREIRA (Captain)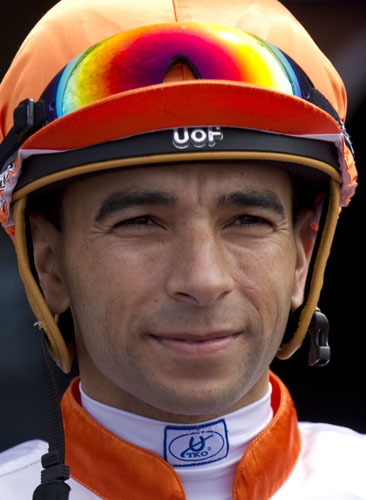 Probably the most popular expatriate jockey to have ridden in Singapore in recent years, Joao Moreira, 34, arrived from Brazil a virtual unknown in 2009, but took Kranji by storm over five seasons, landing four premiership titles, bagging a slew of feature race wins headed by the 2012 Group 1 Emirates Singapore Derby with Chase Me and the 2013 Group 1 Lion City Cup with Super Easy, and smashing record after record.
For example, in 2012, he eclipsed the record of most wins at Kranji when he reached the incredible haul of 206 wins, and the next year, he pulled off an even more stunning feat – his world-famous eight-from-eight on 6 September 2013. The Moreira juggernaut did not stop when he surprisingly left Singapore in October 2013 to move to Hong Kong where he won three premierships, including riding a record 170 winners at his last season in 2016-2017. He also broke a new record in Hong Kong when he rode eight winners on March 5, 2017, a feat considered even more remarkable in the highly-competitive Hong Kong cauldron, even if it was not eight-from-eight like at Kranji.
After losing the last premiership to Zac Purton, Moreira decided to up stumps for a move to the lucrative Japan Racing Association circuit. In just four weeks of riding from July 28 to August 24, 2018, he has chalked up the incredible record of 31 winners in only 75 rides! All up, Moreira, who commenced his career in Sao Paulo in 2000, has knocked in more than 2,600 winners. Besides his big-race wins in Singapore, he has also won a host of Group 1 races around the world, including all four International HKJC races, the Hong Kong Cup, Hong Kong Mile, Hong Kong Sprint and Hong Kong Vase. He has also won most of the other big races in the former British colony such as the Hong Kong Derby, Audemars Piguet Queen Elizabeth II Cup, Champions Mile, Hong Kong Gold Cup, among others. Elsewhere, the other Group 1 races he annexed are the Coolmore, Newmarket Handicap, Epsom Handicap and Oakleigh Plate in Australia, and the Dubai Turf, Dubai Golden Shaheen and Al Quoz Sprint in Dubai. Besides Brazil, Singapore, Hong Kong, Australia, Dubai and Japan, the globetrotting jockey has also ridden in Argentina, France, Uruguay, USA, South Africa, England, Germany, Malaysia, Macau and Sweden. He also won jockey's challenges in South Africa, Japan, Hong Kong and UK's Shergar Cup (team).
VLAD DURIC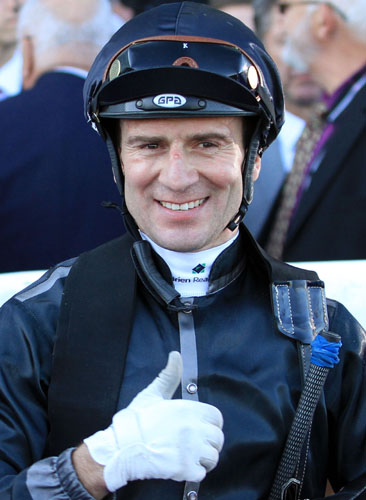 Reigning Singapore champion jockey Vlad Duric, 41, is at his seventh season at Kranji. Formerly based in Victoria, the Australian jockey first plied his trade at Kranji in 2009, going on to finish second to champion jockey Joao Moreira in 2010 and 2011. He then returned home before making his Singapore comeback in 2016, picking up where he left off to again finish runner-up on the premiership, this time to another Brazilian, Manoel Nunes.
He eventually went on to claim his first champion jockey title in 2017. He currently leads this year's log on 55 winners with his overall career tally standing at around 2,100 winners. Besides his Group 1 Caulfield Cup win with Master O'Reilly in 2007, by far his highest acclaim on his honour roll, Duric has notched several other feature wins in Australia, from his first Group 1 success in the Sir Rupert Clarke Stakes aboard Bon Hoffa to his last win before he moved to Singapore, the Group 1 Underwood Stakes aboard Mourinho in 2015. Duric has been a major force in the feature races at Kranji as well, landing namely the 2011 Singapore Three-Year-Old Challenge clean sweep with Gingerbread Man, including the Group 1 Singapore Guineas, and the Group 1 Raffles Cup with Always Certain the same year.
His feather cap bulged further at his second stint with eight more 'black type' wins, including the Group 1 Lion City Cup with Zac Spirit in 2016, Group 1 Queen Elizabeth II Cup with Quechua in 2016 and Group 1 Giovanni Racing Charity Bowl with Elite Invincible this year. He achieved a personal milestone of 400 wins at Kranji with the same Elite Invincible in the Group 2 Stewards' Cup on June 10, 2018. Besides Australia and Singapore, Duric has also ridden in New Zealand, Dubai, Macau and Mauritius.
TROY SEE
After learning his trade as a jockey for seven years, Troy See, 29, is as close as he has ever been to his first Singapore champion apprentice jockey title, even if his current four-win lead (as of September 13, 2018) is by no means a safe cushion from defending champion and three-peat bidder Wong Chin Chuen. See was caught in a stirring two-way battle with Wong in 2016, but eventually settled for the runner-up spot, coming up short by five winners from his Penang-born arch-rival. His haul of 26 winners that year remains to this day his best record in one season. Currently on 22 winners, he is well placed to better that record with two and a half months left in the season.
See was always considered as a gifted rider during his first three years spent at the Singapore Training Academy for Racing (STAR). After making his riding debut in 2012, he did not take long to ride his first winner, Seize The Day at his fifth time of asking on July 22, 2012, dedicating the win to the memory of his late father Dexter, a former horse owner who had always pushed him to become a jockey. See has since added another 110 winners to his name, but has yet to win a Group race. He will not be at his first jockeys' challenge, though, as he was privileged to be invited to such an event as early as in his second year of apprenticeship in April 2013 when he was part of a five-strong Singapore team contesting an Indian apprentice jockeys' challenge at Mahalaxmi Racecourse in Mumbai.
See did not win a race but he finished as the first Singapore rider home in third place on 17 points. See recently rode overseas for the first time on a Singapore-based horse, Maximus, in the Keeneland Korea Cup in Seoul on September 9. They finished eighth to the easy winner from Japan, London Town.
TEAM SOUTH AFRICA
LYLE HEWITSON (Captain)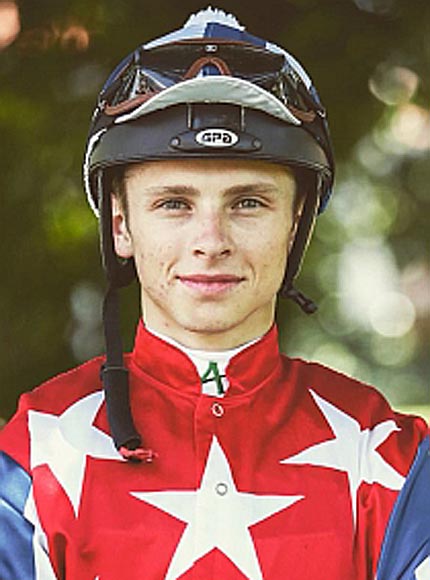 Newly-crowned South African champion jockey Lyle Hewitson is only 20, and already has more than 400 winners under his belt. From young, Hewitson wanted to become a jockey like his father Carl Hewitson, but he was also a good student in school. With his parents adamant he should not stop his schooling, Hewitson started off as a work rider in Durban and Johannesburg, winning several races in that category, finishing on top in 2014 while still studying for his final year. Though Hewitson did brilliantly in his studies, he still chose life in the saddle.
He joined the Jockeys' Academy in 2016 and blitzed through his apprenticeship. Within three months, he outrode his allowance, in other words he had ridden 60 winners in a time when other apprentices would take between two to five years. He was runner-up to Callan Murray in the South African champion apprentice jockey that year before scoring a landslide victory at the following year's championship. On March 6, 2018,
Hewitson's win on Shenanigans broke Gavin Lerena's record of 284 winners by an apprentice jockey. But more pointedly, he became the first apprentice jockey since the legendary Michael Muis Roberts in the early 70s to claim the national title at the last South African season. Incidentally, he also claimed his second apprentice jockey title that season. He rode his first Group 1 winner on Undercover Agent for Brett Crawford in the Rising Sun Gold Challenge at Greyville in June, 2018. He also won on Redberry Lane for Sean Tarry in the Garden Province on Durban July day.
MUZI YENI
The pint-sized but power-packed Muzi Yeni, 31, is one of the most likeable jockeys in South Africa, both for his insatiable hunger for wins and big-race temperament on the track and for his spontaneous friendliness off the track. After honing his craft at the South African Jockey Academy in 2003, initially, he did not fly through the junior ranks, but soon made his mark across all the main centres in South Africa. All-up,
Yeni has racked up more than 1,300 winners including 19 at Grade level and 22 at Listed level. Most notably, he won six at Grade 1 level, the President's Champions Challenge twice on Happy Landing in 2011 and Coral Fever in 2018, the Champions Cup on Master Plan in 2012, the Allan Robertson Cup on Alboran Sea in 2014, the Thekwini Stakes on Lauderdale in 2015 and the SA Classic with Lobo's Legend in 2018. Based in Johannesburg and Durban these days, Yeni also shuttles every Monday to the smaller centre of Kimberley where he won the jockeys' premiership nine times.
Yeni also boasts some experience in jockeys' series as he won one race at an international contest in Korea in 2010, and also represented South Africa in their own International Jockeys Challenge in 2016. Yeni also rode in Greece, Brazil and Mauritius.
ALDO DOMEYER
Son of top South African jockey Andrew Fortune, Aldo Domeyer did not get off to the best start after he decided to follow into his famous father's footsteps. He was told he was 'not good enough' at his first year at the South African Jockey Academy in 2003, but he went back four years later to prove them wrong, riding 200 winners at his first four years of riding. In 2013, he captured his first Grade 1 race, the famous J & B Met aboard Martial Eagle. Currently the leading jockey for Mike Bass and Candice Robinson after spending years as the No 1 rider to the Plattner family,
Domeyer, 31, has racked up in excess of 850 winners, including 21 Group and 18 Listed winners, most notably the Grade 2 Prix du Cap and Grade 3 Cape Derby.
He had short invitational rides in Korea, Macau and Mauritius as an apprentice jockey, landing the Korean event. Domeyer claimed the third spot on Team South Africa late as he had sat in fourth place for a long time on the 2017/2018 season before a late surge saw him snatch the berth from Greg Cheyne, on a final haul of 137 winners, incidentally taking the Cape champion jockey title.
TEAM AUSTRALIA
HUGH BOWMAN (Captain)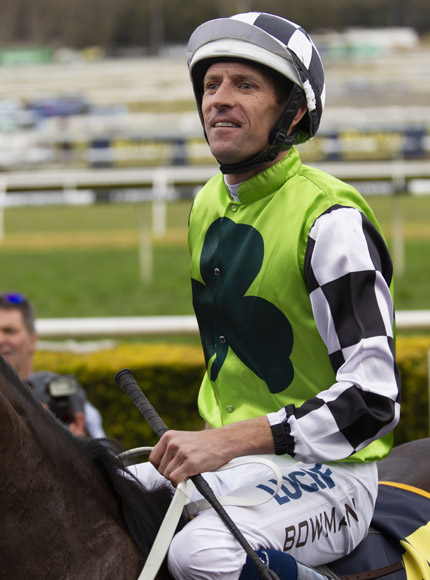 Four-time Sydney champion jockey Hugh Bowman, 38, is the 2017 Longines World's Best Jockey and recipient of the inaugural Bart Cummings Medal in 2008-2009, but is probably better remembered as world champion mare Winx's regular partner. He did his apprenticeship under former champion jockey-turned trainer Ron Quinton, and boasts close to 2,000 winners to his name, including 78 at Group 1 level.
While his three Victoria Derbies (Lion Tamer in 2010, Sangster in 2011 and Polanski in 2013) were long regarded as his career highlights, they have since been eclipsed by his three Cox Plates (2015 to 2017) aboard Winx. Bowman and the wonder mare will bid for an unprecedented four-in-a-row on October 27. Well-travelled, Bowman has also ridden winners in different corners of the globe, including England, Hong Kong and Japan where he won the famous Japan Cup aboard Grand Cheval last year, and of course, Singapore where he is often invited to ride at feature race meetings, coming close with a third on Fastnet Dragon in the 2015 Group 1 Emirates Singapore Derby.
Bowman, who is known for his trademark "she's apples" (thumb and forefinger pressed together), is also no stranger to such jockeys' challenges as he won the Silver Saddle at the prestigious Shergar Cup in 2007, the Longines International Jockeys' Championship in Hong Kong in 2016 and the International Jockeys' Weekend in Mauritius in 2014.
KERRIN MCEVOY
Kerrin McEvoy, 37, is the former second jockey at Godolphin to Frankie Dettori, but is a top gun in his own right. The kid from Streaky Bay is a winner of more than 1,500 races, including more than 60 Group 1 races worldwide, including two Melbourne Cups – Brew (2000) at the age of 20, making him the second youngest jockey to land the famous race after Ray Neville who won on Rimfire in 1948 when he was 16 - and Almandin (2016). It was precisely after a ride (not in victory) in the race that stops a nation in Australia that McEvoy caught the eye Sheikh Mohammed's Blue Army. McEvoy finished third aboard Godolphin's Beekeeper in 2002 and was given the No 2 stable jockey soon after.
After riding 120 winners for the powerhouse operation in Europe, including six at Group 1 level, McEvoy returned to Australia to reestablish himself in the Sydney riding ranks, as the main jockey for Darley, the Australian racing arm, before eventually going freelance in 2014. Straight after the announcement, he won his first Group 1 race as a freelance, the Turnbull Stakes aboard Lucia Valentina.
Last year, he enjoyed another successful season with his win in the inaugural The Everest, the world's richest turf race and Australia's richest race at A$13 million, on Redzel. McEvoy also knows the ropes when it comes to jockeys' series, as he claimed Hong Kong's Longines International Jockeys' Championship in 2013.
MARK ZAHRA
Originally from Western Australia, Mark Zahra, 36, is not as well known as Bowman or McEvoy on the world's stage, but with more than 1,100 winners to his name, including 11 at Group 1 level, he is certainly no slouch. Zahra honed his craft in Perth before crossing the Nullarbor to Melbourne where he has established himself among the Top 10 in the last five years. He did ride for Darley around six years ago, but now rides mainly freelance.
One of the good horses who put him on the map was the Darren Weir-trained Palentino with whom he won two Group 1 races, the 2016 Australian Guineas and the 2016 Makybe Diva Stakes. Last season, Zahra notched a few more Group 1 accolades, namely the Ranvet Stakes with Gailo Chop in March and the Australian Derby with Levendi in April. Zahra is no stranger to Singapore as he did ply his trade at Kranji in 2004 (12 wins) and 2005 (11 wins), riding a lot for John Meagher for whom he actually rode his first Group 1 winner, Mayo's Music in the 2004 Raffles Cup. Internationally, Zahra has not ridden in many countries, but he did take part in a jockeys' challenge in Mauritius in 2016 where he won two races.
TEAM UK
HAYLEY TURNER (Captain)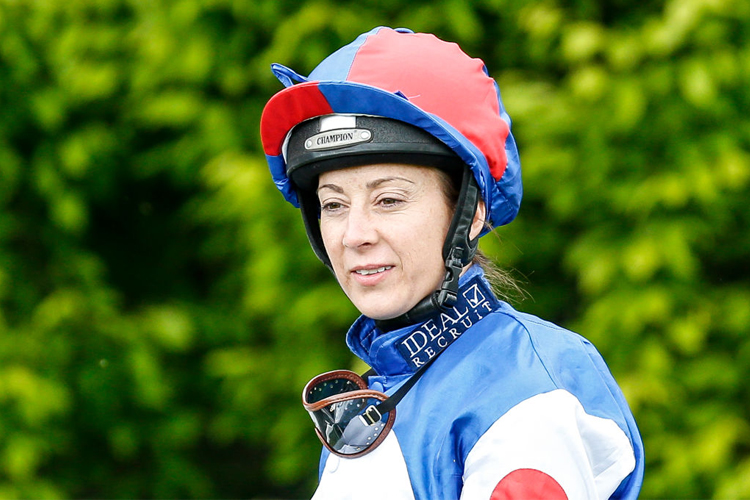 Hayley Turner, 35, is regarded as the one who broke the glass ceiling for female professional flat jockeys in the UK. Before her, the others were riding mostly at amateur level. Crowned joint UK champion apprentice jockey with Saleem Golam in 2005, Turner has won around 780 races, including three at Group 1 level, with Dream Ahead in the 2011 July Cup, Margot Did in the 2011 Nunthorpe Stakes and I'm A Dreamer in the 2012 Beverly D Stakes in the US.
Turner became the first woman to ride 100 UK Flat race winners during a calendar year, when winning on Mullitovermaurice at Wolverhampton on 30 December 2008. She hung up her boots at the end of the British season in 2015, and switched to a media career as a racing presenter with At The Races and ITV Racing. When France introduced the two-kilo claim for lady jockeys in 2017, Turner could not resist the temptation and duly crossed the Channel to resurrect her riding career.
That comeback eventually paved the way to her return to the UK circuit in 2018, which she celebrated with a first Silver Saddle in the Shergar Cup in August after 11 tries. Turner has ridden winners all over Europe, America, Japan, South Africa and Mauritius.
ROBERT HAVLIN
Robert 'Rab' Havlin, 44, is a Scottish-born jockey who began his apprenticeship with trainer John Wilson in Ayr. He then moved to Manton where he had Peter Chapple-Hyam as master. When John Gosden moved at Manton in 1999, he stayed with the top trainer right through, even when the latter relocated to Clarehaven in Newmarket in 2006.
Till now Havlin still rides mostly for Gosden even if he is known to be the unsung hero who rides a lot of his good horses like Enable, Golden Horn, Cracksman, Jack Hobbs at their preparatory work, or even winning at their first start before Frankie Dettori takes over. As a result, Havlin has yet to win any of the British Classics or feature races, but he did ride his first Ascot winner aboard Ardad in the Listed Windsor Castle Stakes in 2016.
He did win some big races overseas, like the 2012 Group 2 Derby Italiano aboard Feuerblitz and the 2015 Group 2 Oaks d'Italia aboard Lovelyn. Havlin won't be at his first jockeys' challenge as he did represent UK at a similar contest in South Africa in 2016.
FRAN BERRY
Fran Berry, 37, is an Irish jockey who first cut his teeth as a National Hunt jockey scoring 38 wins over hurdles, including the Grade 3 Coral Cup (4,248m) at Cheltenham on Khayrawani in 1999. He was apprenticed to his trainer-father, ten-time champion jump jockey Frank Berry. Despite being 1min 72 tall and weighing 55kgs, Berry went on to concentrate on the flat. Though never champion jockey in Ireland, he has often finished in the Top 4 since 2004.
He actually finished runner-up three times (2004, 2005 and 2008). Berry enjoyed his first Group One success on Pathfork for Jessica Harrington in the National Stakes at the Curragh in 2010. That was the year he also became No 1 jockey with leading Irish trainer John Oxx after champion jockey Mick Kinane retired. Among his other black type wins, some of the highlights are the 2007 Group 2 Beresford Stakes at The Curragh with Curtain Call, the 2009 Group 2 Park Stakes at Doncaster with Duff, three Tattersalls Ireland Sale Stakes (2001, 2006 and 2007) which is one of Ireland's most valuable Sales races. In 2016,
Berry moved to England to become stable jockey for trainer Ralph Beckett until 2017. He now rides freelance and has around 1,100 winners to his name. Berry did ride in Singapore once, from December 2009 to March 2010, booting home four winners at Kranji in 30 rides. Besides Ireland, England and Singapore, Berry has also plied his trade in France, Italy, Germany, Switzerland, Hong Kong, India, Dubai, Macau and Japan where he rode four Group winners in 2013 and 2014.