Sam Subian stays positive despite uncertain future
Two months after a successful surgery to his thoracic spine, injured jockey Sam Subian is fully aware he may not be able to walk again.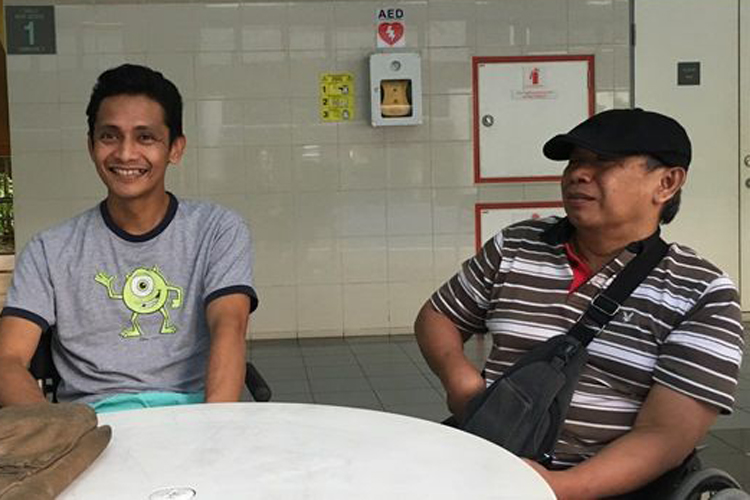 Doctors said more time was needed before a definite prognosis can be made in such spinal injuries, but the 42-year-old has already steeled himself for the worst case scenario.
Till now, Sam cannot feel his lower limbs and feels no strength in his stomach area, even if every day, the brave jockey can feel a bit of improvement after each rehabilitation session.
Sam seriously hurt his back in a Kranji barrier trial on June 13 when he was hurled into the Polytrack after his horse Silver Spoon stumbled over the line in a barrier trial. It was another big blow for the Group 1-winning jockey and son of former top jockey Subian Dalwee, as his career had been plagued by injuries over the years, notably in 2001, 2007 and 2008 when he hurt his back, neck and leg respectively, but this last one may well have been the life-changing one.
A few days after his marathon 12-hour surgery where 39 screws were inserted around his fractured T3, T4, T5 and T6 vertebrae at Khoo Teck Puat Hospital, Sam was moved to the Thye Hua Kwan Hospital, the Tan Tock Seng rehab centre in Ang Mo Kio.
It's been a tough journey coping with learning how to make basic movements like hoisting himself onto a wheelchair from his bed, but Sam is staying in good spirits.
"It's been tough, but every day I can see an improvement," he said from his rehab centre ward.
"At first, I could not even take my own bath, but now I can and I have learned to be more independent. I actually feel motivated when I see the other fellow patients try so hard to learn how to walk again, it's mind-boggling and inspiring to see them.
"I still can't feel my limbs from the waist down, but I am not losing hope I will be able to walk again.
"For now, I am doing simple tasks one by one. I've already set a target to be able to shift to a wheelchair by myself before I leave the rehab centre, which is on August 21."
Uncertain future aside, Sam said the medical costs have been financially draining, but was heartened to know that the local community of jockeys, trainers and owners have rallied round to raise funds to help defray the rising costs of the whole operation as well as post-op care.
"The insurance payout is ending soon. I hope to leave the rehab soon but I am really doing my best to learn about rehab as much as I can before I leave," he said.
"I'm also thankful to the people behind the fund-raising activity. The racing people at Kranji are a tight bunch and their gesture have really touched me to the core.
"Today, former jockey Bakri Tubin visited me and I really thank him for that. For those who don't know him, Bakri had a fall in Ipoh in 1985 when he was only an apprentice jockey, and became a paraplegic.
"It was comforting to have him giving me some precious advice about how he coped. Looking at him, I am even more confident there is life after such an injury, and I remain positive."