Shafrizal hits target on Eagle Eye
Malaysian apprentice jockey Shafrizal Saleh justified the trust placed squarely on his shoulders by his boss Michael Clements with a confident handling of Eagle Eye to a slashing win in the $85,000 Class 2 race over 1100m on Sunday.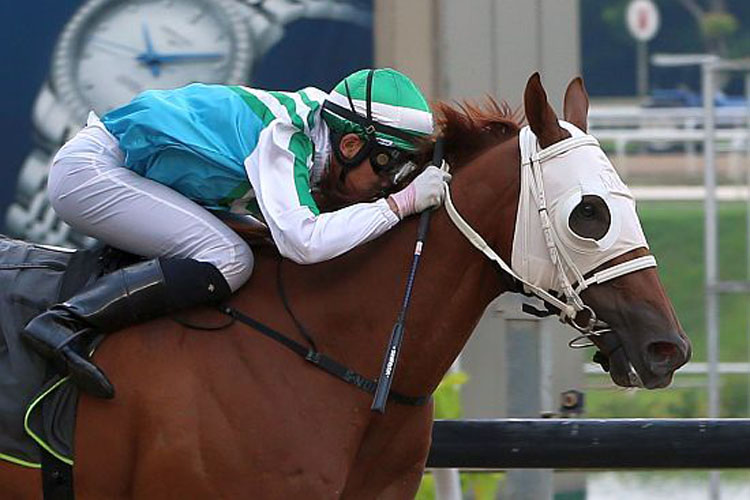 After the agony of losing narrowly at his comeback run – including an unsuccessful protest in the Stewards' room - in a Kranji Stakes C Division 2 race over 1200m on March 24, Clements could have put a more experienced jockey on to make sure he has all his ducks in a row this time around.
Especially as the Thai Kajorn Petch Racing No 5 Stable-owned chestnut had an inclination to lay in under pressure, hence the bumping duel with eventual winner Miss Dusty at that last race.
But Shafrizal acquitted himself superbly, giving the Argentinian-bred Pure Prize four-year-old a peach of a ride despite drawing out the deepest in 10.
Racing three to four wide with no cover while Marine Treasure (Matthew Kellady) dictated terms at a good clip, Eagle Eye showed no signs of tiredness despite covering the most ground from the 10 runners upon straightening.
Swinging the widest, the $34 chance straightaway pounced onto Marine Treasure, who was starting to paddle away at the 300m after burning the candle at both ends.
Eagle Eye
swept past, but that chink in the armour that brought him undone last time out surfaced again - a tendency to hang in under pressure. Shafrizal had to put the whip away and take corrective action twice.
Luckily for his connections, Eagle Eye kept hitting the line well to eventually pull away to a two-length win from Marine Treasure, who had to be credited with a super run given he was at his first 2019 race since his last start in November.
Nowyousee (Michael Rodd) had every chance but stayed one-paced when the winning post beckoned, finishing third another length away while the well-fancied Nova Vocal (Benny Woodworth) ran a disappointing seventh. The winning time was a slick 1min 4.71secs for the 1100m on the Polytrack, 0.55 second outside the record established by Filibuster in 2017.
Shafrizal is currently enjoying his best season since he moved across the Causeway to Clements' yard in September 2016. Eagle Eye was ringing up the Penang-born 31-year-old rider's sixth win - and was by far the best horse among his six 2019 winners.
"This horse has improved a lot in training. He's been getting better and better," said Shafrizal.
"The light weight (50kgs) was also a major advantage. I was worried about the wide gate and the better Class 2 horses he was running against, though.
"But he was travelling very well throughout, and when I pushed him in the home straight, he quickened up really good."
Deputising for Clements who is in the US to attend the Ocala Spring Sale of Two-Year-Olds that begins on Tuesday, assistant-trainer Michael 'Chopsy' White gave Shafrizal a massive plug at the post-race interviews.
"Shafrizal has been a great worker since he's been here," said the Australian horseman.
"He's got a super attitude and he's given Eagle Eye a very good ride."
The note was, however, soured later in the Stewards' room when racing officialdom took exception to the way Shafrizal allowed Eagle Eye to shift in at the 750m mark, causing Raise No Doubt (Noh Senari) to check. He was handed a three-day suspension.
Previously handled by trainer Ricardo Le Grange, for whom he won once – in almost identical fashion as Sunday's – in eight starts in a Class 3 race over 1400m in August, Eagle Eye is a horse White said had a lot of upside.
"He's a quality horse with a lot of ability, even if he shows nothing in his work," said White.
"He was very unlucky at his last start, and that race gave us a lot of confidence going forward. We knew the 1100m would be too sharp, but he's super talented and he can only get better.
"He will definitely get the mile and we could be looking at the 4YO series for him. We'll see whether he gets one more run before then."
The revamped Singapore Four-Year-Old Challenge kicks off with the newly-created Group 3 Silver Bowl (1400m) on June 9, moving along to the Group 2 Stewards' Cup (1600m – which used to be 1400m) on June 30 before wrapping up with the Group 1 Singapore Derby (1800m) on July 21.

Most Read