Siam Sapphire faces Class 3 test this Friday
Recent Class 4 winner Siam Sapphire is tackling a higher echelon of horses on Friday night with assistant-trainer Michael White reasonably confident the Thai-owned galloper can measure up.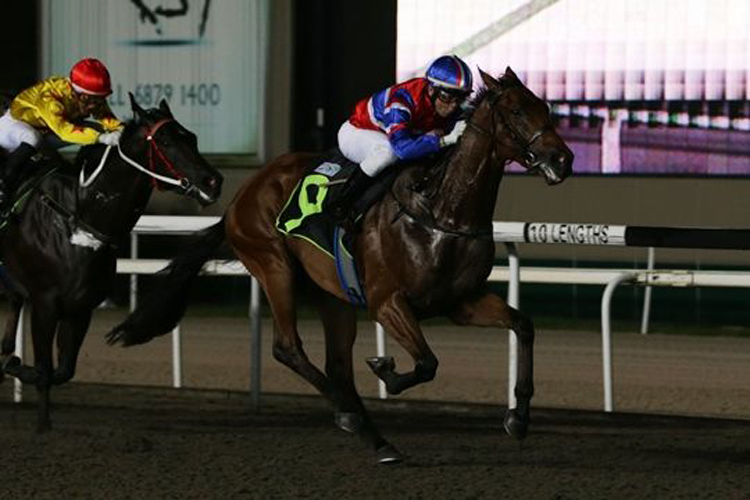 Ridden by Manoel Nunes, the Showcasing four-year-old scored a convincing win at his last start when running for the first time for trainer Michael Clements in a Class 4 race over 1200m on Polytrack on August 18.
He carried only 54kgs then and will have even less lead on his back in this Friday's $80,000 Class 3 race over 1200m – 52kgs.
White said Siam Sapphire
, who used to be prepared by English handler James Peters, has trained on since his win, and should on paper be competitive even if he was aiming higher.
"Siam Sapphire is going really well. It doesn't look like a strong Class 3 race," said White.
"James has had him at that level and we haven't done much to change it. He was always going to come up to that level at some stage.
"He looks well-in and the 1200m on Polytrack seems to be his pet trip at this stage. Why change a winning formula?"
From 12 starts, Siam Sapphire boasts two wins both recorded over the all-weather track, with the first one coming at his Kranji debut in a Restricted Maiden race over 1100m when he was two.
Though he has raced mainly on Polytrack, he did acquit himself reasonably well on turf, with his best performance coming in a Novice race over 1200m a year ago.
He wore blinkers for the first time that day, running a closing third to Awatere, but did not wear any at his last start and won't be wearing any on Friday either. Siam Sapphire, who will have Nunes on, has also drawn marble one.
Meanwhile, Clements' likely Raffles Cup duo of Countofmontecristo and Chopin's Fantaisie are gearing up for their Group 1 assignment over 1800m next Sunday.
Countofmontecristo ran a gallant second to Infantry in the first Leg of the Singapore Triple Crown series, the Group 1 Panasonic Kranji Mile on October 1, and will try and go one better in the second Leg while exciting prospect Chopin's Fantaisie goes straight to the Raffles Cup, and hopefully, the Group 1 Dester Singapore Gold Cup (2200m) on November 12.
"Chopin's Fantaisie will have a blinkers test tomorrow. He's worn them a couple of times in his gallops, but it didn't make enough difference to warrant them on raceday," said White.
"He was always meant to skip the Kranji Mile and go straight to the Raffles Cup. He is looking for 1800m and is definitely a Gold Cup horse, too."
While White could not fault the two big guns ahead of their next Cup chase in Friday, he was less sure about the situation regarding their riders.
"Bossy (Glen Boss) is riding Lim's Cruiser in the Raffles Cup. Vlad could then come off Lim's Cruiser, meaning he didn't have to choose between Lim's Cruiser and Chopin's Fantaisie," he said.
"So, it's only the ride on Countofmontecristo that has been thrown wide open. Manoel Nunes is an option if Infantry doesn't run but your guess is as good as mine whether he runs."
The rare Singapore Derby-Kranji Mile double winner came under an injury cloud after he returned with a deep cut to his nearside hind. Trainer Alwin Tan is now in a race against time to get him fit for the Raffles Cup, failing which he will then go straight to the Dester Singapore Gold Cup.