Takaoka goes for Gold even if Derby profile
Trainer Hideyuki Takaoka is not so sure he has the right Derby horse in Jupiter Gold, but he can only live in hope.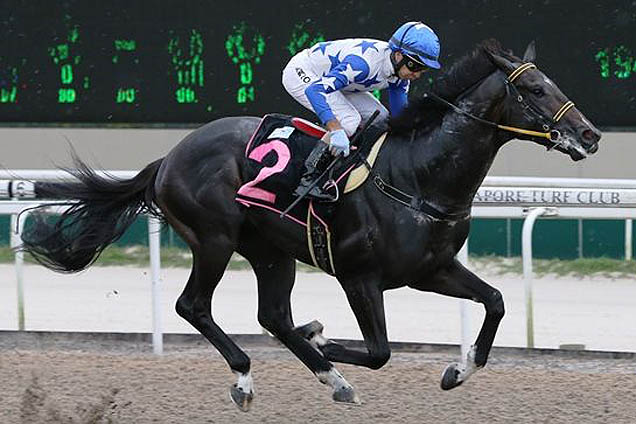 The Japanese handler would know a thing or two about training a Group 1 Emirates Singapore Derby winner. He has two on his list of credentials - Jolie's Shinju (2009) and Better Life (2013), even if the third Leg of the Singapore Four-Year-Old Challenge was then run over 2000m.
But even over the shortened trip of 1800m in Sunday's renewal, Takaoka had his reservations about Jupiter Gold running out the trip, let alone winning it.
Still, the unassuming-looking handler said Jupiter Gold was that kind of horse who might just exceed expectations if he enjoys a ground-saving trip – to him, the only way he would have a kick left in him when the last furlong starts to stretch him.
Takaoka is adamant Jupiter Gold is not a stayer – unlike Jolie's Shinju and Better Life. Previous failed tests over 1800m and even the 2200m of last year's Dester Singapore Gold Cup have driven the message home loud and clear.
The recent smart decision to drop him back in trip was another good case in point. Lined up in a Kranji Stakes A race over 1200m under new partner Olivier Placais (who takes the ride in the Derby) on June 10, the son of Congrats relished the switch back to basics with a thumping win.
It vindicated Takaoka but it did not spell the end of his staying bids, though. Jupiter Gold was then stepped back up to the mile of the Group 1 Charity Bowl on June 24. A two-time winner over 1600m, Jupiter Gold was in contention in the straight, but again, could not finish it off, outstayed by Elite Invincible and Kingsman.
He still pressed on towards the Derby, but Takaoka admitted it was a little against his better judgement, even if he still harboured a silent hope Jupiter Gold's undisputed class can defy logic.
"I still don't think he's a stayer, but you get only one chance at the Derby," he said.
"Yes, we did bring him back to 1200m and he won. The 1800m is a question mark, but if he gets a nice run, who's to say he cannot stay?
"Jupiter Gold is the type of horse who doesn't land in a spot by himself. You need to work on him, and with some luck , he can get into a good position.
"Anything between 1 and 8 in the barriers would be great for him. If he gets a good run where he is not caught wide, he will be right in the finsh.
"But if he draws out wide like in the Gold Cup (16 from 16), you can forget it."
Regardless of the draw (to be effected at a Post Position Draw ceremony on Thursday), Takaoka said that Kaz Hosaka's seven-time winner was in the form of his life even if there were some concerns about his latest recovery rate.
"He was quite tired after his last run. It was a tough race," said Takaoka.
"We freshened him up and luckily, there were three weeks for us to bring him back to his best form.
"I will actually give him a turf gallop tomorrow, it's a first for him. It's not something I often do with my horses, I didn't do it before Better Life won the Derby.
"He's already had his gallop on Thursday, so this one won't be a strong gallop – it's just to wake him up."