Takaoka has Jupiter Gold on course for Raffles Cup
Trainer Hideyuki Takaoka was not disappointed at all with Jupiter Gold's run in the Group 3 Committee's Prize (1600m) three weeks ago.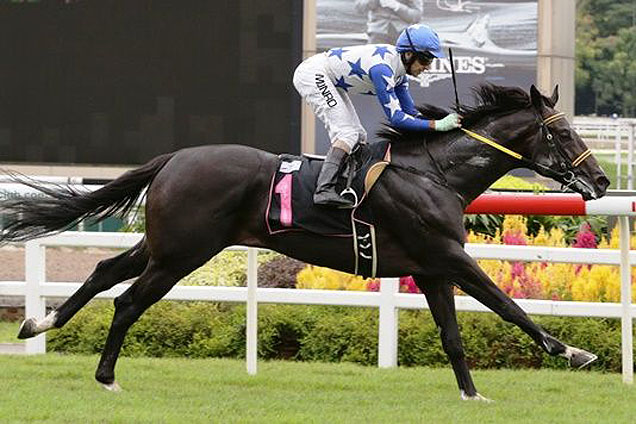 The Congrats rig was first-up since his last place in the Group 1 Queen Elizabeth II Cup race (1800m) in June. Takaoka thought he might need the run, and true enough, he seemed to hit a brickwall as he came with his usual rush inside the last two furlongs.
He did loom as a threat as he launched on the outside shortly after straightening, but eventual winner Twickenham proved hard to peg back, given he had stacked up the speed at his own leisure upfront. Jupiter Gold
did make some ground but it proved insufficient as he eventually had to settle for fifth place 2.2L behind.
The original intention after the Committee's Prize was to head for the Group 1 Panasonic Kranji Mile (1600m) on October 1, but on second thoughts, Takaoka decided to bypass the first Leg of the Singapore Triple Crown series and target the second Leg instead, next Sunday's Group 1 Raffles Cup (1800m) instead.
"I was quite happy with his run in the Committee's Prize. He was not 100% after the long break," said the Japanese handler.
"I decided not to run him in the Kranji Mile and focus on the Raffles Cup instead. He's still very coltish at home, but he's improving, and I hope he gets a spot in the Raffles Cup.
"He's a horse who does not like to be held back, he needs to go on a free rein. We then just allow him to let down."
Takaoka is no stranger to picking and choosing from the three races making up the Singapore Triple Crown, getting right on the money with super mare Better Life in 2012 when he skipped the Raffles Cup, and duly took out the other two Legs, the Panasonic Kranji Mile and Singapore Gold Cup.
Four mementos of the time-honoured classic – when then sponsored by Longines - sit in his trophy cabinet today, three times with El Dorado (2008, 2009 and 2011) and once with Better Life (2012), but Takaoka is not entirely sure Jupiter Gold has the makings of an out-and-out stayer yet.
"He ran over 1800m once and finished last (QEII Cup). I still think he can stay the trip," said Takaoka.
"As for the 2200m of the Gold Cup, we will see how it goes."
Takaoka has not changed the routine with the Kaz Hosaka-trained galloper even if he wished he could do something to change his coltish ways.
"He's still very coltish but he is improving," said Takaoka.
"I wish he wasn't like that, but that's the way it is. Both Alan Munro and I were very happy with his last gallop on Track 2 last Thursday and he will gallop there again tomorrow.
"He seems to have improved. He is taking on more of less the same horses in the Raffles Cup. I still hope for a good run in the Raffles Cup."