Takaoka's mare sure can Dance
Trainer Hideyuki Takaoka may have been stuck in a traffic jam on the way to Kranji, but his smart Japanese mare Dance In The Wind was never in any danger of facing the same predicament as she stormed away from the front to race away with the $80,000 Penang Turf Club Trophy (2000m) on Friday night.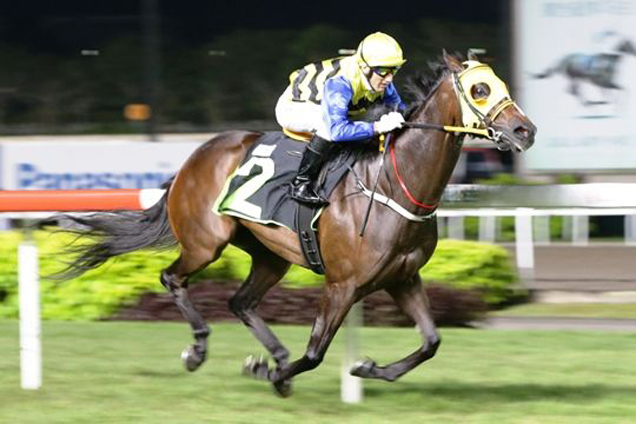 The Japanese handler reached the track in time to watch the race replay on the Astrovision screen before being quickly ushered to the prize presentation dais.
Still gasping from his run to the track, he would probably have had his breath taken away further by Dance In The Wind's superlative display.
No doubt frustrated by the 50 minutes cooling his heels in the traffic snarl, Takaoka could break into a wide smile as he watched the Screen Hero five-year-old lord over her main rivals with a touch of contempt.
Favourite Magstock (Michael Rodd) and Keep Spinning (Vlad Duric), who are certainly no slouch, did try to break into the margin at the 300m, but the moment jockey Derreck David let down the handbrakes, Dance In The Wind
($21) was off and gone, scooting clear to score by 1 ½ lengths from Magstock with Keep Winning third another three parts of a length away. The winning time was 2min 6.03secs for the 2000m on the Short Course.
"I was stuck in a traffic jam outside Kranji for 50 minutes! But that win more than makes up for it – as long as she wins, I'm happy," said Takaoka.
David was also in awe as he watched the replay with Takaoka.
"She is getting better and better this mare. I thought she would be tested tonight, but she beat them easy," said the South African jockey.
"They came up to her, and that's when she finds another gear and leaves them chasing shadows. She's a really good mare, and I knew she was in the zone when she kept twitching her ears throughout.
"She will get in at a low weight in the El Dorado Classic and the Singapore Gold Cup (both run over 2200m). Watch out for the Wind to Dance away!"
Takaoka's senior track rider Ryo Hatano agreed with David that the penny has really dropped for Dance In The Wind.
"We always knew she had ability but she was a bit mental when she first came to us. In many ways, she reminds us of Gold Rutile, the mare who beat Spalato in the EW Barker Trophy," he said.
"Dance In the Wind is similar. At the stable, if you go near her, she will take a bite at you, but I like this kind of character in a horse, it is a good quality."
Takaoka who has won the Singapore Gold Cup a record four times (three times with El Dorado and once with Better Life), was a little less hasty in his future plans for the Galahad Racing Stable-owned mare.
"I am looking at running her in the Chairman's Trophy first," he said.
"We will see how she goes first - one race at a time."
The Group 3 El Dorado Classic is the traditional trial to the Group 1 Dester Singapore Gold Cup and is run on October 22 while the time-honoured classic itself will be run three weeks later on November 12.
The Group 2 Chairman's Trophy (1800m) is a weight-for-age feature race run on August 6.