Tan confident Conflight got his wings back
Fans, connections and even trainer Alwin Tan were starting to give up on seeing the old Conflight again, but a brilliant second at his last run has finally rekindled hopes.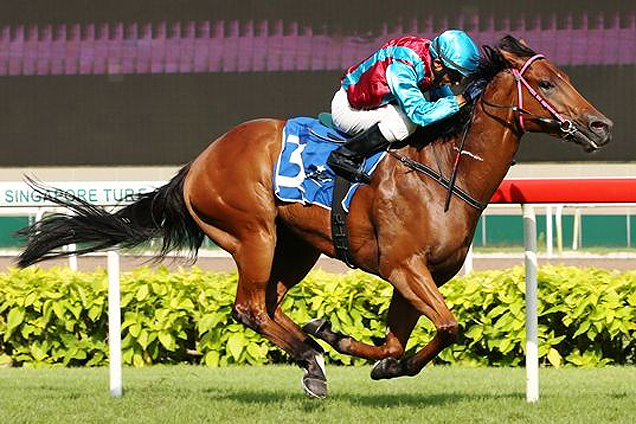 And there is every reason to believe the Group 3 winner could return to winning ways after 14 months in the $80,000 Class 3 race over 1200m this Friday.
Debt Collector
was peerless among the three-year-olds last year, but Conflight
was clearly among the next best, albeit three or four lengths in arrears. Debt Collector skipped only the first Leg of the Singapore Three-Year-Old Challenge, the Group 3 Singapore Three-Year-Old Sprint (1200m), and it was Conflight who stepped up to the plate.
The son of Host did not quite shine at the next two legs, but that was probably because he was found out by the 1400m and 1600m trips, and to compound matters, he sustained a knee chip injury in the Group 1 Singapore Guineas, which explained his dismal last.
After surgery, he was brought back nine months later, but has unfortunately been a shadow of himself in four runs this term.
13th, 10th, 10th and 11th were hardly results expected from a horse who one year earlier upstaged a high-quality 15-horse field in the Singapore Three-Year-Old Sprint.
But the Navaneethasingham Ratnasingam-owned gelding suddenly woke up in a Class 3 race over 1000m on April 30. Starting at long odds of $128, Conflight was caught three deep, but still struck the front at the 300m and looked all but home, only to be reeled in by Super Six inside the last 50m.
Tan is aware one swallow does not make a summer, but one thing he was sure about was that the horse had not lost his ability.
"The horse was fit but he just had no confidence in his runs. I think he got his confidence back at his last run," said Tan.
"He is running on turf this Friday. He's won on turf, which was in the Group 3 race, but he's better on Polytrack.
"It's hard to find a race for him, and I had no other choice but to run him in this race. I checked with the jockey (Oscar Chavez) and the owner, and they both agreed to run him in that race.
"The Singapore Four-Year-Old Challenge was never his goal. For 1400m and 1600m races, I have better horses like Infantry and Nova Strike."
May has proven to be a tough month for the reigning Singapore champion trainer thus far. No winners as yet, and he also lost his mantle of leader to Mark Walker on May 1.
But looking at his bumper team of 20 runners, split two ways between Friday and Sunday, he would be disappointed if his score is not bumped up this weekend.
One race in which he holds a strong hand is the $100,000 Open Benchmark 83 race over 1400m on Friday where he rolls out three runners: Absolute Miracle (Danny Beasley), Robin Hood (Benny Woodworth) and Casing Royal (Chavez).
"1400m is perfect for Absolute Miracle, but I was actually looking at a BM83 race over the mile for the other two. Unfortunately, it was cancelled," he said.
"But no choice, I had to give them (Robin Hood and Casing Royal) a run in that 1400m race as well.
"Robin Hood is coming back after a freshen-up and he is probably only 85-90% fit. The distance is too short, but he will come on further from that run.
"Casing Royal is in great form. He won his last race over 1600m and will be back in trip, but it will be a nice tune-up race for him."
Tan did say after the Showcasing four-year-old's last win that he could pick a path for him in the upcoming Singapore Four-Year-Old Challenge, which kicks off with the Group 2 Stewards' Cup (1400m) next Sunday week on May 28.