Tan-Nunes Strike fifth Group win in Colonial Chief
Three-time Singapore champion jockey Manoel Nunes bids Kranji farewell on a high as Nova Strike storms home to an easy win in the $$175,000 Group 3 Colonial Chief Stakes race over 1700m on Sunday.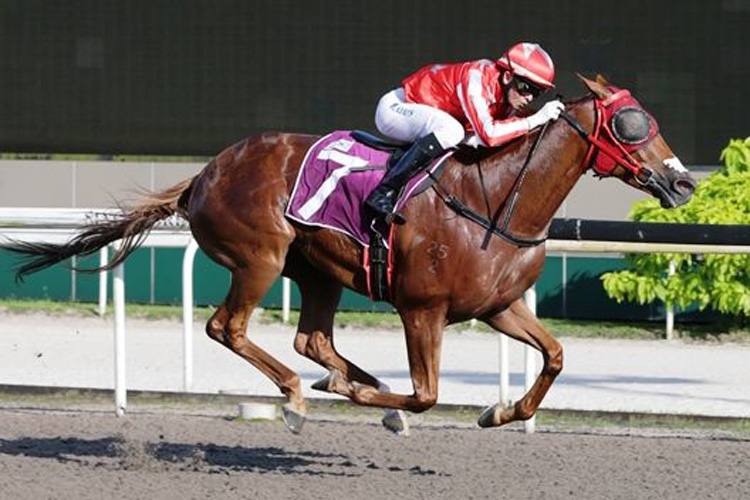 Incidentally, the first success in the traditional last feature race of the year gave the Brazilian jockey and one of his greatest supporters, trainer Alwin Tan their fifth Group win together this year, with the first four won by the highly-rated versatile galloper Infantry (Group 2 Merlion Trophy, Group 3 JBBA Moonbeam Vase, Group 1 Emirates Singapore Derby and Group 1 Panasonic Kranji Mile).
Out of the 77 winners banked in by the 42-year-old jockey this year, 16 were for Tan, which was a strong testament to their chemistry, and that probably explained Tan's unwavering support for the Nunes.
"This year, he (Nunes) won a lot of Group races for me, like the Derby and more," said last year's champion trainer, who saddled two winners this weekend (Master Miner on Friday) and finished fourth on the premiership with 56 wins all-up this year.
"I had a good time with him. He did a good job (with Nova Strike
), and I think the field was not that strong today," said Tan.
"I think this horse is always in form, but sometimes luck is just not with him. He gets checked and stuff, but today he did a very good job."
The five-year-old son of Red Giant was tested in Group races recently at his last three runs, partnered by jockey Shafiq Rizuan, but was either checked (4th in Group 3 Committee's Prize to Twickenham) or came too late in the Group 1 Panasonic Kranji Mile (7th to stablemate Infanry) and Group 2 EW Barker Trophy (8th to Clarton Super).
With regular partner Nunes back in the saddle, Nova Strike was bustled up early to slip into second place, following the Lee Freedman-trained Lim's Archer (Matthew Kellady) who shot to the front from the get-go.
Turning for home, the $24 second favourite accelerated to go past the leader. As Nunes gave him a few cracks of the whip, the chestnut gelding immediately broke loose and raced away with ease, scoring by four-and-a-half-lengths from Magstock (A'Isisuhairi Kasim) who came from the clouds to run second.
Lim's Archer held on well to finish another half-a-length away in third. $18 favourite Fortune Winner (Vlad Duric) was a tad dour and was beaten a short head into fifth place by Mighty Kenny (Barend Vorster).
The Nova Racing Stable-owned Nova Strike wrote a new course record of 1min 42.87secs on the Polytrack over 1700m, a little over a second faster than Dragonfly's record in 2013.
The multiple Group-winning jockey, however, did not go down without a fight with Australian rider Vlad Duric, and now newly-crowned champion jockey in Singapore, over the weekend.
The score was 80 to 74 wins prior to the final weekend meetings, with Nunes six behind Duric. Nunes bagged two winners (Great Seven and Red Riding Wood) whilst Duric had a sole winner in Elite Invincible on Friday, but Duric turned the table further with two winners (Shoqeet and Tannhauser) on Sunday, whereas Nunes stole the limelight on board his only and last winner at Kranji, Nova Strike, making the final score 83 to 77 wins.
It was an emotional victory for the six-time champion jockey from Macau, who began plying his trade at Kranji in 2013, only to come to a halt as his licence was not renewed for the new season.
"I am very glad with the season I had, and I won a lot of Group races this year," recalled Nunes, who has had a successful association with top gallopers like Spalato and Stepitup in previous years.
"The Merlion Trophy, (JBBA) Moonbeam Vase, (Singapore) Derby, Kranji Mile and now to top it off with Colonial Chief Stakes, it's amazing.
"I will take a break now, take a flight to Brazil tonight, and I will see what happens.
"It's a pleasure to be here riding with these guys. I'm really grateful to have had a lot of success."
To the gelding whom he has partnered 21 times to six wins and eight placings, Nunes was full of praise.
"He's a very tough horse, he always tries 100%," said Nunes.
"He's not too big, but he has a lot of heart.
"Lim's Archer went fast in front, but my horse travelled very well in second place, and all the way through.
"I know the horse (Lim's Archer) in front, I knew he was going to stop."
With eight wins, eight seconds and five thirds in 35 starts, Nova Strike has now raked in more than $860,000 for Ivan Onn's Nova Racing stable.