Treble takes Troy See to the top of the heap
Talented apprentice jockey Troy See shared the riding honours with Singapore champion jockey Vlad Duric and Michael Rodd after they all topscored Friday night's meeting with a hat-trick of wins apiece.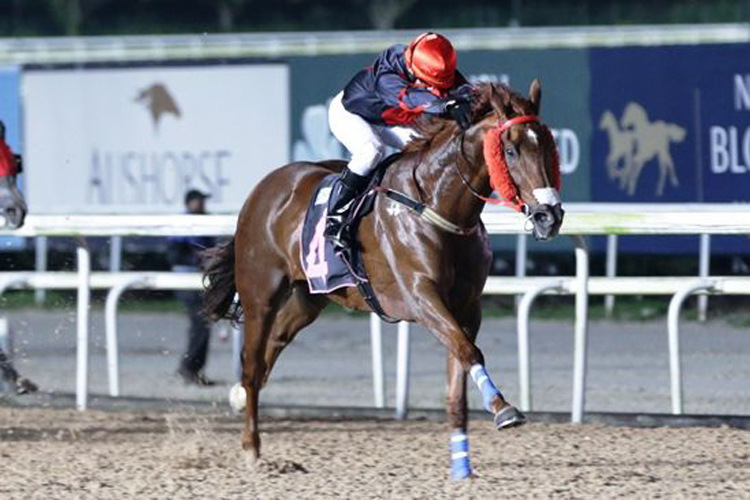 Duric, who was resuming from suspension, achieved his feat earlier, sweeping the last three of his four rides by Race 4 – Per Incharge, Turf Champion and Mr Colin – while See, after drawing first blood in the opener with Mettlesome, later completed the treble with Baymax
and Maximus
.
Rodd was also in red-hot form after he netted a similar haul towards the tailend of the night with Golden Sword
, Draco (see other report) and Baffert, all for his main supporter Cliff Brown.
While the two leading Australian hoops regularly grab the jockeys' challenge, See does not take centrestage as often, and his effort was arguably even more laudable considering he was not on hotpots, except for one.
Mettlesome and Baymax both scored at huge odds - $137 and $120 respectively – for See's master John O'Hara while the Alwin Tan-trained Maximus was on the other hand the $19 favourite in the $80,000 Kranji Stakes C race over 1600m.
A little surprised with the prolific outing, See was nonetheless delighted the new year has begun in earnest for him. Last year, the Singaporean rider had a rollercoaster year where he was once in the mix at the head of the table, but it all went pear-shaped after he was suspended for misconduct during a race (grabbed another jockey's whip in a barrier trial) and after a race (weighing in with a different surcingle).
See said the third pin of his treble, Maximus can run a trip, but his last race over the mile may have been a bit too hasty in hindsight.
"He's bred to stay, but I think the step-up to 1600m may have come too fast, at his last start" said See who thanks to his three wins, takes the lead in the apprentice jockey premiership, ahead of Zawari Razali on two wins.
"He handled it better tonight and I have no doubt he can go over further. I actually dropped my whip at the 300m, but he just kept fighting all the way to the line
"Three out of four makes for a fantastic night. It's good for the New Year."
Sent to the front after a speedy getaway, Maximus, a five-year-old US-bred by Lemon Drop Kid, made play to swing for home as the horse to run down. Black Swan (Michael Rodd) who had looped up the field from far, looked threatening, but was left wanting in the end with Maximus holding his line comfortably to score by 2 ½ lengths.
Macau Group winner Sandtop (Noh Senari) continues to show improvement when he came from well back to take third place, just missing the runner-up spot by a short head. The winning time was 1min 40.9secs for the Polytrack mile.
Tan said the alternative surface was the main contributor to Maximus' fourth win (third for him as the gelding won his first race for John O'Hara).
"I was a little bit surprised by the easy win, but he's a horse who has always liked the Polytrack," said Tan.
"At his last race on the distance, he showed some improvement, and that's why I ran him in this race tonight."
Maximus has now taken his record to four wins from nine starts for prizemoney in excess of $160,000 for the IB Racing Stable.