Walking Thunder continues to rumble
Odds-on favourite Walking Thunder gave his legion of backers little cause for concern throughout the $60,000 Class 4 Division 2 race over 1200m on Friday night.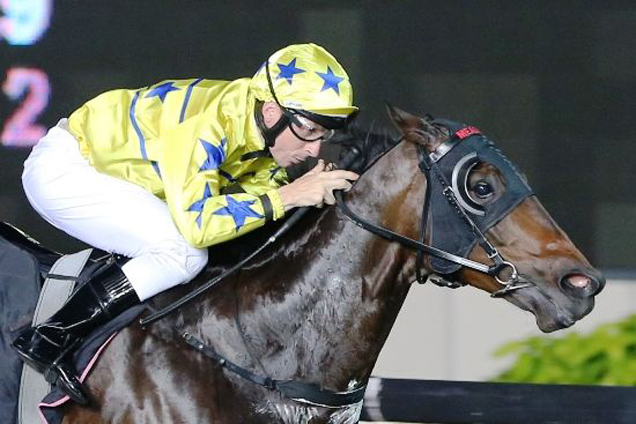 The $7 quote may have seemed prohibitive for a horse who was only at his third run, but his first two starts more than validated it.
At his debut on January 8, he ran second to none other than eventual Singapore Guineas winner Forever Young. Trainer Daniel Meagher then backed him off before saddling him to a smashing 3 ½-length win in an Open Maiden race over 1100m three weeks ago.
If there was any moment of doubt at any stage, it was probably over the first 400m when he was caught three deep after jumping from the second-worse alley.
But as Stirling (Oscar Chavez) noticeably tried to crank down the pace once he secured the lead, jockey Danny Beasley made the right decision to let Walking Thunder roll forward and dictate matters instead.
It was curtains for his rivals there and then.
Walking Thunder
cornered with a comfortable advantage which widened up further before Falkirk Lead (Alan Munro) came cutting him back late, but to no avail. The winning margin was just over two lengths while Shaqraa (Syafiq Hazman) stuck on for third place another half-length away.
The winning time was 1min 10.36secs for the 1200m on the Polytrack.
Meagher is aware he has a special individual under his care, but he cautioned that the Exceedingly Good four-year-old still had a fair way to go.
"We had a bit of luck with the scratchings," said the Australian handler in reference to vet scratching Dragon Kingdom and late scratching Hades, both potential threats if they had raced.
"But he is a nice horse and I think he might be even better over grass, anything from 1200m to 1400m.
"We'll take it step by step, and here I have to thank Danny for his good advice. He is the one who suggested to run him in this Class 4 race on Polytrack instead of running him in the Class 4 on turf on Sunday.
"Not every horse can step it up to open company after only two runs, and the Polytrack race is just a little bit weaker.
"He's still doing it too easy and Danny did well to keep his mind on the job. He got lost and was wandering a little."
Beasley said Walking Thunder has really thrived since coming off the three barrier trials after his maiden run in January.
"He's raced only twice but it's the barrier trials he had that really strengthened him up," said the Australian jockey.
"No disrespect to the other horses, but he was always going to be hard to beat tonight. He is way above those even if he is still learning where he is going.
"Horses like this just make things easier for us. He is getting better with every run and he is going to be a very nice horse here.
"Tonight he just collected prizemoney for his owners very easily."
In his two wins and one second in three starts, Walking Thunder has taken his stakes earnings past the $60,000 mark for his owners, the Lim's & Mark's Stable.