Webster springs big upset at comeback race
Webster returned from a knee operation a most stunning winner at his very first race back on Sunday.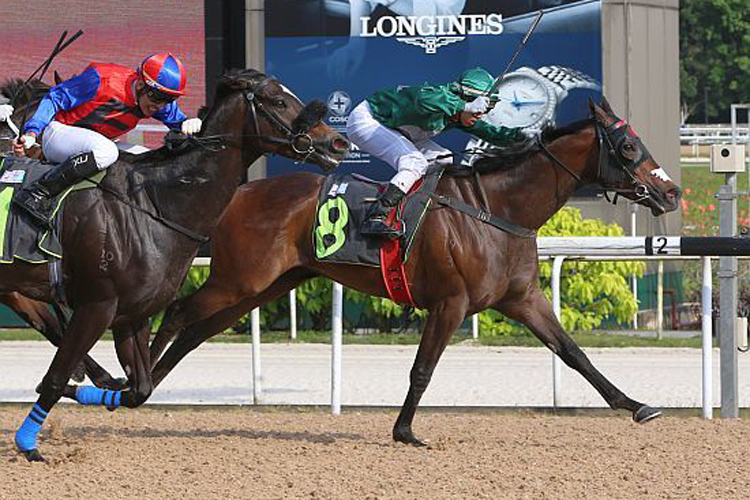 Unsighted since May 6 when a close sixth to Rafaello in a Class 2 race over 1200m, the Showcasing five-year-old was without much surprise not given a second look in Sunday's $85,000 Kranji Stakes B race over 1100m. Even his trainer Daniel Meagher and rider Chin See Cheng later said that they would have been happy with a place at best.
But when a dream passage presented itself on the rails as race-leader Yulong Xiongyin (Benny Woodworth) rolled off, the $182 shot proved he did not need any warm-up run to blow away the cobwebs
Webster
took everybody by complete surprise with his sneaky run on the inside. Granted, it was not a spectacular finish, as it looked more tradesmanlike, but there was still a lot of merit in the way the previous four-time winner (all over 1200m) raced by New Zealand owner Graham Mackie (of Spalato and Gilt Complex fame) fashioned out the win.
Well ridden by Chin, who was at only his second ride as a senior jockey, Webster maintained his advantage with bottomless resolve, clinging on to his half-length margin all the way to the winning post from Autumn Rush (Noh Senari).
Favourite Augustano (Amirul Ismadi) momentarily looked like he could justify his $21 favourite tag at the 200m, but he eventually faltered to take third spot another three parts of a length away. The winning time was 1min 5.39secs for the 1100m on the Polytrack.
"Credit to my staff for that win. This horse just came back from a knee operation," said Meagher.
"Graham and Trish (wife) are great to train for as they let me do what I want. Two months ago, I was not really happy with the horse, but he has come back good again.
"I thought he was not fully ready today, but Chin rode him perfect. He gave him a beautiful economical run, gave him no pressure at all during the race.
"It's also great for Chin as it's his first win as a senior jockey."
The Malaysian jockey said Webster was no easy commodity to work with, but on his day, he can strike, especially first-up.
"This horse runs well fresh-up, but I still didn't expect him to win. I thought he would run a good race, that's it," said Chin.
"I ride him at most of his trackwork. He's quite a tricky horse, he can sometimes shy away and pull, he's not easy to ride.
"But the boys have done a good job with him. I'm happy I won my first race as a senior jockey and I'm happy for the boss, too."
With that fifth win, Webster has now taken his prizemoney earned past the $235,000 mark for Mackie.
While punters were still reeling from the Webster shock, they had barely picked themselves up that they were dealt a second blow in the very next race, the last of the nine-race programme when an even longer shot, $399 outsider Justice Light took out the $50,000 Class 4 Division 2 race over 1000m for trainer Young Keah Yong's and jockey Mark Ewe's first wins of the season.