Lloyd, Nolen have work cut out for second Leg
Australia did not fare too well at the Air Mauritius & Attitude International Jockeys' Weekend with hopes of a turnaround now resting on its two jockeys improving dramatically on their first day scores on Sunday.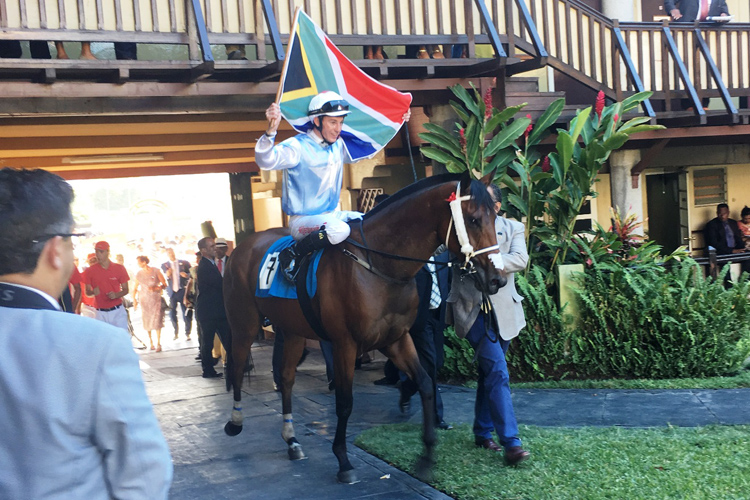 Two-time Brisbane champion jockey Jeff Lloyd is much better off with nine points earned from two seconds and two fourths while his Melbourne partner Luke Nolen could not muster any points from his six rides.
South African jockey Robbie Fradd may be considered as the other "Australian" as he moved to Brisbane in 2014 and has been riding there since. He picked up eight points from one second and two thirds.
It was Fradd who got off to the better start with a third place aboard longshot Mexican Sun in the opening event. French champion jockey and record breaker Pierre Charles Boudot fired the first salvo with Spin A Coin.
Nolen had his first ride in the next race, the well- backed Gold Medalist, but he missed out on any points (allocated as nine to winner, four to second, two to third and one to fourth) with a fifth place. Brazil's Elione Chaves landed the spoils with Flower Blue.
Lloyd then finished second aboard the well-backed Emaar in the next race for his first four points, beaten by last year's title holder Maxime Guyon who made all on Declarator. Fradd took his score to four with another third place on Avail while Nolen again finished fifth on New Star.
South African up-and-comer Craig Zackey defied his relative young age to produce a thriller on Skip The Red, pipping his much older (22 versus 56) rival Lloyd (Answeringenesis) on the post.Streetbouncer (Matthew Chadwick) dead-heated for second with Answeringenesis.
It was shaping as another Guyon tour de force when he took out the next leg aboard Kingmambo's Legacy, with Fradd cementing his good first tier spot with a second place aboard Scotsnog and another four points.
The next two races saw both Lloyd and Nolen fire blanks with unplaced runs (Our Jet did run fourth for Lloyd for another point) while Fradd was not doing any better. Chaves was, on the other hand, proving to be a hit with his newfound fans after he banged in a second win aboard Chosen Dash before losing by a whisker to Zackey, again showing his polish aboard Promissory.
Mauritian jockey Swapneel Rama saved the day for his country by waiting for the last race to come from the rear with a flourish aboard It Doesn't Matter, complete with his high-in-the-irons salute and tongue-sticking signature.
Given his cult status in Mauritius and his five champion jockey titles, Lloyd was sent out as the hot favourite to land the title, but Day 1 has not quite panned out his way, even if he sounded upbeat he might still be able to stage a late rally.
"My horses ran well. My two best chances (Emaar and Answeringenesis) ran second, but just got beaten by a better horse," said Lloyd.
"I had a good time and I think tomorrow's second day is still open. But I will need at least two winners to turn things around."
If Lloyd faced an uphill battle, Nolen and his clean scoresheet would have been simply written off my most pundits (even if Hugh Bowman did it in 2012). But Black Caviar's rider, though very disappointed with his score having yet to get off the ground, was hoping to salvage something at best on Sunday.
"It was a terrible first day. My horses ran badly," said Nolen without mincing words.
"My boot nearly got ripped after it got banged against the rails. I was told my better chances are tomorrow, so let's hope for a better run tomorrow."
Just like Lloyd, Fradd was not all that downcast with his performance thus far.
"I had a really good time. My two best chances were Avail and Scotsnog and they both finished in the money (third and second)," said Fradd.
"The rest were no good."
In the standings, Zackey leads on 27 points, five clear of Chaves and Guyon. Mathematically, anything is still possible for the 12 jockeys with seven races from the eight set down for decision.
Current Leaderboard after Day 1
| | | | |
| --- | --- | --- | --- |
| 1 | Craig Zackey | SA | 27 |
| 2 | Maxime Guyon | FRA | 22 |
| 2 | Elione Chaves | BRZ | 22 |
| 4 | Pierre Charles Boudot | FRA | 14 |
| 5 | Swapneel Rama | MAU | 10 |
| 6 | Matthew Chadwick | HK | 9 |
| 6 | Robbie Fradd | SA | 9 |
| 6 | Jeffrey Lloyd | AUS | 9 |
| 9 | Hayley Turner | GB | 3 |
| 10 | Mickael Barzalona | FRA | 2 |
| 11 | Imran Chisty | IND | 1 |
| 12 | Luke Nolen | AUS | 0 |