Neale steal shows belief in Lions rebuild
Dayne Beams is gone but Lachie Neale's switch from Fremantle to Brisbane provides the biggest endorsement the Lions are on the path back to success in the AFL.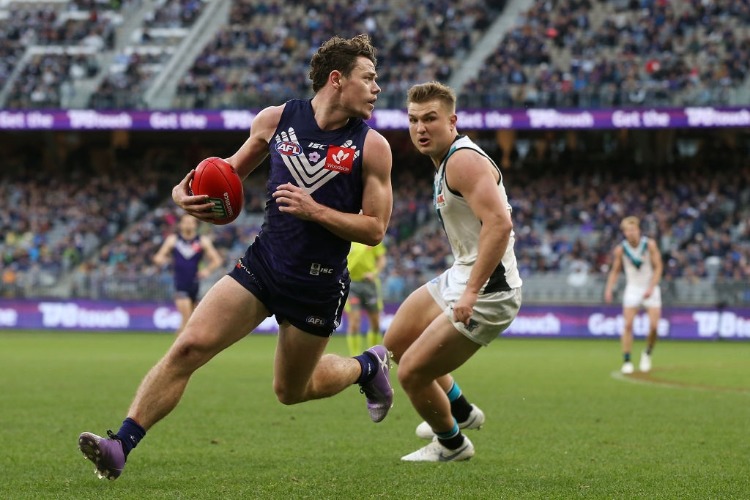 As public endorsements go, Lachie Neale's decision to quit Fremantle for Brisbane was as strong as they get.
The Dockers star was coming off the back of a season where he'd landed his second club best-and-fairest when he requested a trade to the Lions who haven't featured in finals since 2009.
For coach Chris Fagan, landing the 25-year-old is more than securing a midfielder in his prime, it's about reinforcing to his group the once-mighty Lions are on the road to redemption.
The 2018 pre-season was punctuated by luring ex-Hawthorn captain Luke Hodge from retirement to lead Fagan's developing group.
But Neale's addition is a different beast - showing that the wider football community is starting to buy into Fagan's rebuild.
"Lachie Neale, along with Lincoln McCarthy and Marcus Adams and Jarryd Lyons are four really good experienced recruits we've been able to attract to the club and obviously they think we're going places," Fagan told AAP.
"It does rub off on the players to see those guys turn up and says to them they're we're probably doing something right."
Ex-captain Dayne Beams' decision to return to Collingwood clearly stings but Fagan understands there was more than just football behind that decision with Beams struggling after the 2018 death of his father.
"If it helps him to get better from his mental health issues then we're really happy if that occurs with that move," the Lions' mentor said
"We're happy that we were able to secure two first-round picks in return for him from Collingwood which we think is fair."
Dayne Zorko, who stepped up after Beams gave up the captaincy last year, has been given the role again.
The four-time Merrett-Murray Medallist remains a key plank of the Lions midfield as they aim to end their finals drought.
Fagan isn't setting a top-eight finish as an absolute goal, he just wants to see progress.
The Lions 2018 record - five wins, 17 losses - was the same as Fagan's first season at the Gabba.
But while 2017 ended in the wooden spoon, the Lions finished 15th last year and had five defeats by seven points or less.
Fagan believes getting on top of those close matches will be a big step in the year ahead.
"I was really proud of the fact they were able to get close in so many games last year because the previous year we won five games and were nowhere near in the other 17," he said.
"Last year we won five games but we were close to winning another 10. That's progress in our eyes.
"The next step ... is to win more of those close games."
As to September footy? That's up to his players, Fagan says, and what they think is possible.
"Coaches can stand up and say 'I think we should do this or I think we should do that' but really it's up to the players," he said.
"I take my guide from them because they're the ones that go out and play. They're the boys that have got to believe they can do one thing or the other.
"The pleasing part is they're setting the bar higher this year."
BRISBANE
Coach: Chris Fagan
Captain: Dayne Zorko
Last five years: 15-17-17-18-15
Premierships: 3 (2001, 2002, 2003).
Key five: Dayne Zorko, Lachie Neale, Harris Andrews, Stefan Martin, Cam Rayner.
One to watch: Cam Rayner. The bullocking midfielder's debut season in which he played all 22 games was a terrific success. Is there any danger he'll be struck down by the dreaded second-year blues? Brisbane will be hoping he'll benefit from ball magnet Neale.
Ins: Marcus Adams (Western Bulldogs), Noah Answerth (Oakleigh Chargers), Thomas Berry (GWS Rebels), Tom Fullarton (Category B rookie), Tom Joyce (East Fremantle), Jarryd Lyons (Gold Coast), James Madden (Category B rookie), Lincoln McCarthy (Geelong), Connor McFadyen (Brisbane Lions Academy), Lachie Neale (Fremantle), Ely Smith (Murray Bushrangers).
Outs: Jacob Allison (delisted), Jake Barrett (delisted), Ryan Bastinac (delisted), Claye Beams (delisted), Dayne Beams (Collingwood), Tom Bell (delisted), Rohan Bewick (delisted), Jack Frost (retired), Liam Dawson (delisted), Cian Hanley (retired), Sam Mayes (Port Adelaide), Marco Paparone (delisted).
Best line-up:
B: Luke Hodge, Marcus Adams, Darcy Gardiner
HB: Daniel Rich, Harris Andrews, Alex Witherden
C: Tom Cutler, Jarryd Lyons, Lewis Taylor
HF: Cam Rayner, Eric Hipwood, Allen Christensen
F: Charlie Cameron, Daniel McStay, Oscar McInerny
R: Stefan Martin, Dayne Zorko, Lachie Neale
I: Jarrod Berry, Hugh McLuggage, Nick Robertson, Zac Bailey
Predicted finish: 15th