North coach lauds draftee Bailey Scott
North Melbourne's first-year draftee Bailey Scott is making a big impression on his namesake coach Brad Scott.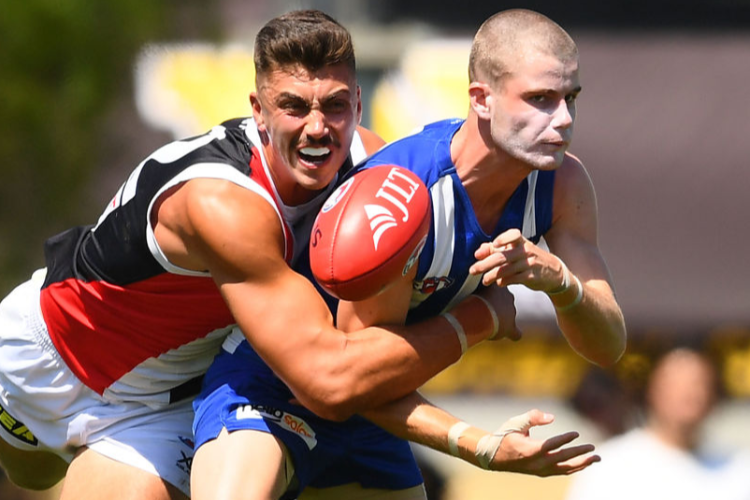 North Melbourne coach Brad Scott couldn't care less how much newcomer Bailey Scott weighs.
Nor does it matter how much the youngster can lift in the gym.
All coach Scott cares about is how his 18-year-old namesake copes on an AFL field - and early evidence is resounding.
Scott booted two goals among 19 disposals in North's pre-season loss to Port Adelaide on Saturday to all but confirm his selection for round one of the premiership season.
"He has been really good," coach Scott said of the first-year draftee.
"But his performances have reflected what we have seen in the pre-season and really what we have seen over the last couple of years.
"I suppose the question mark was going to be his frame - is he going to be strong enough against men?"
Bailey Scott weighs just 74 kilograms. But his coach said that figure belies the youngster's strength.
"There's multiple examples where he has been up against mature players in the last two weeks and he has more than held his own and won his contests," Scott said.
"He has been terrific for us but not a surprise based on what we have seen.
"I don't care what he weighs, I don't care even his numbers in the gym, which are good ... it's about how strong you are in the contest.
"His strength, both winning the ball at ground level, holding his strength in the tackle, and tackling, is all really good.
"So if you can do that, that is the most important thing, not your weight on the scale."
Most Read