Rule change to excite the AFL: coaches
AFL coaches say the new rule dictating starting positions at centre bounce will have a dramatic impact on the game.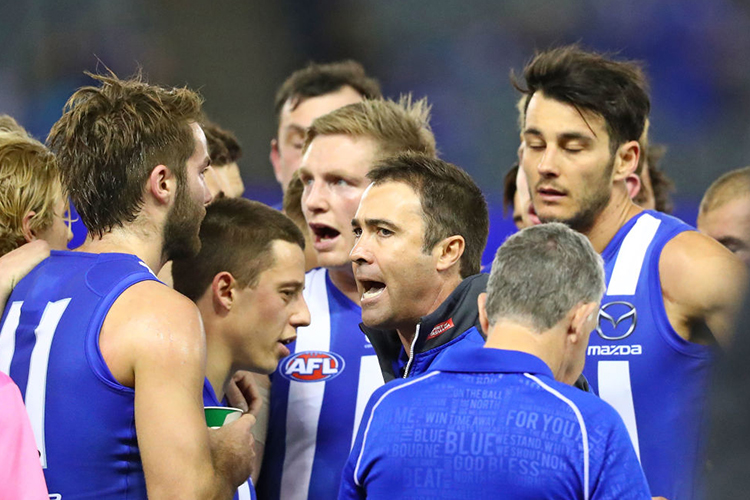 Six-six-six, the number of the beast.
Specifically in the AFL, ruck and midfield beasts.
Coaches believe ruck and midfield monsters will benefit most from the new rule dictating starting field positions.
For the first time in the code's history, designated starting positions are enforced at centre bounces.
It's dubbed six-six-six - the number of players from each team that must start in the 50-metre arcs in defence and attack, and also in the midfield.
North Melbourne coach Brad Scott believes the law change will have the biggest impact of numerous recent tweaks.
As a coach, he's dreading it.
"Whatever you do is not going to be good enough if the opposition is dominant out of the centre bounce," Scott says.
Other coaches concur.
GWS boss Leon Cameron: "If someone gets on top at the centre bounce then you can't strategically do anything about it."
West Coast's Adam Simpson: "We all walk away as coaches thinking, 'Well, there's not a lot we can do'."
Fremantle's Ross Lyon: "Tactically, there's not a lot you can do."
But coaches acknowledge the change is a blessing for purists.
"Sometimes the game has got to be mandated against coaches who want to shut it down," Scott says.
No longer can coaches clutter a defence to stifle scoring momentum of opponents.
No longer can they direct swarms of players into the midfield - "roll numbers up" as Lyon puts it - to clog the space and brilliance of star onballers.
And no longer, with the result on the line late in a game, can coaches flood players into defence as a protective measure after a goal is scored.
"There will be those late-minute plays in games where you win a centre bounce and you have got a chance," Port Adelaide's Ken Hinkley says.
Adelaide counterpart Don Pyke shares that view.
"There's not going to be players dropping off defensively," he says.
"Late in games, you're not going to have situations where there's going to be extra defenders down there if it's a close game."
The coaches agree: the rule change places an unheralded premium on centre bounce contests.
Which, in turn, brings a return to prominence of that unusual beast: ruckmen.
The ruck position polarises pundits: have a good one in your side and it's among the most important positions on the ground; don't, then ruckmen are over-rated.
Richmond coach Damien Hardwick has often deployed Shaun Grigg, a 190cm tall midfielder, as a ruckman at centre bounce.
In effect, Grigg didn't compete for the ball but shadowed his ruck opponent and tried to shark the tap.
But part-time rucks are no more, especially at centre bounces.
"If teams are able to get their hand on it in the hit-out sense, we will notice it probably more than what has happened in the past," Sydney coach John Longmire says.
In fact, the law change is tempting coaches to pick two genuine rucks, rather than a lead tap-man and a support cast.
"All of a sudden, if you have got a ruck combination that is providing you some of those great opportunities for your mids, then there's no doubt that there could be two ruckmen playing in the 22," the Giant's' Cameron says.
A commanding ruck can then feed his midfielders - the game-breakers.
"There's more space ahead of the ball more consistently, so you're going to have a little bit more time for the midfielders to ply their craft," Pyke says.
North's Scott agrees: "The really good players in the competition have got more space."
Brisbane coach Chris Fagan suggested another domino effect: altering the balance of onball brigades.
"It might change a little bit the types of players who get into centre bounces," he says.
"It has been big-bodied midfielders in more recent times because teams have been lining up with a lot of players charging in from around the square - they now can't do that.
"So guys who have got leg speed and agility along with a couple of big-bodies in there, it might change the look at centre bounces with the types of player that are in there."
The coaches, to a man, predict more scoring from centre bounces with Cameron summing up the sentiment.
"There will be a lot more bolder pieces of play from centre bounce because the rewards are so great," he says.
"It means you are deep inside your forward 50, if not scoring, but in the scoring opportunity."
But the coaches are already mulling on a footy equivalent to Newton's law - for every action, there is an equal and opposite reaction.
"Sides will come up with strategies to help and combat some of that stuff, so I don't think it will be an absolute free for all," Hinkley says.
"But it will be exciting."
Most Read