Injured Starc targets March return
Australian cricket stars Mitchell Starc (pec), Josh Hazlewood (back), Steve Smith (elbow) and David Warner (elbow) are all currently out of action.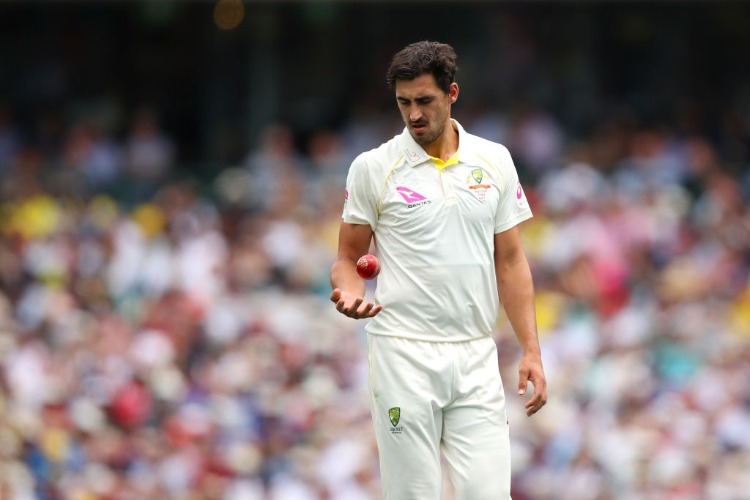 Australia will be without almost half of their first-choice XI during an ODI series in India, but injured spearhead Mitchell Starc plans on returning from injury long before the World Cup.
Starc, crowned player of the tournament during Australia's 2015 World Cup triumph, suffered a chest injury during the recent Test in Canberra.
The left-armer's Test form was under the microscope throughout summer, with Shane Warne the loudest of various critics, but he remains one of the most effective white-ball bowlers in the world.
Starc's absence in England, where the World Cup starts in late May, would be an immense blow to Australia's chances of retaining the trophy.
Chairman of selectors Trevor Hohns and national coach Justin Langer remain upbeat that Starc, who has joined Josh Hazlewood (back) plus suspended superstars Steve Smith and David Warner on the sidelines, will return against Pakistan next month.
Dates for that UAE series are yet to be announced but it's likely to start in mid March, giving Starc limited time to recover from what Hohns termed a "a substantial tear to his left pec muscle".
"It's really disappointing for him, he bowled so well in that last Test match, and disappointing for us," Langer told reporters.
"It's almost two steps forward, one step back.
"it's the most bizarre thing. He didn't feel anything when he was playing then woke up the next day and his left pec had all blown up.
"There's been a lot of conjecture over him but never from within our walls ... I'm really looking forward to hopefully having him fit and raring to go in the World Cup."
Starc returned to form in the second Test against Sri Lanka, taking 10 wickets in a man-of-the-match performance.
Hazlewood will be racing the clock to recover in time for the World Cup, while Smith and Warner are both on the mend after elbow surgery.
The squad to face Pakistan in next month's ODI series will be named during the upcoming Indian tour.
It remains to be seen whether it will include Warner, whose 12-month ban expires on March 29.
Smith won't be fit in time to be considered for the UAE series but Langer is adamant the sacked skipper will be physically ready for the World Cup.
"That's my understanding," Langer said.
"They (Smith and Warner) are both great players.
"They need to play some cricket. We'll be looking for whatever opportunities we can to get them playing as much cricket as they can before the World Cup."
The most likely outcome is that Smith and Warner will both shape up for the World Cup by taking part in the Indian Premier League - but it's possible the latter will play a couple of ODIs against Pakistan next month.
Langer recently indicated Australia would be "crazy not to" call on the services of Warner and Smith in their World Cup defence, which starts on June 1 in England.