Kurz hails Adelaide Utd's fighting spirit
Adelaide United coach Marco Kurz has praised the Reds' character after they completed a remarkable comeback to win 4-3 against Brisbane Roar in the A-League.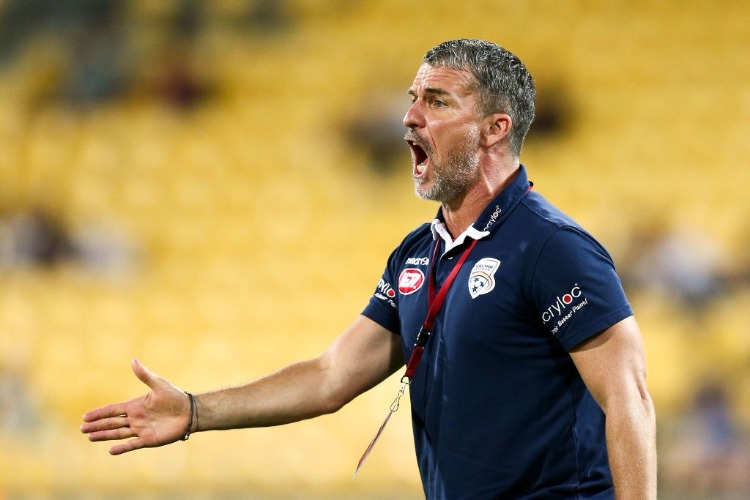 Adelaide United coach Marco Kurz has applauded his Reds' stunning fightback after overcoming a controversial first-half send-off and a 3-0 deficit to record a remarkable 4-3 victory over Brisbane Roar in the A-League.
United's Ken Ilso was expelled on nine minutes before the Roar lead 3-0 minutes before the interval at Coopers Stadium Saturday night, thanks to goals from Henrique, Dylan Wenzel Halls and Adam Taggart.
But Adelaide skipper Isaias gave the Reds some hope with a stunning free kick in first-half injury time, before the Roar imploded on the hour.
Dane Ingham was shown his second yellow card before Jamie Young followed minutes later after flattening Craig Goodwin outside the area.
The Reds piled on the pressure and scored three times in the final half hour through Goodwin and George Blackwood, while Nikola Mileusnic headed in the winner in the 97th minute.
Kurz said while the Reds' comeback was impressive, he was disappointed with the 20-minute slump following Ilso's send-off where Brisbane struck three times.
"The team is fantastic, the character is fantastic, I'm very proud of them," he said.
"I hope we learned that for the next game we can't concede an early goal or we have to respect the hard decision that we play with 10 men, but we cannot stop to play."
But Kurz was full of praise for his side's performance in the second half.
"The boys made a good job, not me as a coach - the boys are on the pitch and they can be proud."
Despite enjoying the remarkable win, Kurz was livid his side was again forced to deal with a controversial, match-defining decision and questioned who made the final call on Ilso's send-off.
After being fouled by Ilso, Matt McKay could be see shaking hands and conversing with the Dane before referee Alex King eventually produced the red card.
"For me the question is; the media have to discuss, who makes the decision in Australian football? Who made the decision? The main referee or another person?" Kurz said.
"The main referee gave nothing and after a couple of seconds it's a red card; who gave the red card?"
Roar interim coach Darren Davies said the defeat was a harsh lesson for his side, who looked comfortable leading 3-0 a minute before halftime and with an extra player advantage.
"It's a very steep learning curve," he said.
"But, as I say, if we do learn from it, individually and as a group, we'll be better for it.
"We'll dust ourselves down and regroup, and come out against Sydney and we'll go on again."