Golfers fight for NSW Women's Open title
Swede Lynn Carlsson shares the lead with defending champion Meghan MacLaren, heading into the final round of the NSW Women's Open at the Queanbeyan golf course.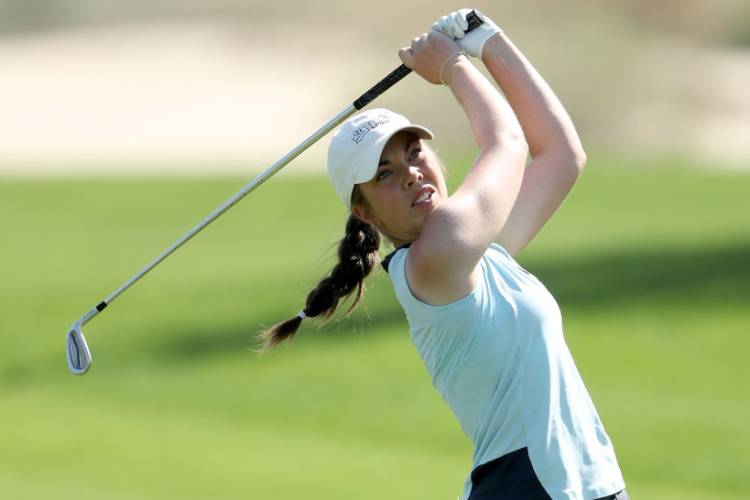 Exciting Swede Lynn Carlsson might be the only player left standing between Meghan MacLaren and a successful defence of her Women's NSW Open golf title, with the pair carding impressive four-under-par 67s in Saturday's third round.
Carlsson and MacLaren are at 10 under par, two shots clear of the trio of Christine Wolf, Karolin Lampert and halfway leader, Iceland's Valdis Jonsdottir, at Queanbeyan Golf Club.
MacLaren was pleased with her effort, despite claiming it was "a little bit up and down".
"It was good out there today," she said.
"It was a little bit of a different round to the past two days and felt like I had a bit more up and down in it.
"I made an eagle early on, which was a nice little kickstart to my round.
In an ominous sign for the field, MacLaren said had it not been for her misbehaving putter, the score might have been better.
"I didn't hole as many putts as I would have liked, but I rolled in a couple from long range, so it probably balanced itself out."
Asked about the added pressure of being the defending champion and also being in Sunday's final group, Maclaren wasn't fazed.
"I think that anybody not wanting to be in the lead would be crazy," the Englishwoman said.
"It's sometimes nice to come from a few shots behind because there's less pressure. But if you're on the lowest score, that's where you want to be at the end of the week."
NSW's Rebecca Artis is the best-placed Australian at six under and four back entering the final round.