Lampert looms at women's NSW Open golf
Karolin Lampert has moved to within two shots of Iceland's Valdis Jonsdottir after the second round of the women's NSW Open at Queanbeyan golf course.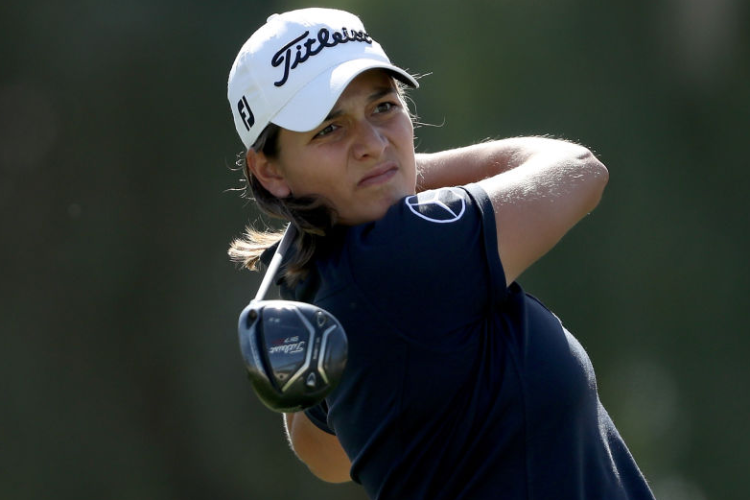 German golfer Karolin Lampert has been the big mover late on day two of the women's NSW Open in Queanbeyan.
The 24-year-old is just two shots behind pacesetter, Valdis Jonsdottir of Iceland, after Friday's equal-best round of six-under-par 65.
It looked like being a quiet day for Lampert when she started birdie-bogey, but she made amends with her second birdie of the day on the par-5 third.
She ignited her round with birdies on the 7th, 8th, and 9th and added another at the tight par-4 11th.
"It was a lot of fun playing today. I made a lot of good shots and rolled a lot of good putts in today. It was great," said a delighted Lampert.
The shot of the day came when she rifled a four iron to about 12 feet on the par-5 16th.
"I was in between clubs, I had about 175 (metres), but I decided to go for it. I hit a perfect shot and it pitched just left on the green."
Earlier in the day, Jonsdottir consolidated her lead with a tidy but uneventful one-under 70.
The 29-year-old described her round as a challenge, fighting a misbehaving driver, and approach shots which didn't have the radar-like consistency of Thursday's eight-under 63.
"It was a bit of a battle today, honestly," Jonsdottir smiled. "I didn't hit it very nicely off the tee. I only hit three fairways.
"My irons weren't as aggressive today as they were yesterday, so I'm happy with one under based on how I hit the ball."
Jonsdottir said she hadn't thought much about her career-best first round score until calls and messages came in on Thursday night from Iceland.
"I tried not to think about it, but Iceland is 11 hours behind Australia, and I kept on getting messages yesterday and this morning as I woke up.
"It kept reminding me of what I did yesterday. I tried to block it out and start a new day today," she said.