Fittler warns Blues rookies to improve
NSW's game three loss to Queensland is a reminder of the need to improve from game to game in an Origin series, says Blues coach Brad Fittler.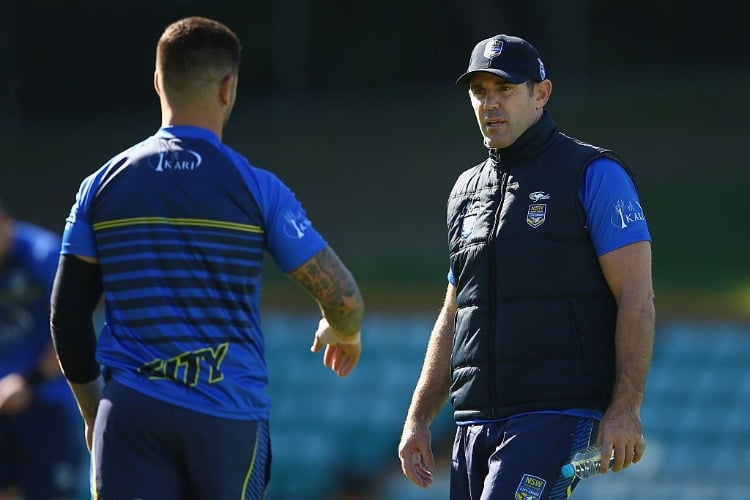 NSW coach Brad Fittler has warned his triumphant State of Origin team to search for ways to improve at club level or risk getting replaced next year.
The Blues missed their chance at a rare clean sweep on Wednesday after being outgunned 18-12 in game three at Suncorp Stadium.
Fittler said the defeat was a reminder that each player - the first-time Blues coach had a total 13 debutants over the course of the series - needs to continually find another gear in the game.
"That was the big thing between (game) one and two, and then two and three. You've got to go back and be good and get better," Fittler said after the loss.
"If they don't, there'll be someone else that'll climb over the top of them.
"The good thing in NSW is there's plenty of competition at the moment. A lot of Sydney teams are doing really well, so we've got to take advantage of that."
Fittler pointed to how Queensland built their dynasty on players from winning clubs.
Between 2015 and 2017 - when the Maroons won three straight Origin series - the NRL grand final has been dominated by Queensland clubs and Melbourne.
Cronulla are the only team from Sydney to have competed in the decider over that period.
In his first series in charge, Fittler began with a clean slate in terms of selection.
The former Blues captain opted for youth and form for most of the series, with 10 players who featured in game three coming from NRL teams currently in the top four.
"You look at Queensland and what they did, that's what they did. They jagged a couple (series wins) early and the players kept getting better," he said.
"And it's because their combos got better and they worked hard back at their clubs.
"They played in good, winning clubs. That's what our boys need to do, go and create good environments back at their club and make winning teams."
With NSW having lost 11 of their previous 12 series heading into this year, Fittler said the bar had now been set for future Blues teams.
He challenged his current squad to consistently deliver for their clubs.
"The biggest thing is the standard's been set. If you want to be great, you've got to be great every week. You're not just going to get up and fluke it," he said.
"That's the next step for all these boys is to get on that path of being great every week."