Seebohm relieved by 100m backstroke silver
Australian swimming star Emily Seebohm has claimed the silver medal in the 100m backstroke after a troubled build-up to the Pan Pacs.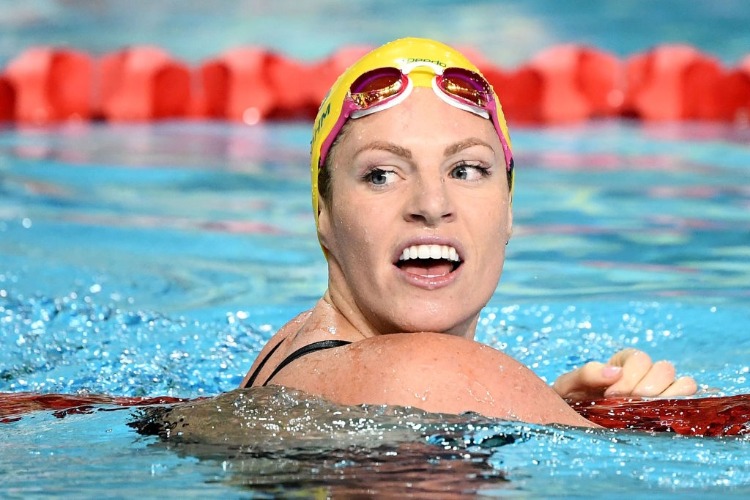 A very public break-up with Australian teammate Mitch Larkin almost made Emily Seebohm withdraw from the Pan Pacs in Tokyo.
But Seebohm claimed all her heartache had been "worth it" after just falling short of dethroning world 100m backstroke champion Kylie Masse of Canada on Friday.
Seebohm had to settle for silver when she was touched out by 0.11 seconds by Masse with world record holder Kathleen Baker of the United States third on the second night of the four-day meet.
Seebohm could hardly believe the result, revealing she almost walked away from the meet after her relationship with former dual world champion Larkin broke down.
The world 200m backstroke champion was in and out of the Dolphins camp in the lead-up to the Pan Pacs and at one stage Seebohm contemplated not returning.
"If you asked me two weeks ago whether I'd be here to race, the answer would have been 50-50," she said.
"So to get here and do it, despite everything, I'm stoked.
"It's awesome to see that everything I have gone through was pretty much worth it and to come here and tough it out and show that swimming is my passion ... it's just awesome."
Seebohm preferred to "live in my own bubble" in Brisbane with coach David Lush during the Pan Pacs countdown.
She joined the Dolphins camp late in their two-week preparation in Cairns before returning to Brisbane when the rest of the team flew out to a camp in Nagaoka, Japan.
"It's obviously not the easiest situation but I've held my head up high and I've come here despite everything and really showed what I can do," she said.
"I feel 2020 will be a breeze compared to this."
Seebohm will also contest the 200m backstroke and 4x100m medley relay on Sunday.
Meanwhile, Larkin said he had also been doing it tough after claiming 100m backstroke bronze behind Olympic champion Ryan Murphy of the United States.
Murphy took gold in a championship record of 51.94 seconds - more than a second ahead of the Australian.
"I've got a fantastic team and Dean (coach Dean Boxall) has been super supportive," he said.
"It's been challenging but we said 'if you can get through this, you can get through anything'."