Cheltenham Day Two Preview: Might Mouse Bite?
Whatever the collective noun is for National Hunt trainers, a pride is a perfect fit, like nomadic lions competing to claim certain territory, and, truer than for racehorses, a good big 'un will indeed beat a good little 'un.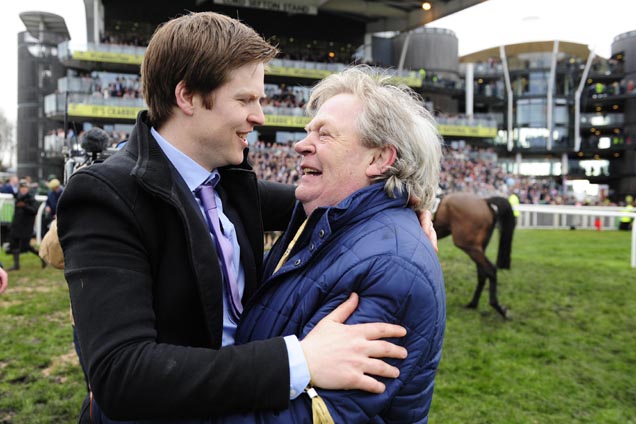 The moral of the pretend parable, for the trainers whose armoury is light and lacking, compared to the North Koreanesque combat stores of the superpower stables, is found in the penultimate line – To make it pay you've got to save until the time is right. Pick your battles, in other words, and, in racing, there's no bigger or better battleground than Cheltenham. The lions still roar in racing's most resplendent room, but in the corner, as a way in, there's also a mouse hole, for methodical and manipulative mouse, a mouse like Mouse Morris.
Measuring which active trainers are better than others at getting their horses to a peak for Cheltenham can be attempted using Timeform
data, by means of a ratings ratio, in calculating what percentage of their Festival runners produced or reproduced a personal best. The following table, assessing the last ten Cheltenham Festivals, paints a persuasive picture.
Charles Byrnes' reputation precedes him, and rightly so given his position at the top of this sharpshooters list, no greater exponent than him of target training, and the established excellence of Willie Mullins is emphasised in that he's towards the top of the league despite the drag-down effect of having so many more runners than anyone else. But the remarkable run-to-form rate for Mouse Morris at the Festival tells you everything about him, and his MO, and his AdO.
On New Year's Day, 2016, Alpha des Obeaux
was 20/1 for that year's World Hurdle and 12/1 for this year's RSA Chase, which tells us two significant things. Firstly, he clearly did a lot of development work in the two months between then and March; and secondly, he was always viewed as a crack chaser in the crafting.
There were two winners of the 2016 World Hurdle, a good one and a great one. Alpha des Obeaux, running to a rating (162), some 22 lengths clear of the rest, would have been a good winner in many renewals, but seven lengths ahead of him was the great Thistlecrack
, who'd be 2/5 for this RSA if healthy and taking the normal novice route. And it wasn't the first time Alpha des Obeaux had got Thistlecrack off the bridle, just a length between them when he fell at the last at Aintree, primed then, as the following year, for the spring. That was his only mistake, but make no mistake he was a very classy hurdler, in the right place at the wrong time, Thistlecrack's time.
The excitement about him for fences dates all the way back to March 2014, when he was like a rocket in a maiden point at Tinahely, ridden by Jamie Codd and then under the care of Gordon Elliott. Given what he achieved that day in a point and several days over hurdles, his chasing career so far could be described as anti-climactic, but it's best described as ante-Cheltenham, because it's Mouse we're dealing with.
His fencing form is, in fact, better than it looks at first glance, only there to learn with workmanlike wins at odds-on in the autumn, then doing all he could against Coney Island and Anibale Fly in the Grade 1 Drinmore, which was a their trip and definitely not his, over two-and-a-half miles, when three was the class convertor for him as a hurdler. With anticipation, the floodgates were opened when upped to that distance at Leopardstown in January, but blood is thicker than the expected waterfall of improvement and a burst vessel put his progress on hold.
He was 9/2 and the pick over Bryan Cooper (over Disko) for the best novice chase in Ireland this season. He's 7/1 for the RSA, without the Our Duke or Coney Island to worry about, and against a British favourite who's firm on form but flaky on a few factors. Might Bite was devastating at Kempton on Boxing Day, up until that final-fence fiasco, and that performance is the bottom line of the horse and this race, but his top line – his surface record – tells a story in itself, of just two wins, at long odds-on, from five chases, and the positive of a Cheltenham win in his early days has been overshadowed subsequently by two flops there, bringing to mind those three words that mean so much but count for so little at Cheltenham: flat-track bully.
Next week, for us all, Cheltenham is the centre of the universe, and it could be the centre of the pivot for the RSA. Alpha des Obeaux relished it there last year, as his result showed. Mouse Morris relishes it there every year, as his results show. The course and horse can combine to make a big difference to Alpha des Obeaux, like last year in the World Hurdle. He's had this date ever since, patient with the power, characteristically Mouse…
'To make it pay you've got to save until the time is right.'
And Alpha knew then what to do, and took apart Might Bite
.
MATCH OF THE DAY
If we can't get them together on the track, then by hell we'll get them together on a graph, or a clock, or a split screen, analysing every fence and furlong between Altior in the Arkle on Tuesday and Douvan in the Champion Chase on this day. Altior is the likelier of the pair to 'win' a bogus battle of margins or marvels, as there's still an element of youthful exuberance about him, whereas Douvan is businesslike in the extreme, cold and clinical, the T2000 to Altior's Arnie.
And Douvan is minded by Walsh, always thinking of the bigger picture with him, of three Festivals and not one, especially as Aintree will hopefully see some flexing of his stamina muscles in the Melling. Douvan's four widest-margin wins have included the only three times that Walsh hasn't ridden him, and, in those instances, for Paul Townend and Patrick Mullins, it was like borrowing your mate's Porsche.
LAY OR PLAY OF THE DAY?
He's not quite there yet on a ratings scale, but the suspicion is strong that Neon Wolf
will confirm on Wednesday what he's looked all along, the best novice hurdler around, in any country, over any trip. For the visual boys and the sectionalistas, it's eyes to the right and knows to the left and never the twain shall meet, apart from with Neon Wolf, who satisfied both in spades at Haydock, for style and stopwatch. He's the one who'll have several bookies reps bathing in warm baths of blood, so they like to say.
MARK OF THE DAY
133. A good few people are thinking it, so Alan King must be, too. Finish fourth in a Triumph, or win the Fred Winter? With Master Blueyes installed for the Friday, for the same connections, the temptation must be high – very high – to let Coeur de Lion run riot in the Fred Winter off 133. The only horses who've beaten him in four starts hurdling are Defi du Seuil and Don Bersey, giving the latter 6 lb at Sandown, and there was loads to like about his defeat of the elder Rather Be at Sandown. If he went Fred Winter, he deserves to be favourite.