Goodwood Preview: The Jewels On The Downs
That mildly musty smell in the house upon returning from a holiday isn't unfamiliar or even new. In actual fact, it's what your home always smells like, but your nose is so accustomed to it that your brain decides not to register it, until the leave of absence.
The brain is so complex, and so busy, that it decides for you what's important and what's not. Try saying a word – any word – thirty times in quick succession: the distortion by the end is much the same system as the nose-blindness, in that the brain just can't be bothered with it after a while, thus the word loses all structure and significance, in a practice known as semantic satiation. Say something enough times, and it becomes meaningless.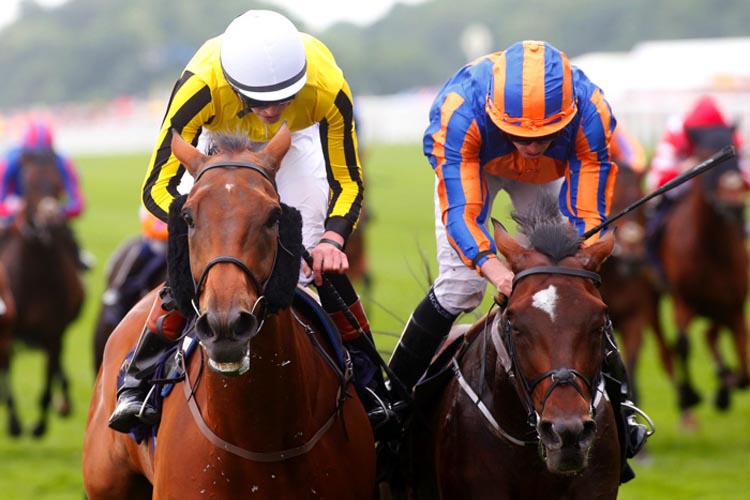 And so to the Duel on The Downs at Goodwood, which more and more feels like recycled wrapping paper, once lustrous when the gifts within were indeed luxurious, like Frankel v Canford Cliffs, but now tatty around the edges and reprocessed for any occasion. Ribchester is a top-class racehorse and Churchill could still become one, but there are thirty such scenarios in a year, Flat and National Hunt, and the 2017 Sussex Stakes is a duel, for sure, but it's not the duel. It's not even top of the list for races at the festival, as we take a longer-range look at what's likely to put the 'Glorious' into Glorious Goodwood this year: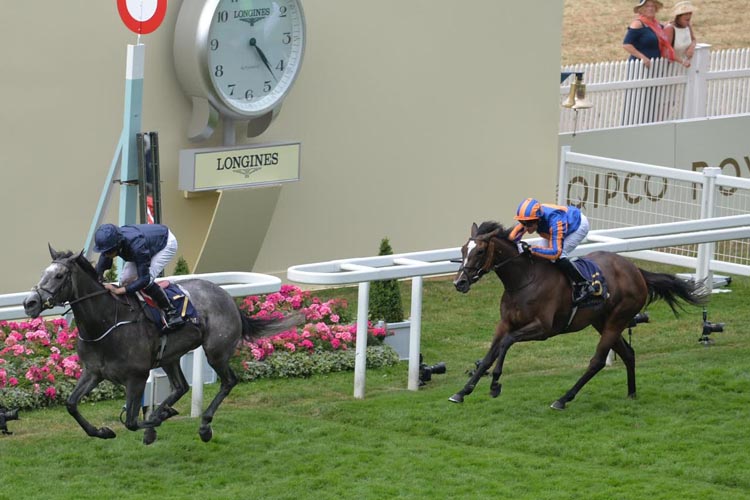 HOW TO BEAT A HORSE LIKE BIG ORANGE
The Gold Cup at Royal Ascot was a tale/tail of two dogs, Big Orange
the underdog, and Order of St George
. It would be wrong to say that nobody has ever given great thought to the question of how to beat Big Orange, because there was an intent by Ryan Moore to challenge wide, out of eyeline, before George took himself over to say hello to Big Orange and goodbye to his chance, but, more than ever, Big Orange is a marked man, with a trademarked plan, and that changes the game, slightly but significantly.
It's one thing knowing what Big Orange is going to run to (11 of his last 14 performance ratings have been around 120), and the way he'll do it, from the front, but actually stopping the steamroller is something else entirely. But the rest can't just hope he has an off day, as his record of consistency, as well as his record in the Goodwood Cup (2 from 2), makes the likelihood of Big Orange dropping his guard as improbable as any pilot error, reunited with Frankie Dettori.
On that point, this is a relatively new relationship, Frankie having partnered Big Orange only once prior to this season, but the clues to the match made in heaven could be found in Dettori's riding radar, Timeform
's revolutionary tool in jockey analytics.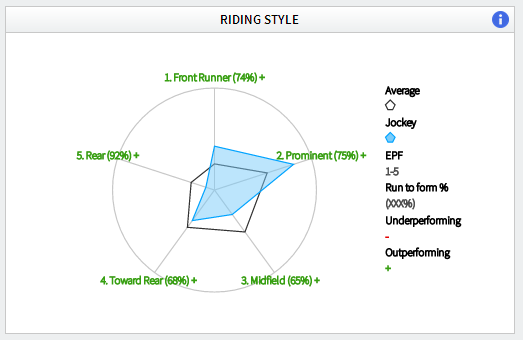 Using a digital combination of Timeform's reporter-generated EPFs (Early Position Figures) and our updated run-to-form calculations, the rider radar informs not only of a jockey's style, compared to the average (blue pentagon overlaying the white one), but also how good they are at enacting each strategy, EPF 1 from the front and 5 from the back with coherent points in between, by means of their run-to-form ratio.
What's striking about the above radar, which is Dettori's from this season, is just how skewed it is (relative to the norm for the riding population) towards the front end of the field, while the associated strike-rates, of getting the maximum out of mounts three-quarters of the time for such a strategy, highlights the preference and power of Dettori in that discipline. Put a forwardly-minded jockey with a forwardly-fierce horse and the result is fireworks.
All the same, though there are few if any chinks, the armour itself isn't much more strong nor shiny than a few seeking to dethrone him, Big Orange not so far ahead of the pack than the betting would have you believe. US Army Ranger substituting Order of St George is like that time when England played South Africa in 2003 and Darius Vassell came on for Heskey, but Dal Harraild, Wicklow Brave, Sheikhzayedroad, Higher Power and Simple Verse (with the mares allowance) are all within 4 lb of Big Orange on Timeform ratings, so there's not much margin for error, and one of the two Ballydoyle three-year-olds – Wisconsin and Finn McCool – could be ripe for a role, an unsettling role. Some improvisation will make or break the Goodwood Cup, otherwise the ceremony will be unceremonious in its script and simplicity, following Big Orange's lead.
THE BATTAASH BUBBLE
He's been in a bubble, at Sandown, where he's run and blown hard to make the bubble big, and there'll be a burst of some description at Goodwood, by either him or his bubble.
It feels like he's on trial in the Qatar King George Stakes, and the charge against him is the Coral Charge, a fraud case, to determine whether he's been embezzling Sandown prizes when he should have been in Group 1s. The evidence says as much.
Here's the thing with Battaash: he now has a Timeform rating, of 126, that puts him behind only Harry Angel, Caravaggio and Limato amongst British and Irish sprinters. The process of handicapping (at least at Timeform) uses the same methodology, and the same scale, whatever the circumstances, but big ratings are achieved in different ways, from the heat of classy competition, such as the Commonwealth Cup, to standards and time, of added importance when one is so far ahead of the rest in a race, like Battaash at Sandown both starts this year.
A performance more against the clock than competition may appear less convincing, but it's no less calculated, nor worthy, and Harry Angel himself stood accused in the clock dock at Haydock, following a Sandy Lane which was almost identical to the Coral Charge in terms of a broken-up field. What looked too good to be true turned out to be true for Harry Angel, and he's thrown the ball to Battaash for his judgement day at Goodwood, the pair unified by pace, by power, and by parent, Dark Angel's fast genes fast becoming the height of fashion.
THE JEWEL ON THE DOWNS
It's only when you look back that you see how tall Ribchester now stands, and he was fourth-favourite for the Sussex last year, though behind three Guineas winners in the market. That day, beaten only two heads, belonging to The Gurkha and Galileo Gold, Ribchester took his place at the top table, and ever since he's worked his way around to the head of that top table. He holds all the Aces, and Churchill comes on the back of playing his worst hand.
Like a gameshow host who turns player, the quizzer has become the quizee, Churchill now having to answer the questions when for so long he asked them, points to prove rather than score, but in many ways this purported duel is more about Ribchester than Churchill, as he's in the position of power and would have been even without Churchill fluffing his lines at Royal Ascot, because racing is a dictatorship and not a democracy and Ribchester is now an autocrat, as the only European horse this year to break the 130 barrier, a transcendent tipping point on the Timeform spectrum.
The point is that Churchill has to recover his Guineas form and then some, and the speed-skating track at Goodwood is more of a perfect playground for Ribchester, who kills with a single strike, in contrast to the
slow strangulation that's copyright Churchill. For all those reasons, it's a good bet that the Sussex this year features less of a duel and more of a jewel on the Downs, a blue sapphire that's hard and lustrous.
HIGHLAND REEL MKII
Not many horses run to 109 on their second start, and fewer still can do it in a mere maiden when there's nothing to push it out of them. It's something out of the ordinary, but Highland Reel's whole career has been out of the ordinary, and the 109 when he spread-eagled a maiden field at Gowran was just the beginning, following up, on his way to folklore, in the Vintage Stakes at Goodwood.
Fast forward three years, and the same freakish nature (by Galileo) and nurture (Ballydoyle Academy) generated a similarly freakish performance from The Pentagon in his second race, in a maiden at the Curragh, likewise flattening the field and running to 109, a rating that, in theory, would have got him second in the Group 2 July Stakes at Newmarket. Different horse, same force, and same path to prestige, as The Pentagon is reportedly locked onto the Vintage Stakes next.
Courtesy of the new 'Your Odds' tool by various bookmakers, I'm on at 7/2 for the King George-Breeders' Cup Turf double in 2019.
WINTER'S DISCONTENT
And the response to the Psalm is: But I still think She will win.
Dear Lord, Winter has been exceptional this year, rising at Newmarket, then as clinical at Royal Ascot as she was dynamic at the Curragh, but the Nassau is a different ball game entirely for the strength and depth amongst the elders lining up in wait for her at Goodwood…
Dear Lord, she's by Galileo, but the speed of her dam, Laddies Poker Too, has been present and powerful in getting her where she is today, as a magical miler, and it's not certain that the longer trip will play to her strengths…
Dear Lord, with all that in mind, she's the wrong price…
Dear Lord, in the belief she's the wrong price, I'm intent on backing one (Queen's Trust) and maybe two (Queen's Trust and Shutter Speed) against her…
And that's the point with Winter - it's an easy sell to take her on based on the surface facts, of everything we know about her and, moreover, what's up against her. But the real power of Winter is what lies beneath, that sense that she's only playing at it so far, flicking the ears of the other three-year-old fillies and taking their dinner money, if always with the not-so-idle threat that she could squash them at any point.
The real Duel on The Downs, therefore, is not the shoulder-shrugging Sussex but the engrossing Nassau, in which it's all for one and free for all, the combined might of some formidable females standing in the way of greatness for the glamour girl named Winter. It's the race of the week and, for me, the race of the year.