Rowleyfile Preview: Caspian Caviar Gold Cup
"Value" is a much misunderstood concept in some areas of racing.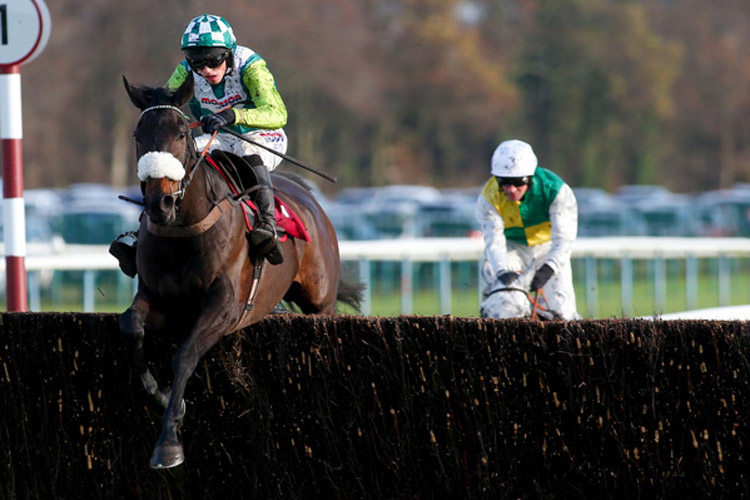 Despite what you sometimes hear, or read, it is not always synonymous with horses at longer odds: if anything the opposite, due to the favourite-longshot bias in fixed-odds markets.
It can exist at short odds, also, if those odds are nonetheless longer than the probability of an event occurring. Fancy 2/1 heads or tails in a fair coin toss? That is value.
The difficulty with the coin-toss analogy is that no-one knows for sure what the true probabilities are of a horse winning a race. It is a unique event, for which there may be historical guidance but no direct precedent. Your value may not be my value, and vice versa.
The only way of establishing who is better at judging value is to repeat the experiment often enough to identify a "winner". Betting is, in effect, such an experiment conducted in the real world and with "skin in the game", often over lifetimes.
Anyway, the point is that you should not let anyone convince you to "avoid favourites as they are bad value" (even if that may be true overall), or "never back a horse under [a certain price]". Those horses could be value. We will come back to this later in this piece.
The Caspian Caviar Gold Cup at Cheltenham is a rarity in these parts, in that it is a race with 11 runners when these previews generally look at contests with much bigger fields. Five of the 11 are at single-figure odds at the time of writing, and only two are bigger than 16/1.
It is, all the same, the kind of race for which it is worth looking at the trends over the last 10 years, gauging effects by measures such as place impact values and % of rivals beaten, which are far superior to using wins only. These are some of the more meaningful findings in the case of Saturday's race: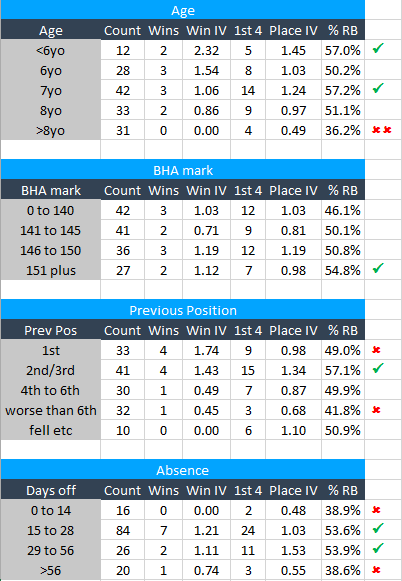 There are positives to be seen for young horses, and also for seven-year-olds, for horses running off high BHA marks, with medium-sized layoffs, and who finished second or third last time out.
As much to the point, there are clear negatives associated with older horses and those with shorter or longer layoffs. Last-time winners are very close to being neutral, but that can be considered to be a minus given that such horses nearly always over-perform compared to chance more widely.
I also looked at trainer "form" as measured by %RB in handicaps since October (handicaps allow for a more level playing field). Nicky Richards (65%, Guitar Pete) and David Dennis (63%, Deauville Dancer) come out on top, but there is precious little in it between all other trainers with runners in the Caspian Caviar.
In the end, it all comes back to value. The "extended experiment" suggested I was good at judging it in 2016 and not so good, so far, in 2017 (though things would have been different had Stake Acclaim hung on at Haydock in September). I reckon the favourite in Saturday's race, Clan des Obeaux, should be about 3/1, and is clearly worth a bet at current odds of 9/2.
He is a five-year-old off a high handicap mark – both of which are pluses – but there is more to it than that. A novice last season, this will be his first outing in a handicap but some of his form suggests he may actually be well in despite top-weight.
He beat the useful Vintage Clouds easily by seven lengths, conceding him 7 lb at Haydock last time, and before that ran Whisper to half a length at level weights in a match at Kempton, both races at a similar trip and on similar going to that which is likely to prevail at Prestbury Park.
Whisper all but won the Hennessy-as-was off 161 next time and has been raised to 169, 14 higher than Clan des Obeaux gets to go off here. Clan des Obeaux also ran Whisper to half a length when receiving 5 lb on this course on New Year's Day.
Clan des Obeaux may well be close to top-class, and he is certainly very effective at around two and a half miles with plenty of give in the ground. A free-going sort, he may well be helped by the good pace which seems very likely to ensue with Foxtail Hill and Splash of Ginge in the field.
Those two finished eighth and first respectively in this race's sister contest, the BetVictor Gold Cup on this course a month ago. Also in there were Starchitect (second), Le Prezien (third), Ballyalton (fourth), Romain de Senam(fifth) and Guitar Pete (ninth), all of whom turn up again.
There may not be much in it between a few of them this time, at different weights and with different fortune along the way, but the impression is that they are all vulnerable to something coming into this race from outside, and Clan des Obeaux is easily the best candidate.
Odds of 9/2, or even a bit shorter, are worth the risk, and the shape of the betting market – win book and place book are both around 103% if one-quarter the odds apply – means that a straight win bet is the preferred way to go.
Recommendation: 2 pt win CLAN DES OBEAUX at 9/2
Most Read