Rowleyfile Preview: Stewards' Cup
The guiding principle behind "trends" articles is that important features of a given race may be repeatable over time.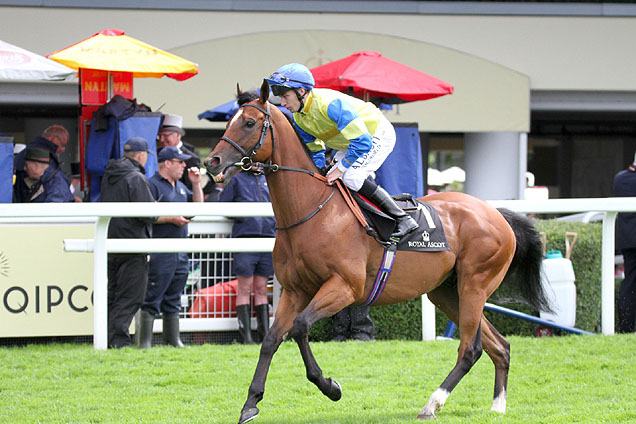 For instance, if horses of a certain age group have done well or badly in the past then they may well do the same in the future.
The concept works, much of the time, but sometimes circumstances decree that a more nuanced approach be adopted. It may not have escaped your attention that this year's Goodwood Festival is not like most others in one crucial respect: the weather and its effect on the racing surface.
The course took nearly a month's worth of rain on Wednesday, which turned the ground "heavy". When looking at the likely effect of the draw on Saturday's big sprint handicap, the Qatar Stewards' Cup, the fact that very few of them have taken place on ground softer than good needs to be acknowledged.
Below is the effect of the draw in the last 10 years, followed by the same for the only two years this century in which the ground has been good to soft by Timeform
's reckoning (2005 and 2009). The figures take into account the reversal in stalls-numbering in 2011 and the effect of non-runners.
Place impact value (factor by which horses have placed compared to chance) and % of rivals beaten are the best measures, with higher being better in both instances.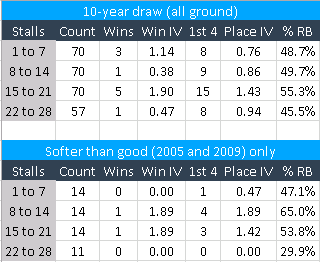 The Stewards' Cup draw was one of those in which representatives of connections got to choose their stalls after the horses were selected randomly. Three of the first five to go chose stalls 22 or higher, despite the above evidence and a Going Stick reading at the time which suggested that those stalls were where the slowest ground was.
In addition, the closest thing we have to pace-forcers in a field in which horses with that profile are in surprisingly short supply are to be found in stalls 3, 11, 14, 15 and 21.
Events subsequent to that public draw – including earlier on Saturday, when there is a consolation race at the same distance – may shed more light on the situation. But, at the time of writing, high would not have been my own pick.
Low stalls had the least-soft Going Stick reading at the time of the draw, but the ground there will not be as fresh come Saturday and those drawn very low may find themselves crowded against the far rail in any case: we shall see.
There are also more conventional trends to consider, such as age, handicap mark, last-time position and chance on Timeform ratings (other factors were looked at but produced little of note).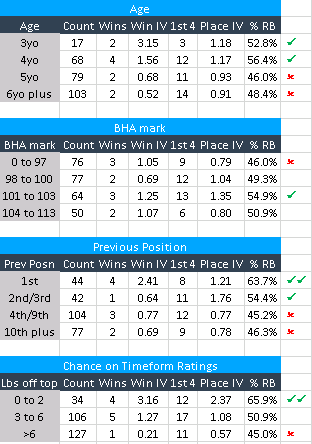 Younger is better, if not to a major degree, and a prominent last-time position and good chance on Timeform adjusted ratings are clearer positives.
Trainers' performance in handicaps since June judged by %RB (which has a predictive element, though one likely to be associated with the trainer being "good" or "bad" more generally) had Ed Walker (64.9%, Aeolus), William Haggas (64.6%, Raucous) and Roger Charlton (62.5%, Projection) best.
The last-named has a race like this within his grasp, but there are doubts about his effectiveness on the going in addition to the draw (in stall 27). Indeed, there are ground-related and draw-related reasons why several of those closer up in the betting may not necessarily run up to their very best.
After considering all of the above, and more besides, I had a go at pricing up the race and found one at a bigger price that looks to represent value.
Aeolus does not fit many of the trends, but he could prove well drawn in stall 12 and represents a trainer "in form". He is running well and would have been closer but for getting checked when fourth in the Group 3 Chipchase Stakes at Newcastle last time. That was on (slow) tapeta, but Aeolus has a decent record on ground softer than good on turf.
The gelding sports first-time cheekpieces and is capable of being placed at least off a mark of 103: he had won the Chipchase back in 2015 and seems very nearly as good still.
I would put in a good word for Upstaging – available at 33/1 despite a win last time – and Stake Acclaim – who goes well under the conditions and might have been expected to be a bit shorter than 25/1 – but this is not a race in which to adopt a scattergun approach.
As usual, it is better to back each way than win only (respective books at best early prices are 124% and 134%, though both should end up more punter-friendly), and if you shop around you may get better terms than the customary "one quarter the win odds, 1, 2, 3, 4" for the place part of the bet.
Either way, hopefully Aeolus can give us a return at an attractive price.
Recommendation: 0.5 pt each way, ¼ odds first 4 places, AEOLUS at 33/1