The Randwick Wrap - July 21
The Randwick Timeform recap featuring a race by race overview of key performers and ones to watch out of the nine race program on July 21.
The meeting commenced with a bang as Plague Stone
shed his maiden status in the Rosebud Prelude, the first leg of a winning treble for James Cummings at Randwick with Gaulois
and Bandipur
the others.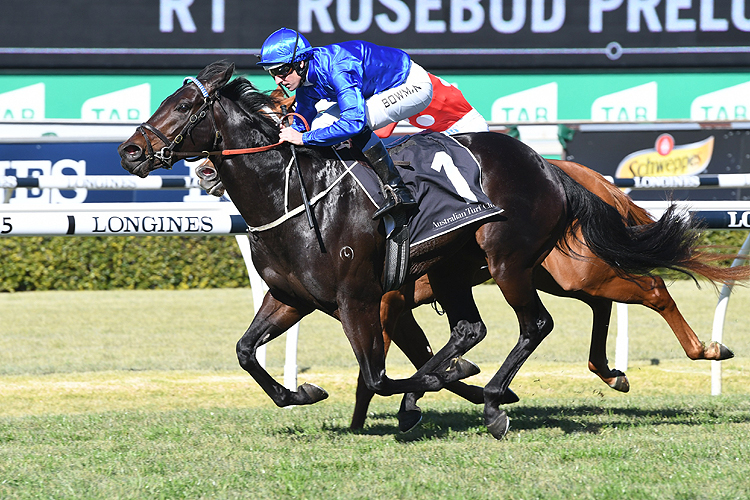 Plague Stone will likely be headed toward the Golden Rose while Gaulois
might not look out of place over the summer heading toward a Festival Stakes and even the Villiers.
Our Malambo
highlighted the disparity between prizemoney in New Zealand and Sydney, almost doubling her career prizemoney earnings from 20 starts across the Tasman in just over a minute at Randwick.
Tactical Advantage
, Bandipur
and Kaonic
chalked up wins early in their preps and won't look out of place in stakes company this upcoming spring.
Of the also rans, Seaglass
and Sir Plush
both caught the eye returning from spells and should be added to all blackbooks.
Race 1: Plague Stone - 2YO Rosebud Prelude (1000m)
Plague Stone
was well placed on Saturday. He was a Group placed colt taking on a field mostly comprised of runners coming out of wins at the provincials.
That class certainly showed late. Only Witherspoon
who was also Group placed put up a fight.
Plague Stone has run to a Timeform
rating of 106. That's right where James Cummings needs him to be heading towards the Golden Rose.
The colt's master rating is 110 from when he ran second to Written By
in the Blue Diamond Prelude.
There is plenty of room for improvement there. He'll likely go to the Rosebud in three week's time. Witherspoon
should go there as well. She was brave and will meet Plague Stone on better weight terms.
Race 2: Gitan - Class 3 Highway Handicap (1400m)
Gitan
got a nice, cosy run, settled off the pace and saving ground on the fence. He ambled up to hit the front 200m out and held Nicconita
at bay.
He's run to a Timeform rating of 85. That's four pounds below his career peak. The gelding produced that when second in a proper city event on Boxing Day last year.
Saturday was Gitan's fourth career win so he's done with Highway Handicaps now. We know though he won't look out of place in city races.
There is another 1400m Highway Handicap at Randwick in two week's time. Without Gitan on the scene, the next three across the line, Nicconita, Cliff
and Magic Choir
can all be fighting it out.
Race 3: Grey Lion - Benchmark 90 Handicap (2400m)
Grey Lion
was the proven, class stayer of the event. That really showed in the final stages when he was in a dogfight with Braces
. The import has run to a Timeform rating of 107.
That's seven pounds below his peak which he ran to in the 2016 Geelong Cup behind Qewy
. That Geelong Cup was his first run in Australia. Saturday was his first Australian win.
Sometimes horses just need a kill to get some confidence up. Grey Lion's got his and could perhaps springboard off it.
The two up and coming stayers, Villardo
and Ombudsman
- they were disappointing.
There is a 2200m Benchmark 76 at Warwick Farm on August 1 they can perhaps drop back to.
They've both got ability, but they showed for now even with a big weight advantage, they're aren't up to matching it with hardened stayers like Grey Lion.
The favourite Ombudsman was inclined to overrace through the middle stages which was always going to make things tough for the son of Reliable Man.
Race 4: Gaulois - Benchmark 92 Handicap (1600m)
Gaulois
was given a fantastic ride by Jason Collett. They settled back and were strong late right along the inside rail. Jason doesn't ride much for Godolphin however it might change after that peach on Saturday.
Gaulois overhauls the front-runners with a speedy performance under Jason Collett up the rail, bringing up a stable double for @JamesCummings88 & @godolphin in the @tabcomau Rewards Handicap @royalrandwick. pic.twitter.com/xlm4fxLm2Z

— Sky Racing (@SkyRacingAU) July 21, 2018
We've got Gaulois running to a Timeform rating of 104. He's run that figure at his past three starts.
I'm not sure what his ceiling is but we don't necessarily have to get there for a while.
The son of Street Cry can run in a Benchmark 88 over the same track and trip in two week's time.
From there, some consideration should be given as to whether he could be a lightweight Festival Stakes/Villiers Stakes type over the summer.
The next three across the line, Gresham
, Dagny
and La Chica Bella
. They were all solid enough. They're like Gaulois though in the fact they're getting to the end of their preps.
They could all potentially go to that same mile race next fortnight then spell over the spring. The Benchmark races they ply their trade in will start getting replaced by stakes races in just a few weeks.
Race 5: Our Malambo - Benchmark 77 Handicap (1200m)
The main talking point out of this event is the disparity in prizemoney between New Zealand and Sydney. Our Malambo
had earned a tick over 70k through her first 20 starts in New Zealand. She's almost doubled that in just over a minute at Randwick.
The daughter of Duelled has returned a rating of 93 which is equal to her prior peak run in New Zealand.
The former Graeme Rogerson-trained mare coming over could be just the tip of the iceberg as well. From September 1, Saturday metropolitan races in Sydney will boast a $125,000 purse while midweeks increase to $50,000. That should lure a fair few more across the Tasman with their standard prizemoney per major Saturday meeting around just $25,000 NZ.
Outside of Our Malambo, Seaglass
in fourth produced a real eye catcher. There are a few Benchmark 78's she can head to in the coming weeks. She's a lightly-raced filly who has always shown a stack of promise and could take beating second up.
Race 6: Irithea - Benchmark 80 Handicap (1400m)
The first two across the line were the first two in running.
Irithea
had a slightly kinder run being able to stalk Mandylion and that told late. She's produced a Timeform rating of 94.
There is a 1400m Fillies and Mares Benchmark 88 Handicap at Rosehill in three week's time which could be perfect for her. She'll be at her peak fourth run from a spell.
Touch Of Mink
and Nicci's Gold, those two fillies were making good ground late.
One filly who wasn't however was Seahampton
. The less said the better about her.
Race 7: Tactical Advantage - July Sprint (1100m)
Tactical Advantage
was returning from a wind operation for a new stable and produced a hugely dominant win.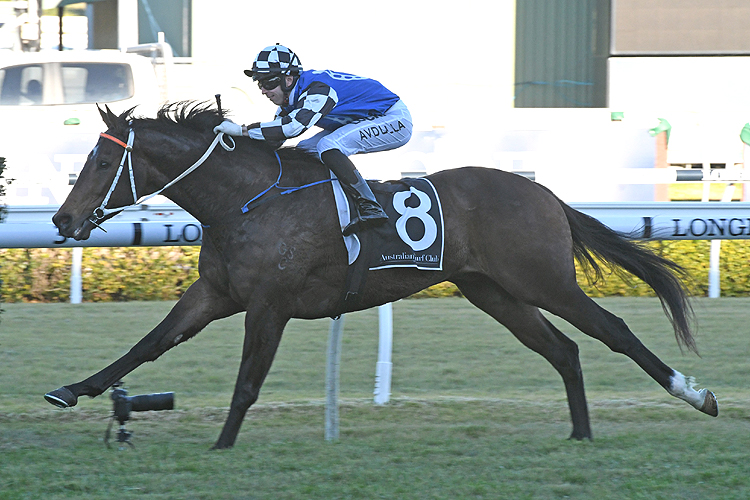 The 2.5 length victory returned a Timeform rating of 107. The Bel Esprit gelding has a master Timeform rating of 109 which he ran to as a three-year-old so there's room for improvement.
From here, they can potentially keep him fresh for the Group 3 Show County Quality (1200m) at Randwick on August 18. The Australian Bloodstock-raced sprinter should get in there with a low weight.
The Show County Quality has been won by the likes of Rebel Dane
, Terravista
and Deploy
in the past five years so a win the new addition to Kris Lees' stable join some good company.
Similar to Terravista and Deploy, he'll be going into the race as a lightly-raced five-year-old.
Tactical Advantage blew them out of the water on Saturday. That said, Sir Plush
was doing some good work late in fifth.
There is a 1400m Open Handicap at Rosehill in three week's time. That would suit him down to the ground second up.
Race 8: Bandipur - Benchmark 80 Handicap (1000m)
Bandipur
got a beautiful run in transit, tucked behind the early lead. Clear space emerged in the straight and he capitalised.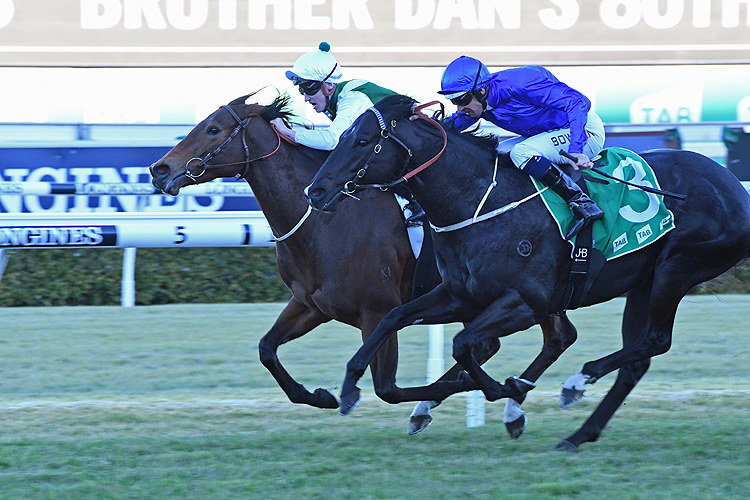 We assessed the performance at 103. He's still racing below the figures he produced in the spring, that said though, he's improved with each run this prep.
There is an 1100m Benchmark 94 at Rosehill in three week's time the Commands colt can head to.
James Cummings-trained both the 1000m winners at Randwick on Saturday. Plague Stone
ran much faster time, .7 seconds faster than Bandipur. Bandipur is a stakes winner so Plague Stone is certainly looking good against some decent company on the day.
Race 9: Kaonic - Benchmark 80 Handicap (1400m)
Kaonic
was the second winner of the day who went back and powered home along the fence.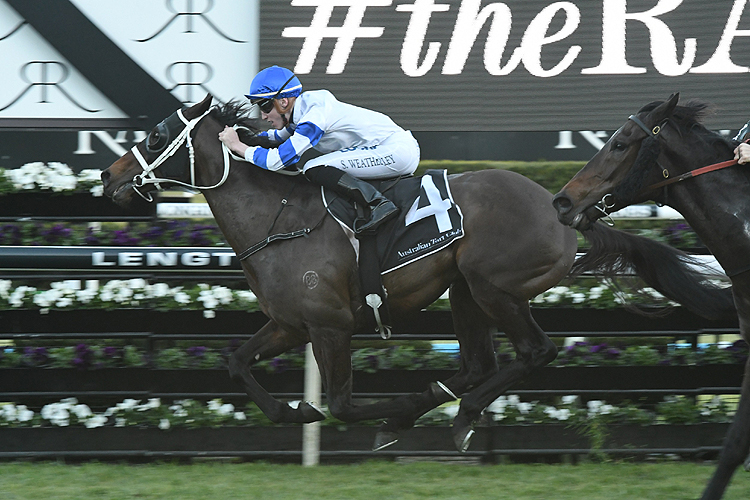 We've got the colt running to a Timeform rating of 103p.
It's a provisional rating (hence the 'p') because he ran about five lengths superior to that in the Randwick Guineas earlier this year.
Kaonic's autumn campaign as a whole was disappointing considering there was such a boom on him heading into that prep.
The Savabeel colt looks ready to make amends this prep. There is a Benchmark 88 Handicap over the Randwick Mile in two weeks.
It will be interesting to see how far he can go this prep. If Chris Waller can get him back to that 116 figure, the rising four-year-old should be fighting out stakes race through the Sydney Carnival.
R7 RANDWICK

21 July 2018

July Sprint 3U , 1100m
FP

Horse
Age & Sex
Trainer
Jockey
WT
SP
8. TACTICAL ADVANTAGE (AUS)
5yo Gelding
KRIS LEES
BRENTON AVDULLA
54.0
$4.25
BEL ESPRIT (AUS) - ABOVE PERFECTION (AUS)

Australian Bloodstock (Mgr: J Lovett, L Murrell), S Baker, R Grofos, M Hughes, D Clifford, D Forward, S Novak, R Conkey, A Smith, B Paterson, J Gabbiadini, S Clark, D Lewis, Ocd Racing (Mgr: R Minney, M Cullen), Boys Club (Mgr: D Wolinski), All In 3 (Mgr: S Coutts), Shire Racing (Mgr: J O'Sullivan)

4. DAL CIELO (NZ)
6yo Gelding
KRIS LEES
AARON BULLOCK
56.5
$17.00
PER INCANTO (USA) - CENT FROM HEAVEN (NZ)

L Petagna, G Devonport, B Farrelly, S Hoppe, D Pringle, A Taylor, D Forward, N Henry, S Young, A Farrelly, G Matthews & K Bedford

9. EASY EDDIE (AUS)
4yo Gelding
JOSEPH PRIDE
KERRIN MCEVOY
53.0
$5.50
SUPER EASY (NZ) - TWIN TOWN (GB)

J J W Pride, A J Rix, N J Pinner, G Haddad, P A Dowsey, C Assaf, Ungar Family (Mgr: T M Ungar) & B B S D (Mgr: T Kohlen)

4th
7. ISORICH (AUS)
8yo Gelding
WAYNE SEELIN
BROCK RYAN
50.5
$41.00
5th
5. SIR PLUSH (NZ)
6yo Gelding
BJORN BAKER
JASON COLLETT
55.5
$16.00
6th
3. I THOUGHT SO (AUS)
5yo Gelding
P & P SNOWDEN
BLAKE SHINN
58.0
$2.63
7th
12. PETROSSIAN (AUS)
6yo Gelding
PAUL PERRY
JAMES P INNES
53.0
$81.00
8th
6. MEMES (AUS)
5yo Mare
JASON COYLE
MS RACHEL KING
55.0
$12.00
9th
1. BOSS LANE (AUS)
8yo Gelding
R J QUINTON
ANDREW ADKINS
61.0
$31.00
10th
11. NOBLE JOEY (AUS)
6yo Gelding
R & L PRICE
KATHY O'HARA
53.0
$16.00
11th
2. EMBLEY (AUS)
7yo Gelding
BJORN BAKER
JEAN VAN OVERMEIRE
56.5
$101.00