The Rosehill Wrap - March 17
The Rosehill Wrap featuring a race by race recap of key performers from Coolmore Classic Day on March 17.
Daysee Doom confirmed herself as the dominant mare in Sydney (outside of Winx of course!) by taking out the Group 1 Coolmore Classic.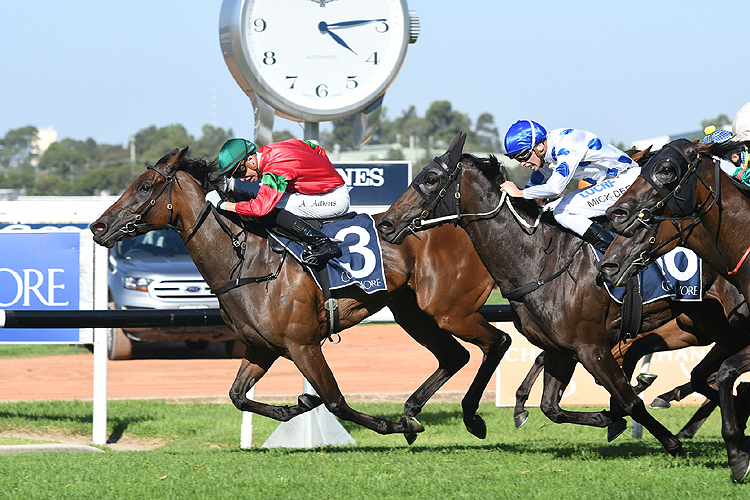 Comin' Through booked a spot as a genuine lightweight hope in next month's Doncaster Mile while Mick Price looks set to have key chances in both the Rosehill Guineas and Vinery Stud Stakes having filled the minor placings of the Phar Lap Stakes.
Race 1: Multifacets - Benchmark 82 Handicap (1900m)
A couple of winning droughts were broken on Saturday, Multifacets
was the first to do it.
It's been a while in between drinks for Multifacets, but the @cwallerracing-trained gelding breaks that drought with a strong performance in the opener at @rosehillgardens. pic.twitter.com/bRiqHIUHri

— Sky Racing (@SkyRacingAU) March 17, 2018
There was nothing overly special about the win. He was the fit middle distance horse down in the weights. Ran to a Timeform
rating of 94.
All Too Soon
is clearly the horse to follow out of the race. She was jumping noticeably in grade and measured up.
She was finding the line well. David Payne can get her back to a more conventional Oaks path from here. Two weeks from here she can run in the Vinery Stud Stakes and then to the Oaks.
Race 2: Auvray - Group 3 Sky High Stakes (2000m)
It was a case of third time lucky for Auvray
this prep. Richard Freedman put him in the right race and Glyn Schofield gave him the right ride. On Saturday he ran to a Timeform rating of 114.
It looked a tight contest between Stampede & Libran, but Auvray runs his own race down the outside to deny them in the Sky High Stakes with a speedy final furlong. @SchofieldGlyn finds a running double to kick off the card at @rosehillgardens! pic.twitter.com/t1WfLVZSg7

— Sky Racing (@SkyRacingAU) March 17, 2018
He's off to the Tancred Stakes in two weeks time. Hartnell
was the last horse to claim the Sky High - Tancred Stakes double in 2015.
Auvray probably has to improve a bit for a Tancred but Richard looks set to have him peaking for it fourth run from a spell.
Libran
, Mackintosh
and Salsamor
. Each of them were finishing well behind him. All are working toward their main autumn goals well.
Race 3: Sunlight - Group 3 Magic Night Stakes (1200m)
Sunlight
was challenged out in front early but was still too good. Ran to a Timeform rating of 112. Her master rating is 116+ achieved in the Skyline.
Sunlight looked in impeccable form as she shows the way rounding the turn and skips way with ease to deliver for punters in the Magic Night Stakes. The #GoldenSlipper favourite giving us a preview of what to expect next week! pic.twitter.com/wenGcFBceA

— Sky Racing (@SkyRacingAU) March 17, 2018
She's the favourite but there are a couple of factors that suggest she's under the odds.
Firstly, she ran more than half a second slower than the boys in the Pago Pago.
It's also worth noting the last filly to claim the Magic Night - Golden Slipper double was Bint Marscay all the way back in 1993. Five have done it.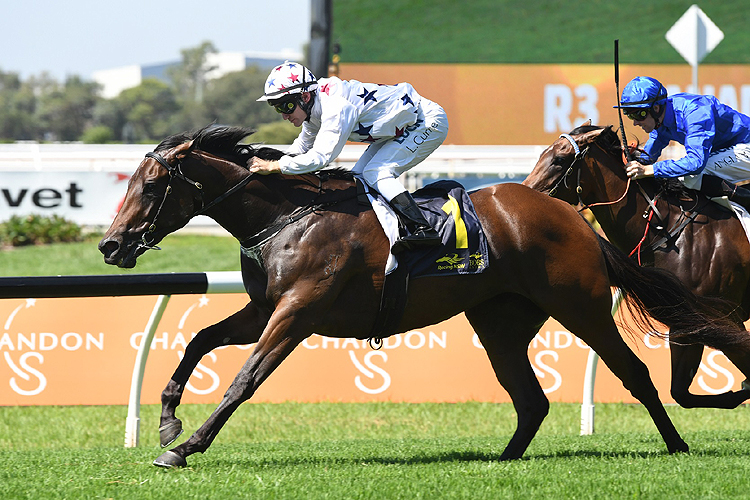 Sunlight is a $3.50 favourite and Written By is the $5.00 second elect. There is a lot to suggest those two should probably be flipped in betting.
Cristobal
and Sweet Ava
were good filling the minors. Neither of them have made the Golden Slipper field however the $600,000 Group 2 Percy Sykes Stakes (1200m) on April 14 shapes as an excellent consolation prize.
Race 4: Written By - Group 3 Pago Pago Stakes (1200m)
That was impressive from Written By
. He and Sandbar
put a big space back to Spin in third who looks to have a bit of talent himself.
Thriller in the Pago Pago!!

Sandbar puts up a gallant effort, but was bested in the final 50m by odds-on pop Written By in the Pago Pago Stakes at @rosehillgardens. Well done to both runners for a brilliant contest! pic.twitter.com/NFj5M8aTa4

— Sky Racing (@SkyRacingAU) March 17, 2018
Written By has run to a Timeform rating of 118. That's two pounds shy of his Blue Diamond Stakes win.
He is the highest rated two-year-old of the crop so far off that Blue Diamond Stakes win.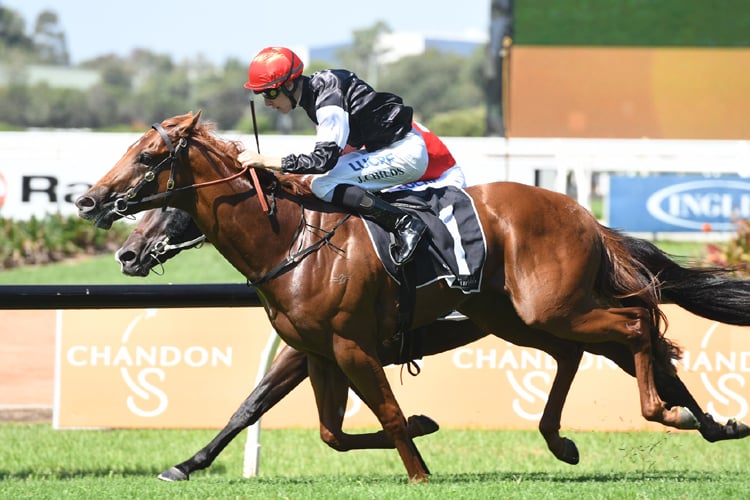 He'll go into the Golden Slipper looking to become the first horse since Stratum in 2005 to claim the Pago Pago/Golden Slipper double. Three have done it.
Sandbar in second. He was brave. He's scraped into the Golden Slipper and deserves his place in the field following that effort on Saturday.
Race 5: Dothraki - Group 3 Maurice McCarten Stakes (1100m)
Dothraki
is a bit of a non winner and that was reflected in his starting price. $12. He's run to a Timeform rating of 115 though which is the highest winning figure of this race since Title in 2012.
Protest upheld!!

Sprightly Lass gives a bold sight out in front, but is dove upon by Dothraki in a thrilling blanket finish to the Maurice McCarten Stakes. The @SnowdenRacing1-trained gelding lands the prize!! pic.twitter.com/LNTFAIYgDa

— Sky Racing (@SkyRacingAU) March 17, 2018
A horse like Dothraki, you need to place him right and he'll reward you. Saturday was a case in point.
Sprightly Lass
lost on protest but got some black type and ran a career peak.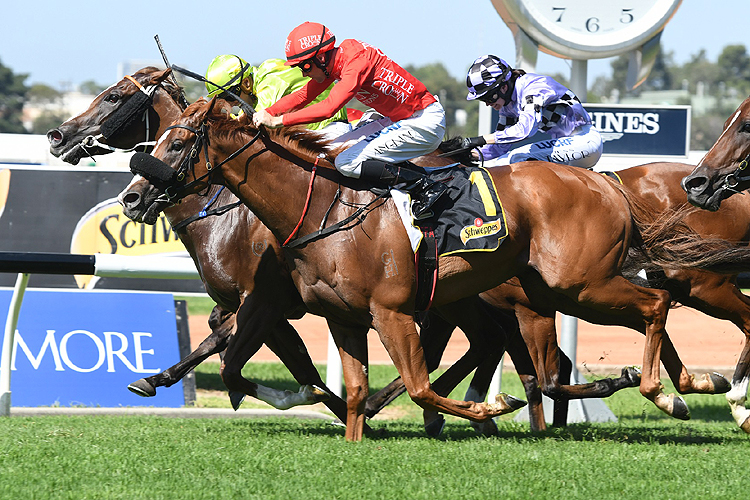 Isorich
was his usual honest self. Secret Trail
good first up as well.
Race 6: Unforgotten - Group 2 Phar Lap Stakes (1500m)
Unforgotten
got her prep back on track and run to a Timeform rating of 109.


Unforgotten submits an inch-perfect dive to deny Holy Snow right where it counts. The @cwallerracing-trained filly comes back to the races with a spectacular showing in the Phar Lap Stakes!! pic.twitter.com/4DN1Xklc6T

— Sky Racing (@SkyRacingAU) March 17, 2018
Chris Waller has won three of the last four Phar Lap Stakes now. He got it last year with Foxplay
and in 2015 with Winx
.
She'll follow the same path Winx did that autumn, the Vinery Stud and the Australian Oaks.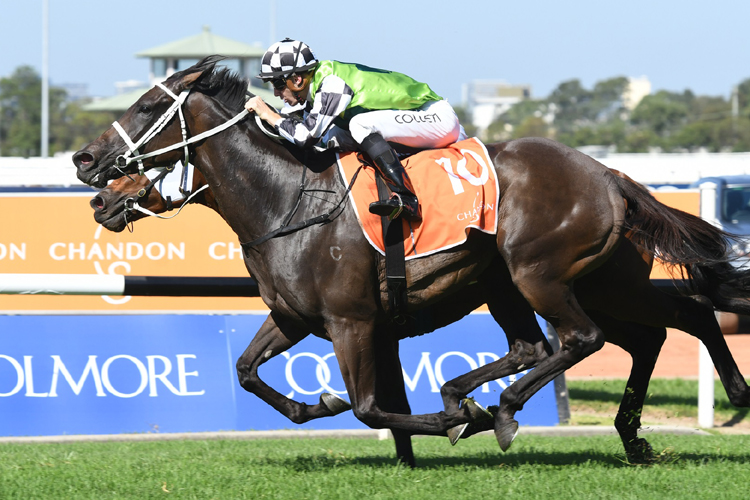 Winx became invincible after those two runs so it's likely Unforgotten's last chance to outperform her champion stablemate.
Holy Snow
very good third up with Blinkers on for the first time.
Mick Price won the Rosehill Guineas two years ago with Tarzino
. He looks a live chance there in two weeks. His stablemate Hiyaam
right on track for the Vinery Stud and Oaks as well. That was a big run first up over 1500m.
$41 about Hiyaam for the Australian Oaks with Ladbrokes Odds Boost is generous with all other bookmakers only offering around $12.
Race 7: Daysee Doom - Group 1 Coolmore Classic (1500m)
Daysee Doom
was brilliant. Settled outside the lead and was too strong late despite giving most of her rivals weight.
DAYSEE DOOM!!

The Ron Quinton-trained mare wins the Coolmore Classic in style, making it back to back wins this prep. An amazing watch as she leads a wall of runners all the way to the line. Champion!! pic.twitter.com/mtIxHlCKeu

— Sky Racing (@SkyRacingAU) March 17, 2018
She's run to a Timeform rating of 116. That's the highest winning figure we've seen in a Coolmore Classic since Steps In Time
won in 2014.
Ron Quinton has an abundance of options with her this next month. The most conventional path would be the Emancipation Stakes (1500m) in two week's time and then the Legacy Stakes (1600m) two weeks after that.
Outside of Winx, Daysee Doom is the dominant mare in Sydney and will be hard to beat in those races.
She'll be up against the same mares who she beat on Saturday, but on better weight terms.
The five-year-old will be switching back from handicaps to Set Weights plus Penalties and Weight For Age events. Her rivals look set to be vying for the placings.
Race 8: Comin' Through - Group 2 Ajax Stakes (1500m)
Comin' Through has run to a Timeform rating of 116. He'll go straight to the Doncaster from here. With just 51.5kg he's in that race up to his ears.
Coming Through heads them up as they hit the line, doing enough to hold off Tom Melbourne and score in the Ajax Stakes at @rosehillgardens. A real thriller gives @cwallerracing a treble on the day! pic.twitter.com/ToVAHbUhn0

— Sky Racing (@SkyRacingAU) March 17, 2018
Only 12 months ago It's Somewhat claimed the Ajax Stakes/Doncaster double so this race has become a more credible form line heading to the Doncaster.
I've got a bit of time for Comin' Through this prep because the decision was made to geld him over the summer. He's always shown promise and he's a half brother to four time Group 1 winner Criterion
.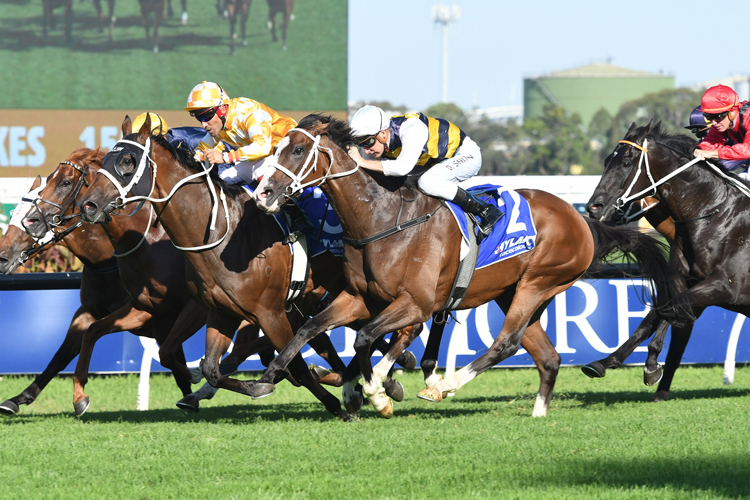 He looks timed to the minute to showcase his potential as a racehorse in a $3million event.
Tom Melbourne
is on track for the Doncaster as well. As well as being a notorious bridesmaid, lack of race fitness was always going to hit him in the face late first up over 1500m on Saturday.
He'll be better for the run.
Race 9: Peacock - Benchmark 89 Handicap (1350m)
Peacock
. He's the sort of horse who's promised the world and hasn't really delivered. A lot who back the gelding likely call him by only half his name after most of his runs.
The on-speed Peacock leads all the way for a very nice win in the https://t.co/RAmt0zQr3i Handicap at @rosehillgardens, book-ending the card in impressive fashion. @SchofieldGlyn ends the day with a treble! pic.twitter.com/4ZIgJY9ifG

— Sky Racing (@SkyRacingAU) March 17, 2018
Leading throughout he ran to a Timeform figure of 100 on Saturday, suggesting the Lonhro four-year-old may be ready to deliver on some of his promise.
It's the best figure Peacock has produced in 12 months. It's still below his best as well. The Godolphin sprinter won the Gothic Stakes as a three-year-old with a Timeform rating of 103.
There is a 1400m Benchmark 90 for him at Rosehill in a fortnight. He could take some running down.
Tribal Wisdom
very good in second as well. The quinella in the last look like a pair of four-year-olds who each have some upside.
R7 ROSEHILL

17 March 2018

Coolmore Classic 3UFM , 1500m
Race Synopsis: Highly consistent Ron Quinton-trained mare Daysee Doom, a good fourth in this race last year, scored this time with yet another game performance, taking her record to nine wins (with five placings) from 19 starts. She was smartly away from her wide barrier (14) and eventually crossed to settle outside the leader (Flippant). She put pressure on that runner rounding the home turn, got to the front at the 200m and then dug deep when challenged to score narrowly, but impressively. Oregon's Day travelled nicely in fifth place, one off the rails, responded to riding on straightening to challenge at the 100m and fought well under her limit weight (51kg) for a close second. Silent Sedition raced in ninth, improved (deep) nearing the 600m, commenced a good run from the 300m and kept finishing well for a close-up third, her second placing in successive years in this race. Eckstein raced in tenth place, went deep from the 300m and ran on well for (0.6 lengths) fourth. Prompt Response began well, raced in fifth place (without cover) moved up coming to the home turn and battled on well for a close-up fifth while the winner's stablemate Dixie Blossoms ran on very well from 11th at the home turn for sixth, beaten less than a length in a packed finish.


FP

Horse
Age & Sex
Trainer
Jockey
WT
SP
3. DAYSEE DOOM (AUS)
6yo Mare
R J QUINTON
ANDREW ADKINS
57.0
$21.00
DOMESDAY (AUS) - SEE A VICTORY (AUS)

J F Griffin & Mrs A C Griffin

18. OREGON'S DAY (AUS)
5yo Mare
MICK PRICE
MICHAEL DEE
51.0
$11.00
DOMESDAY (AUS) - OREGON SEAL (NZ)

P F Girolami, Mrs M P Girolami, D J Danaher, Mrs C T Danaher, B X Danaher, C R Skelton, Dr A H Clarke, Mrs J E King, Dr A H Holden, Mrs T K Holden, M R Skelton, T R Power, Mrs N K McCue, B M McCue, R J Gehrig & Mrs H M Gehrig

2. SILENT SEDITION (AUS)
6yo Mare
ANDREW NOBLET
CRAIG WILLIAMS
57.5
$10.00
WAR CHANT (USA) - FIORENTINA (AUS)

Aqua Trained Thoroughbreds Pty Ltd (Mgr: T F Curnow)

4th
11. ECKSTEIN (AUS)
5yo Mare
KURT GOLDMAN
BRENTON AVDULLA
53.0
$21.00
5th
5. PROMPT RESPONSE (AUS)
5yo Mare
G WATERHOUSE & A BOTT
BLAKE SHINN
56.5
$21.00
6th
1. DIXIE BLOSSOMS (AUS)
6yo Mare
R J QUINTON
COREY BROWN
57.5
$9.00
7th
17. JUST DREAMING (AUS)
5yo Mare
KRIS LEES
MS RACHEL KING
51.0
$21.00
8th
9. AIDE MEMOIRE (NZ)
7yo Mare
KRIS LEES
JASON COLLETT
54.0
$17.00
9th
4. HEAVENS ABOVE (AUS)
7yo Mare
T R MARTIN
TYE ANGLAND
56.5
$26.00
10th
10. DANISH TWIST (AUS)
7yo Mare
KRIS LEES
TIM CLARK
53.0
$61.00
11th
15. BRING ME ROSES (AUS)
4yo Mare
TONY MCEVOY
DEAN YENDALL
51.0
$13.00
12th
12. FLIPPANT (AUS)
6yo Mare
P & P SNOWDEN
JAY FORD
53.0
$61.00
13th
8. ALIZEE (AUS)
4yo Mare
JAMES CUMMINGS
GLYN SCHOFIELD
54.0
$12.00
14th
7. EGG TART (AUS)
5yo Mare
CHRIS WALLER
KERRIN MCEVOY
55.5
$4.75
15th
14. FRANCALETTA (AUS)
6yo Mare
MURRAY BAKER & ANDREW FORSMAN
STEPHEN BASTER
52.0
$13.00
16th
13. RAIMENT (AUS)
5yo Mare
JAMES CUMMINGS
MICHAEL WALKER
53.0
$9.00
17th
6. ZANBAGH (AUS)
8yo Mare
JOHN P THOMPSON
CHRISTIAN REITH
56.0
$151.00