Timeform Recap: 2017 Australian Cup
The Darren Weir-trained Humidor was a brilliant winner of the Australian Cup on a day where the track dominated the conversation.
Standing on a cooled cinder, we see the slow fading of the suns, and we try to figure out... whether Flemington was biased or not. - Georges Lemaitre (sort of)
Lemaitre was actually talking about his theory of the Big Bang and the origin of the universe - it is unclear as to whether he had much interest in horse racing - but even one of history's greatest minds couldn't come to a definitive conclusion about whether Flemington was biased or not.
Views on the Flemington track ranged from 'a nightmare' to 'perfect' and, as is almost always the case in debates where two sides are at the extremes, the truth is likely to sit in the middle.
Another 'almost always the case' was in play. On speed is the place to be on turning Australian racecourses at the back end of a long hot summer. This isn't new. This isn't bad. If you are fast enough you will win the race.
It is all well and good to claim there is a bias but those opinions are light weight until accompanied by risk. Hence betting markets, where risk weeds out the weak opinions, are a great guide. Markets did react to the 'bias', hinting at the track being away from 'perfect', but far from suggesting it was a 'nightmare'.
Humidor was fast enough to be considered a strong Australian Cup winner with a new peak
Timeform
rating of 125
The actions of riders on the day also points to the truth in this debate being in the middle. Jockeys made their way to the far side in straight races but they weren't in any mad hurry to be on speed.
Finishing speeds on the day were: 103.2%; 105.5%; 103.5%; 102.6%; 104.4%; 102%; 104.6%; 102.3%; 103.7%.
Not a single race was run faster early than late. If there was a huge advantage to be had racing on speed the jockeys weren't buying right into it.
The winner of the Australian Cup, Humidor
, was always going to race against the 'bias' but he was firm throughout betting and, ultimately, he was fast enough to win the race.
In fact, Humidor was fast enough to be considered a strong Australian Cup winner. A new peak Timeform rating of 125 is accompanied by a plus and it will be no surprise to see him prove even better than that.
A rating of 125 is the best in the race since Fiorente
in 2014, who ran to the same mark, and at least as good as every Australian Cup winner since Lonhro in 2004.
Northerly ran to 127 in 2001 and Intergaze 126 in 2000 but without doubt the Australian Cup's golden era was the early 90's when Better Loosen Up, Let's Elope and Veandercross posted the three highest ratings in the race's history running to 131, 127 and 129 respectively.
A clogging of the calendar has seen the Australian Cup slip from prominence in recent times but the 2017 edition should be considered a strong one and it should be the source of plenty of winners.
Of course, Sydney's weather is going to have a big say in that in the short term, with the first three home in the Australian Cup all reportedly targeting Rosehill's Tancred Stakes next, and they should be at the forefront of the betting there.
Humidor ran the best closing 800, 600, 400 and 200 in the Australian Cup but third-placed Exospheric
ran the fastest closing 1600, 1400, 1200 and 1000.
He did something similar in the Caulfield Cup back in the spring and it is clear that sustained power is his asset. He ran to a rating of 121 in the Australian Cup but his peak of 124 looks almost a formality when returning to 2400m next time - just so long as the track remains above water.
Jameka was terrific again, running to 119, and her Caulfield Cup-winning peak of 121 is clearly still within her reach. With reported goals extending beyond Australia's shores to the middle-distance furnace of Europe she would want to have that 121 up her sleeve, but such enterprise is what makes Australian racing great and should be applauded.
The other feature on the day was the Newmarket which was won first-up from a break for the first time in 100 years by the very much in-form Hayes, Hayes and Dabernig's Redkirk Warrior
.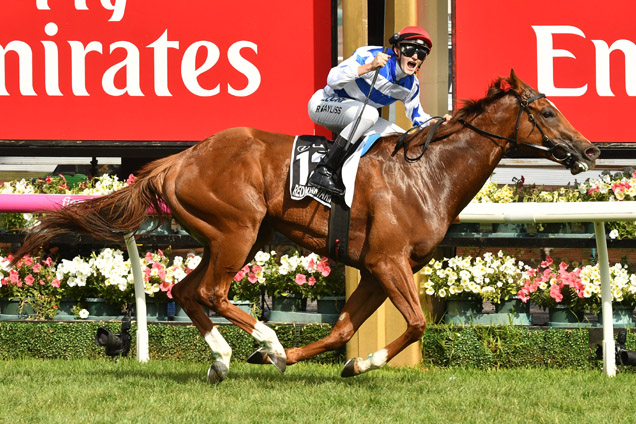 The Newmarket was the 104.6% on our list of finishing speeds and, needless to say, that is slower than optimal for a Group 1 sprint down the Flemington straight - they ran much faster in country Queensland's Dalby Newmarket on the same day!
That there was no 'Group 1 pressure' probably played it's part in allowing the Newmarket to fall into the hands of one first-up from a break, and a smart and positive ride, from a smart and positive young jockey, didn't hurt either.
Redkirk Warrior returned a Timeform rating of 120 and the runner-up Voodoo Lad, also first-up from a break, matched his previous peak of 116.
Both are clearly back in terrific order and have big campaigns in store but the Newmarket hardly looks to have cleared what are fairly murky waters in the Australian sprinting division at present.
Chautauqua
and Le Romain
posted genuine Group 1 performances in the Canterbury Stakes in Sydney but Melbourne's big three autumn sprints have failed to deliver anything at that level.
The 2017 Newmarket was the first without a horse running to 125 or better since all the way back in 2003.
Despite that it should still provide punters with forthcoming winners, Tivaci
one that caught they eye running on strongly to match his 112 best while giving the impression that he is going well enough to make light of that rating when stepped up in trip.