Timeform Recap - 2017 Caulfield Cup
Timeform recap the 2017 Caulfield Cup won by Boom Time for Lindsay Park and jockey Corey Parish.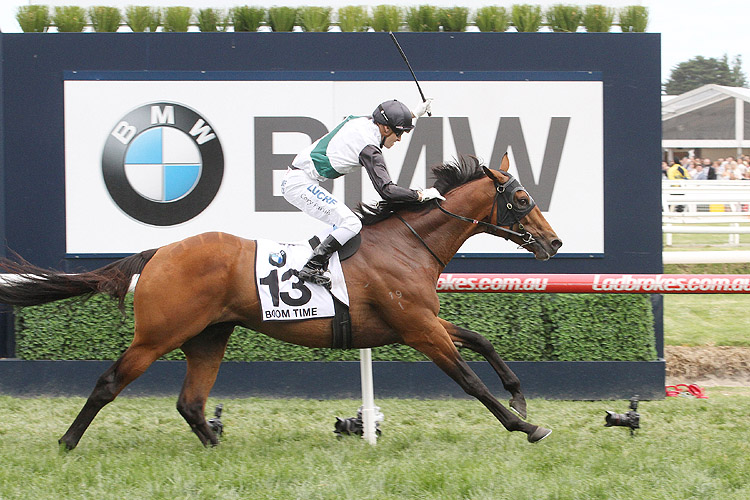 The big egalitarian handicaps are one of the best things about Australian racing and, despite recent tinkering with handicapping rules in an attempt to skew things in favour of better performed horses, the 2017 Caulfield Cup went to a horse with a humble record in Boom Time
.
We'll stop short of calling the now 117-rated Boom Time a battler, but he looks something of a throw back winner of the Caulfield Cup. He wasn't an Oaks or Derby winner or a highly-rated raider from abroad. In 14 runs for Lindsay Park before Saturday Boom Time had come from winning restricted handicaps to be a 115-rated Group 3 placegetter. He'd made big strides, and with plenty falling his way on Saturday he was able to eek out a couple more pounds - and they were valuable pounds!
Boom Time's rating rises from 115 to 117. That's the lowest winning rating of the Caulfield Cup in the last 10 years but it matches the rating returned by 2007 winner Master O'Reilly who, coincidentally, was the last horse to back up from the Herbert Power and win the Cup.
The following year Viewed ran 10th in the Caulfield Cup before going on to win the Melbourne Cup at Flemington and, quite surprisingly, he was the last horse to come through the Caulfield Cup and win at Flemington on the first Tuesday in November.
Ironically, Sir Isaac Newton got the physics all wrong, and he paid severely for using far too much energy early - but he did so individually.
The pace of the race was genuine, but not as outrageous as it may have seemed given Sir Isaac Newton's front-running antics. Ironically, Sir Isaac Newton got the physics all wrong, and he paid severely for using far too much energy early - but he did so individually.
Kathy O'Hara did a terrific job on runner-up Single Gaze, letting Isaac make a mess of things on his own while keep her filly travelling at close to an ideal tempo. The finishing speed of the Caulfield Cup, expressed as a percentage of overall race speed from the 600m, was 102%. Single Gaze's individual finishing speed was 103.7%.
The horse in the race that looks most likely to snap the Caulfield Cup's Flemington drought is the fifth placed Marmelo
who caught many eyes humming home having been ridden conservatively early.
The idea that the high pressure up front flattered him is shown up somewhat by the closing speeds. Marmelo's closing speed of 105.9% was even better when taken from the 1000m mark. It was a sustained close and his rating of 119 at Caulfield looks more likely to be in the mid-120s by the time we get to Flemington.
The other key point regarding Marmelo is that he is a lot more than just his Caulfield performance. As we know, the Kergorlay has been used as a springboard to Melbourne Cup success in the past but it is his win in the Prix Barbeville that punters should be keying on to.
That was run on quick ground. Racing and Sports assessment of the going at Chantilly that day was very similar to where Flemington will likely be on Cup Day if not slightly quicker. That's a big tick for him, as is the time that he ran, 1.9 seconds quicker than any horse over the Chantilly 3000m in the past decade.
The runner-up Bateel
has improved over the course of the season and is now a Group 1 winning mare with a rating of 123 and the third-placed Travelling Man has been consistent throughout the French staying season - beaten no more than 1.7 lengths in five subsequent starts having been 3.5 lengths from a rampant Marmelo that day.
The best performances away from the Cup came from Cliff's Edge and Snitty Kitty who both ran to 116 winning the Caulfield Classic and Sprint respectively.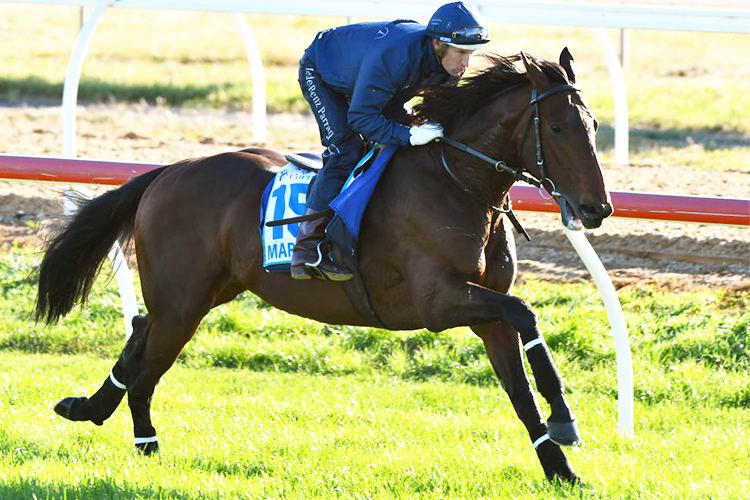 The Classic was select in numbers but strong for it's kind and while 2500m looks far from a given for Cliff's Edge he is at least as talented as any horse on the Derby path on deeds to date having posted a strong time from the front and not for the first time.
Snitty Kitty also produced a good overall time and encouragingly she did so in a controlled fashion. She was swift but not searing through the first 400m before ramping it up passing the 600m and going right on with it. She's got a series of good times to her name but importantly she's run times with some substance to them. She's no squib!
First up behind her was Property
who was having his first run as a three-year-old having been a smart juvenile last season.
He could be considered disappointing but ultimately ran to 113 - just three pounds shy of his peak last season - and did so with the leaders having had complete control and the speed to make the most of it. He didn't lay a glove on them but he blew off the cobwebs in good enough style to remain high up in thoughts heading towards the Coolmore in two weeks time.