Timeform Recap - 2017 Cox Plate
Timeform recap of the 2017 Cox Plate won by Winx for trainer Chris Waller and jockey Hugh Bowman.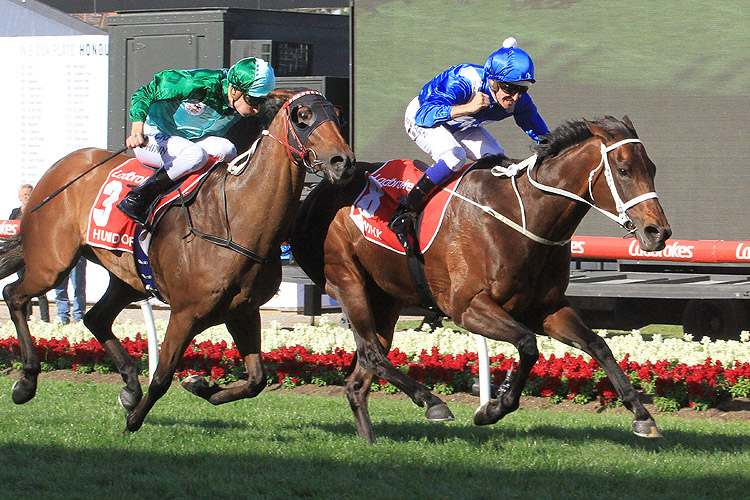 Winx
went to Moonee Valley on Saturday to do some legacy building. Questions about how good Winx is or isn't had been answered in 21 consecutive wins prior. Saturday was about joining Kingston Town as a three-time winner of Australia's weight-for-age Championship - and she did it.
Winx didn't have to run to her 134-rated best on Saturday, returning a rating of 126. Since Kingston Town there hasn't been a middle-distance horse in Australia good enough to make Winx's 134-best a requirement for victory and certainly nothing among the beaten brigade on Saturday had the tools to demand so much of the mare.
Could she have run to 134 had the King come forward as the challenger as opposed to Humidor? We would have to think not. Winx ran good time on Saturday, and she did it finishing fast, but so too did Humidor, with sectional analysis hinting that the pair might have been another length ahead of the third horse Folkswood on another (slightly more efficient) day.
Winx ran good time on Saturday, and she did it finishing fast, but so too did Humidor
Rating racehorses is about taking what we already know about horses and updating our assessment as more information comes to hand. Every race provides a wealth of new information but it shouldn't be taken at the expense of the prior.
Winx probably couldn't have run to 134 on ground as fast as Saturday (Racing and Sports' assessment of the going was on the firm side of good and about as fast as the Valley races these days) but she certainly has in the past - particularly on ground with a bit more give.
The fast raw time speaks as much to the fast conditions as to a fast performance. Speed figures from Winx's three Cox Plate wins are in direct contrast to the raw times. 2:02.98 in 2015 earned a time rating of 128. A near identical 2:02.94 in 2017 returned a time rating of 117. It took Winx 2:06.35 to win the 2016 Cox Plate but it earned her one of the best times in the modern era with a time figure of 132.
Humidor
had a perfect run under an inspired steer from jockey Blake Shinn, but he could hardly be considering himself lucky, having produced a Cox Plate winning performance (rated 129) only to be denied by a greedy Winx.
It was surprising that Humidor got as close to Winx as he did but that he could run to such a level shouldn't come as such a shock. Blinkers and a brilliant ground-saving ride look to have squeezed the absolute best out of Humidor who had already posted two genuine Group 1 performances in 2017. He ran to 125+ when overcoming the pattern of the day in a strong Australian Cup and 126 when blitzing a the Makybe Diva Stakes field in September.
That Humidor's three best performances have come in the three fastest races that he has contested would be no coincidence.
Folkswood ran third for Godolphin, edging his 119 rating from Cranbourne up to 120 while the three-year-old Royal Symphony matched his pre-race rating of 116 but did so despite a less than ideal run and could prove up to much better in the long term.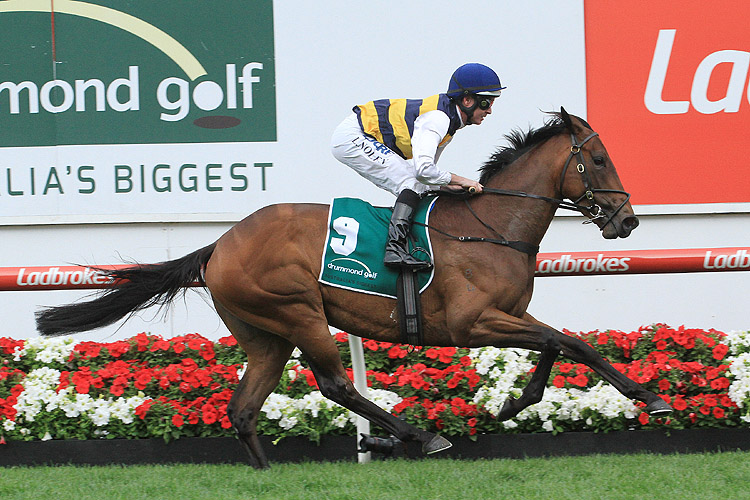 Royal Symphony wasn't the highest-rated three-year-old performance on the card. That honour went to the Vase winner Aloisia
who ran to 119 in taking down Cliff's Edge in 2:04.24, the fastest Vase on the Moonee Valley Strathayr by over a second.
Again this speaks to how fast the track was playing. Only three times in 22 years had the Vase broken 2:06, Aloisia and Cliff's Edge went ahead and smashed 2:05!
Winx was ~7.5 lengths quicker than the Vase on raw times after being ~27.5 lengths faster in 2016 and ~18 lengths faster in 2015. Of course we've already made a clear point of how raw times mean little but it's a quick illustration of how good this year's Vase was and how good Winx has been in her previous two Cox Plates.
Aloisia's 119 rating in the Vase has only been bettered this century by Efficient and Whobegotyou (two of the three sub-2:06 runnings) as well as Helenus and Ustinov. Theoretically speaking Aloisia beats them in the race given her 2kgs allowance.
With the 105-rated Pinot her closest pursuer in Oaks betting, Flemington's Thursday showpiece is looking merely a task in holding form for Aloisia.
Yankee Rose went into last year's Oaks rated 120 and was beaten but Samantha Miss (rated 122), Miss Finland (120) Serenade Rose (119) and Special Harmony (120) are the only other fillies to head to the Oaks rated as highly in the past two decades and all four prevailed.