Timeform Recap - 2017 Turnbull Stakes
Timeform recap the 2017 Turnbull Stakes won by Winx for trainer Chris Waller and jockey Hugh Bowman.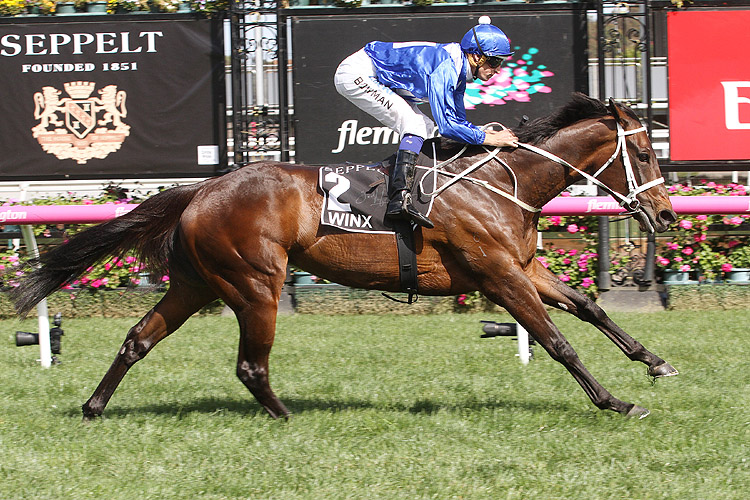 That Chris Waller's great mare Winx
had never raced at Flemington mattered little to her legacy, but her debut on what caller Matt Hill vividly described as 'the biggest dance floor of them all', certainly added to it.
Winx returned a Timeform
rating of 133+ in winning the Turnbull Stakes and confirmed that in the spring of 2017 she is as good as she has ever been - perhaps even better.
The 136-rated Black Caviar
is the best horse to step onto Flemington in the modern era (1990 onwards) judged on Timeform ratings but Winx can claim to be as good as any other on a list loaded with the biggest names in Australian racing. Might And Power, So You Think, Veandercross and Makybe Diva are among those at the pointy end.
Further to that, Winx's versatility will have many consider her at least the equal of Black Caviar - who sits alongside the best mares that Timeform have had the pleasure of rating since 1948.
Black Caviar was almost robotic, destroying anything put in front of her with a giant stride that allowed her to seize control of races through the middle stages. She dragged horses out of their comfort zone and typically raced within hers.
Winx is a different beast, sitting back and allowing others control of races early, before her rapid fire stride heats up and rips it away from them.
Of course, Black Caviar was a champion, and when things went against she still found a way to win - The replay of the 2012 Diamond Jubilee is here, don't watch if you have a pre existing heart condition - but theatre is really Winx's domain.
That Winx's ideal distance range is up at 2000m means we get to see her under sub-optimal conditions early in her campaigns and we get fluid form patterns unlike the metronomic Black Caviar.
We get to see Winx when she is vulnerable and much was made of her form in the lead-up to Saturday's Turnbull. To the eye she had looked in big trouble more than once up in Sydney.
She missed the start first-up and had to pull the rabbit out of the hat with blistering late sectionals and Red Excitement made the most of a rattling Randwick second-up.
Third-up she looked to be making heavy weather of things a long way from home before running over the top of Happy Clapper to win the George Main, the first of her real spring targets, but what many inclined to trust the eye saw third-up wasn't evident to those interrogating the data.
A peak of 133+ in the Turnbull joins fourth-up ratings of 128, 133 and 130+ from her preceding three campaigns.
Winx peaked third-up as she has so often in the past and again her past campaigns were informative when it came to her fourth run for the preparation. A peak of 133+ in the Turnbull joins fourth-up ratings of 128, 133 and 130+ from her preceding three campaigns.
Once Winx is at her top she is as robotic and reliable as Black Caviar and every bit as aesthetically pleasing.
The knock, particularly north of the equator, is 'what is she beating?' and the question is not unreasonable.
Ventura Storm ran to 118 on Saturday. He's a legitimate Cups contender who looks to have settled in to Australia really well. He was rated 119 when winning an Italian Group 1 last season and 118 when second in the St Leger at Doncaster but his credentials at 2000m are fairly tame.
However, that Ventura Storm ran second is merely academic. There are any number of good horses that could have filled the gaping 15-pound gap between Winx and Ventura Storm on Saturday had they been available and willing.
Enable
, the Arc-winning superstar from Newmarket, currently has the same 134 master rating as Winx.
The Arc was a far deeper, far grander race than the Turnbull. But 15lbs covered the first 12 horses home there. Filling the role of Ventura Storm was the thirteenth-placed Plumatic
, a talented 118-rated horse, but hardly one with a superstar's C.V.
This, of course, is no knock on Enable either. She's superb, and very similarly talented to Winx. The knock is on the logic that Winx should be held hostage by the quality of those behind her - we can measure beyond simple head-to-heads and Winx measures up.
The other key runner behind Winx on Saturday was Humidor
. We covered his win in the Makybe Diva Stakes - which you can read here - and one of the key points was the end-to-end gallop which played into his hands.
The Turnbull was a different race shape and he was smashed for closing speed by the Queen of closing speed. He was below his best but still ran to 122 and there is no reason to think that his 126 peak is still well within reach when he gets to the Caulfield Cup in two weeks time. Winx form is good form, and he still has to be considered a leading contender in the 2400m handicap.