Weekend Preview: An A-Z Guide To A Bumper Weekend
Summing up a huge weekend, Jamie Lynch turns to an A-Z in order to hoover up as many of the big races and big faces as he can.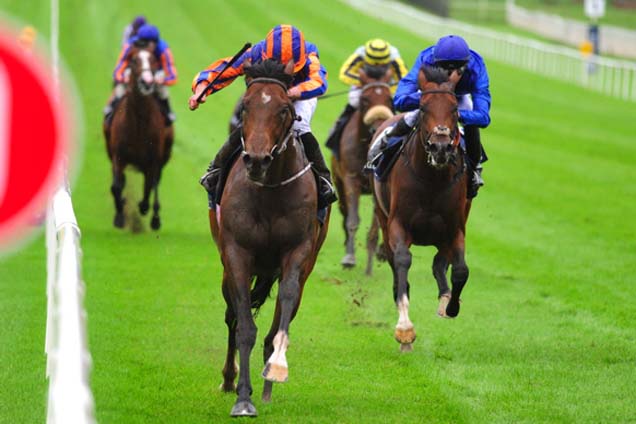 A is for Alpha Centauri
, the meddler in a marvellous Moyglare at the Curragh on Sunday. If she's an interloper then it's because she's slightly forgotten, and if she's slightly forgotten then it's because she has sat out the summer, the time when the bountiful Ballydoyle belles went into overdrive, all set for a Sunday sort-out to see who's Head Girl in time for the Fillies' Mile and beyond. But Alpha Centauri was never bred nor built to be an early riser, and the break she's had could have a transformative effect, alongside the step up in trip, a wonder in hindsight that a daughter of Mastercraftsman could do so much so soon. The O'Brien fillies are eyeing up each other for top spot, but the enemy may not be within, not if Alpha Centauri has bulked up as expected.
B is for Boomerang Stakes, which has struggled for identity, like an angry adopted child, since it was upgraded and brought into the ICW family in 2014. The median Timeform
rating of this year's field is 112.7, nothing like a Group 2 should be, adding to the feeling of a Saturday filler between the Matron and Irish Champion Stakes, and it needs a re-think, not that David O'Meara is complaining, as he won it in 2015 with Custom Cut, one of the two prongs on his fork for this year. But if there's a God then he – or she - will surely part the waves for Suedois to snap a misrepresentative losing run of over two years. Horses don't deserve wins, as us limited pundits sometimes say, but Suedois deserves this.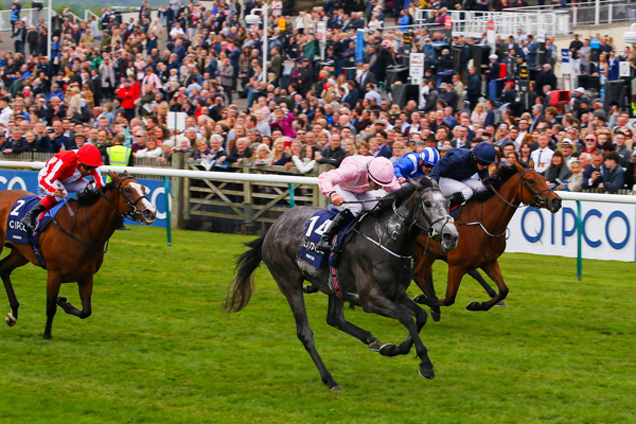 C is for Churchill
, who has gone from kicking down the door to greatness to polite knocking. In late-May, Churchill was a dual-Guineas winner with his sights on stardom. Three-and-a-half months on, nothing has changed, other than the height of his sight. The Irish Champion will determine whether he's still the Irish champion. This weekend is the crucial chapter in his story, as history will judge him on what happens next.
D is for Delano Roosevelt
. When Coat of Arms nearly nicked the Futurity, it shed an extra shiny retrospective ray of light on Delano Roosevelt, who had nabbed him on his debut despite taking most of the race to work things out, perhaps part of the reason he was 14/1 and the third string that day. He has got the lead role this time, in the Champions Juvenile Stakes over the same course and distance on Saturday, the next stop on a progressive path, maybe all the way to Epsom.
E is for Eqtidaar
. Only two of the twenty-five juveniles unwrapped so far this year by Sir Michael Stoute have been able to win. One was Expert Eye, arguably the top two-year-old, and the other was Eqtidaar. Expert Eye was 6/1 at Newbury on his debut; Eqtidaar was 6/4, his reputation clearly preceding him at Nottingham, and it's significant that Stoute is aiming him so high so soon, straight into a Group 3 for the Sirenia Stakes at Kempton on Saturday. It's a fiery baptism, as both Corinthia Knight and Invincible Army are hard and fast, but Eqtidaar is in it for the enlightening education that will hasten his graduation.
F is for Flying Five, and neither word is associated with Caravaggio right now, his wings clipped since he was flying over six furlongs earlier in the summer. Once brilliant, now bruised, Caravaggio is in a vulnerable place, over a vulnerable trip.
G is for Goodthingstaketime
, who stands out from a big crowd in the sales race on Sunday, as much as 11 lb clear on Timeform ratings, in off 8-6, with a figure she's banked not once but twice. The bigger the field…
H is for Harry Angel
, the Champion Sprinter? It has been a dynamic division this year, in every sense, the balance of power shifting from one speedball to another in the course of six Group 1s across the continent, but Harry Angel is in pole position to be the first to win two. The weight-for-age isn't so much in his favour as in the July Cup, nor is the ground, nor is the race flow in all likelihood, as Newmarket couldn't have gone more his way, and if he becomes king of sprinters it will be hard earned.
I is for Intisaab
, a feature horse for a feature race at York on Sunday, the listed Garrowby Stakes. His record at York reads one win and two seconds from three starts.
J is for Japan, a proud nation and a preoccupied nation when it comes to pursuing the Arc. Satono Diamond
is the latest flagbearer, packing a heavy 129 figure in his suitcase, and we get to see him unpacked and stacked in the Prix Foy at Chantilly on Sunday, for his Parisian prep run. The rating is good, the reports are good, so let's see just how good he is, whether he's ready and able for Enable.
K is for Klimt, Gustav. He's in something of a no-win situation in the National Stakes, now that Expert Eye isn't coming, as shoulders everywhere are ready to be shrugged, but odds-on prices don't account fully for the strength of the opposition, chiefly Beckford, and if Gustav Klimt can beat him convincingly then he really is on the road to something special, having already done something special in the Superlative.
L is for Lightening Quick
. Irish Champions Weekend is about the stars of the present, but also the stars of the future, and there might well be magic in those maidens. Rarely does a newcomer have a Timeform projected rating over 100, but Lightening Quick does, easy to see why when his sire is Frankel and the dam is Cheveley Park winner Lightening Pearl, in conjunction with the top stable, that of Ger Lyons. Look out for her in the first race at Leopardstown.
M is for Midterm, in the precarious position of resurrecting his career. Epsom was a building block, but this September Stakes at Kempton on Saturday is a tougher test of his mettle, and I'm not sure he's man enough for it.
N is for Niel, as in Prix Niel, as in the Cracksman show on Sunday, before Cracksman's no-show in three weeks' time.
O is for Order of St George, and if you can hear an audible 'phew' coming from Ballydoyle, then it's either a stable lad clocking off or the relief expressed by Order of St George upon hearing the news that Big Orange isn't coming in combat. His absence is a weight off the mind and a weight off the pressure points and sore points that have brought a lighter Group 1 harvest than Order of St George's power and presence had predicted. The Irish St Leger is an open invite for him to refuel his record and reputation.
P is for Poet's Word
, the potential springer in the Irish Champion Stakes. He has been coming this way all along, a matter of time before his shot at a Group 1, its arrival coinciding with his, now the complete package, with the tools and talent to get amongst Churchill and co at Leopardstown.
Q is for Qemah
, a worthy adversary for Winter, though more likely to give her a ratings leg-up than a beating.
R is for Ribchester
, the highest-rated horse running all weekend, in the Prix du Moulin at Chantilly. He has to put Goodwood behind him, but bouncebackability has been one of his many qualities, and the Sussex Stakes aside he has been dominant in the division in Europe in 2017.
S is for Silverkode
, the silver lining of the last at Leopardstown on Saturday.
T is for Tom Queally, rider of The Tin Man at Haydock on Saturday but also Mitchum Swagger in the Superior Mile, a race in which he was just touched off last year. The Swagger is back, and the ground is coming right for him, too.
U is for US Army Ranger, the fallen star, who's taking inthe Enterprise Stakeson the latest stop of his farewell tour on the Flat, before attacking an inevitable hurdling career for Joseph with whatever the opposite of gusto is.
V is for Vermeille, on the Arc trials card, though a Group 1 in its own right, hence the British battalion going over, Ajman Princess having already completed a successful Group 1 raid last month.
W is for Winter
, who's doing all she's asked but not all she can. The Matron is at her mercy, but she's longing for male company, for the beauty to unlock the beast within, much as it did for Minding last year and Enable this one. Winter is eating up the Group 1s this season, but until she's properly fed and feasted on the meatier males she won't get the fuller figure her talent merits, the 'p' saying far more than the 122 of her Timeform rating of 122p.
X is for the X in in Dee Ex Bee, and the 'X' factor that was so abound at Goodwood and so absent at York. The Acomb, for him, was too bad to be true, but time never lies, and the timefigure says he's every bit as good as he looked on his debut. York was a delay in his ascendance, but the Ascendant Stakes at Haydock, at 1.50 on Saturday, is an early shot at redemption, to show what he's really made of.
Y is for Yabrave, who looks a shoo-in for the seven-furlong handicap at Kempton on Saturday, with a mark of 84 underselling his form, let alone his potential.
Z is for Zhukova, only 1 lb behind Churchill on adjusted Timeform ratings in the Irish Champion. Food for thought.