Weekend Preview: Putting the form into Transformers
A pony goes to the doctor and says: 'I've got a sore throat.'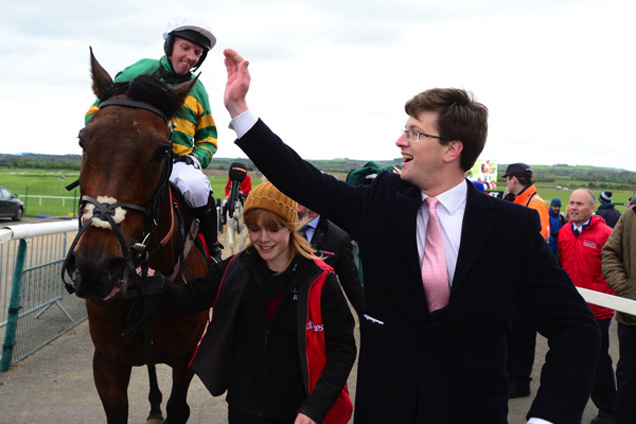 'Don't worry,' replies the doctor, 'you're just a little horse.'
That's pure fantasy, of course, because you'd never get an appointment with a doctor these days for a mere sore throat, not when there's various NHS Helpline hoops to jump through. That and the fact that horses can't talk.
If they could speak up for themselves, they might talk about trainers like trainers talk about wind ops, of truths of the matter and matters of truth, and of generalisations, such as punters, or people as they're sometimes known, thinking they're all the same when they're not. Better the devil you don't know. Better the detail you know.
What's the difference between a wind operation and a stable switch? The glib answer is uncomfortable noises are made before one and after the other, but the real answer is nothing much at all, not in terms of the certainty of the uncertainty of the effect. Effective or not, an effect it is, and, in the game rule of cause and effect, a wind op is just as much of a cause as a trainer change.
Unlike wind ops, so far at least, there's a lot of data around stable switchers, so much so that Timeform
has a 'Trainer Uplift' as one of its Flags, triggered if the yard a horse has joined is performing significantly better – using sophisticated calculations – than the one it has left, based in the present, not the past. And stable switchers are front and centre this weekend: first up, on Friday, the pin-up boy, Unowhatimeanharry
, who'll expose any cracks in Thistle, and then there's Total Recall
in the Ladbrokes Trophy, who's favourite all because he's mid-makeover.
In honour of the art and craft of transforming new recruits, let's examine some of the best practitioners over jumps in the last 25 years, by mining deep down into the Timeform database. To qualify, the trainer has to have had at least five rubber-stamped renovations to their name, and inherited a horse who has raced enough times – and achieved a certain rating – for the previous trainer(s) for it to be a fair comparison. In short, it discounts all those ex-French revolutions, in particular the hand-picking of youthful talent from across the channel.
DAN SKELTON (total transformations: 64 median improvement: hurdlers 12.5 lb - chasers 8.5 lb)
Reputations are founded, if not forged, on early work done with not-so-raw materials, hence Skelton now finds himself in such a position of power, well-earned and well-advertised via as many as 64 instances of improving horses from other stables. A dozen or so of them were, like him, graduates of Paul Nicholls, and it's a shame that he won't get to create any makeover magic with Aux Ptits Soins, who's injured and out for this season having made the same switch.
COLIN TIZZARD (total transformations: 28 median improvement: hurdlers 11 lb – chasers 17 lb)
It seems a new phenomenon, but Tizzard has been transforming horses since 1998, albeit doing it with far more frequency now, given bigger guns and firing them with accuracy. Fox Norton is perhaps an unusual case in that Nick Williams and then Neil Mulholland did great groundwork, but putting the icing on that particular cake, as Tizzard has, getting him up to a Timeform rating of 170, and maybe still counting given how clinical he was in the Shloer.
SUE SMITH (total transformations: 66 median improvement: hurdlers 9 lb – chasers 11 lb)
Less predictable than those on the list so far, but the rate and regularity of Sue Smith's makeovers earns her at least a tiara as the princess of transformers, if not the queen (still to come). Amongst her finest renovation work, Royal Emperor spent two seasons of doing little or nothing (for Ron Hodges/Jonjo O'Neill) before joining Smith and taking off, all the way to a mid-field finish in the 2006 Gold Cup, and stable star Mister McGoldrick was moulded and melded by her over a number of years from humble beginnings elsewhere.
PHILIP HOBBS (total transformations: 97 median improvement: hurdlers 13 lb – chasers 11 lb)
Two runs in bumpers, and then five over hurdles, netted a win and three placings – a satisfactory return – for Nick Mitchell. And then Rooster Booster was transferred to Hobbs, and won the County Hurdle one year and the Champion Hurdle the next. It's the biggest one, but just one in almost 100 examples of the reconstructive power of Hobbs, who's been playing, and winning at, this game for a long time.
VENETIA WILLIAMS (total transformations: 76 median improvement: hurdlers 9 lb – chasers 7 lb)
If Sue Smith is the princess, Venetia Williams is the converter queen. When her recruits turn a corner, they tend to run all the way up the next street, so that it becomes less of a makeover and more of a metamorphosis. With Williams, it's about the names as much as the numbers, to illustrate her sorcery: Nordance Prince and The Outback Way improved in the region of 30 lb, and it was double that for Teeton Mill.
PETER BOWEN (total transformations: 82 median improvement: hurdlers 8 lb – chasers 11 lb)
We're talking big numbers here, Take The Stand, Al Co and Always Waining each upgraded in excess of 50 lb after joining Bowen, also coming back year on year, and the first-named was from Ian Williams, who'd be well at home in this conjuring company himself. Bowen showed this summer that he's still got the knack, with restoration projects Lime Street and Earthmoves, getting more out of the latter than even Paul Nicholls did.
MARTIN PIPE (total transformations: 103 median improvement: hurdlers 16 lb – chasers 13 lb)
He retired in 2006, handing over the kingdom, and the secrets, to David. And yet, despite 10 years of inactivity, Pipe Snr is fifth in the hurdlers list and tenth amongst the chasers for median improvement of those he transformed. A pioneer indeed, still echoing now.
GORDON ELLIOTT (total transformations: 142 median improvement: hurdlers 13.5 lb – chasers 12.5 lb)
Just look at those off-the-chart figures, not only the sheer number of makeovers, but also the double-digit median improvement for both codes. True, he's perhaps had more opportunity than almost anybody else to shine in this spot, becoming the go-to guy for so-so horses, but to do what he's done, and still does, is akin to a wind op: breath-taking. And no other trainer in the study mutates them quite so quickly, his newer recruits tending to take off in a matter of weeks rather than months or years.
PAUL NICHOLLS (total transformations: 83 median improvement: hurdlers 10 lb – chasers 14 lb)
If there's a case for saying that Paul Nicholls is the master of the makeover, then it consists of two words: Venn Ottery. After four winless seasons of training by his eccentric owner, managing to run to 70ish the odd time, Oliver Carter bit the bullet and let a pro have a go. Four wins and 78 lb of drastic development later, Venn Ottery finished fifth to Azertyuiop in the 2004 Champion Chase at Cheltenham. Any assessment of trainer skill accounts for strength in numbers, but this show of strength with one number says everything about Nicholls.
WILLIE MULLINS (total transformations: 47 median improvement: hurdlers 17 lb – chasers 18.5 lb)
Other trainers have waved the magic makeover wand more times, but none have done it with more potency, as illustrated by the outstanding median improvement stats, the highest of any stable. Once they get on a progressive path, they stay on it for a good while, and that brings us to Total Recall, who's just one race into his revamp.
Limerick wasn't just a single statement, it was a meaningful manifesto, in effect, the positive lines needing reading between for the full disclosure of power and promise. That he went off at 2/1 for the Munster National told of a storm brewing, no more than a breeze for him on the day, against Alpha des Obeaux and co, but forecasting a tornado, heading towards Newbury. Wind ops aside, there's a wind of change within Total Recall, all down to the change of address, and he could easily blow them all away on Saturday.