The Rosehill Timeform wrap featuring a race by race overview of key performers and ones to watch out of the nine race Rosebud Stakes program on August 11.
fought off a wall of horses to claim the Listed Rosebud (1100m), producing the second highest winning figure of the race since its inaugural running in 2010 only behind the impressive 2017 winner Menari (120p).
Paret enjoyed a soft kill in the final event of the day, taking out a Benchmark 81 Handicap (1350m).
Whilst all the talk post-race was about an Epsom tilt for Paret, the son of Harbour Watch is still only a Benchmark 77 horse. It means connections potentially have the time/opportunity to pick off another $100,000 Benchmark Race prior to stakes goals being realised this spring.
Team Godolphin picked off a pair of strong handicaps courtesy of Trekking and Flow.
The Kris Lees-trained duo of Tactical Advantage and Prized Icon were only narrowly beaten despite the winner's enjoying a substantial weight advantage over them.
Historical Analysis of the Winx Stakes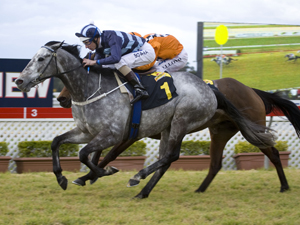 Racing To Win won in 2008
WINX STAKES - G1 1400m
Warwick Stks winners are a bit of a who's who. Then again you can get the odd Pablo's Pulses of this world at 500-1 to put a cat amongst those pigeons.
For a variety of reasons, the Warwick Stks has been juggled between various Sydney racecourses (Warwick Farm/Randwick/Canterbury) and distances (1300/1400) over recent times.
Let's examine just how good some of the modern contests have been and who might join Sunline, Filante, Super Impose, Kingston Town & Tulloch on the Warwick Stks honour roll. Winx was pretty darn good too.
PROFILING THE RACE
o Was renamed as the Winx Stakes in 2018 after the legendary mare.
o 11 of last 17 winners have been first up.
o Given the quality of the horse flesh that often starts in this race, it's hardly surprising that favourites or near favourites have a very strong record in the Warwick Stks. Except 2013.
o Big fields have not been common in this race but still inside gates have shown up. However that's not a big issue in those small fields.
o There has certainly been no severe on-pace bias or pattern in the winners as many of the WFA stars have got a great turn of foot allowing them to come from midfield.
o It's been a race for the stronger, race savvy WFA stars. No 4yos have won recently.
o Last 10 Years Most Prevalent Age of winner - All Ages
o Last 10 Years Average Price of winner - $6.70
o Breakdown of winners - 6 geldings, 3 mares & 1 colt
o Races that the winner ran in prior - Aurie's Star (1), Missile Stks (2), Run To The Rose (1), Ruakaka Open (1), Spell (5)
1987 Warwick Stakes - Pablo's Pulse (500-1)
One of the biggest upsets ever was in this race as Pablo's Pulse won at G2 level at 500-1. Watch this boilover.
RECENT WINNERS
2017 - WINX
6m (Street Cry x Vegas Showgirl) ($1.10 fav)
Jockey: Hugh Bowman, Trainer: Chris Waller
Barrier: 2, Weight: 57.0kg, Gross Time: 1:21.87
Margin: 0.2L, Track: Good (3), Starters: 8
2nd: Foxplay (56.5kg), 3rd: Ecuador (59.0kg)
Review:
Drama, drama, drama. Everyone turned up to see her win and betting organisations were offering boosted odds. On a day with a howling gale, she missed the start by four lengths. Bowman didn't panic.
He let her close the margin but still had six to make up around the corner. The wind gave the leaders their chance and Foxplay kicked clear. Winx kept winding up and that turn of foot had not been lost.
She only just got up but it was remarkable nonetheless. Heart rates dropped and the 18th win was in the bag.
Winx wins the 2017 Warwick Stakes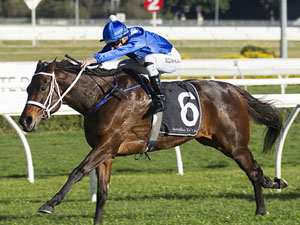 Winx in 2016
2016 - WINX
5m (Street Cry x Vegas Showgirl) ($1.30 fav)
Jockey: Hugh Bowman, Trainer: Chris Waller
Barrier: 4, Weight: 57.0kg, Gross Time: 1:23.83
Margin: 3.5L, Track: Good (4), Starters: 7
2nd: Hartnell (59.0kg), 3rd: Rebel Dane (59.0kg)
Review:
What a star!! Not much else needed to be said. The great mare was back and in a big way too.
There had been some issues after the Doncaster win when she needed some small surgery but no signs existed here. In a small field Bowman put her in WFA top drawer A-one positioning right outside the lead.
She ranged up to Rebel Dane straightening and it was over in a flash. He didn't even need to go for the whip. Hartnell ran well but was no match. The Spring was set up.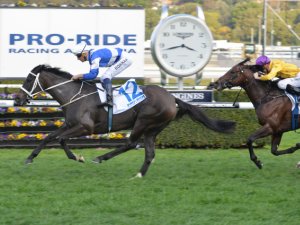 Royal Descent winning the Warwick Stakes
2015 - ROYAL DESCENT
6m (Redoute's Choice x Mulan Princess) ($5.50)
Jockey: Hugh Bowman, Trainer: Chris Waller
Barrier: 3, Weight: 57.0kg, Gross Time: 1:21.57
Margin: 1.5L, Track: Good (3), Starters: 13
2nd: Pornichet (59.0kg), 3rd: Messene (59.0kg)
Review:
FINALLY...the mare won again. It had been 19 starts and countless G1 placings since her Oaks demolition but she was always trying so hard. Thought of mostly as a wet tracker, she was back onto the dry in this race and maybe that turned her on.
Bowman was happy to put her into the race fresh and sat behind a good speed set by Zaratone. Sadly his stable mate Burbero broke down.
Pornichet was first to hit the front but the mare got hold of him inside the furlong and ran away late for a top win. Many other goods runs came from in behind.
Back To Top
---
Social Media & Contacts
There are various ways to get in contact with us at Racing And Sports. Listed below are several avenues in which you can communicate with the team to express opinions, ask questions or offer ideas.
Twitter: RandSRacing
Facebook: Racing And Sports Facebook Page
Email: [email protected]
We hope you enjoy the Racing And Sports Weekend Newsletter.
Back To Top