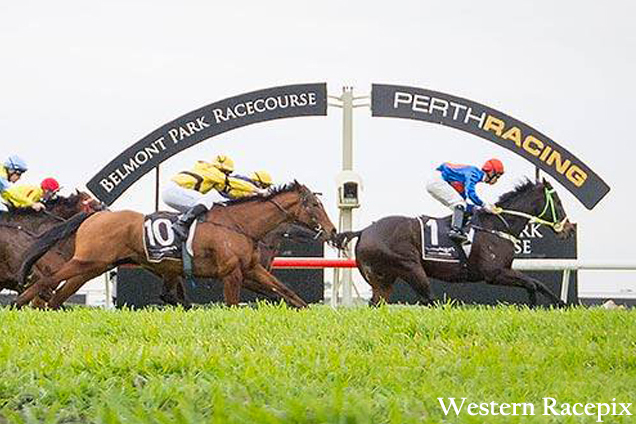 Horses with group form (even G1 form) clashing with others coming through the grades fast makes for differing opinions.
In the Raconteur we have to love the way Rokanori came back from his attempt at staying.
Maybe the Melvista defeat might just focus connections' minds on races up to 2000m and potentially a tilt at the Railway/Kingston Town in five months' time.
Really like the fashion of his winning ways and the versatility of those victories – leading all the way one day and then coming from well back in the JC Roberts the next.
He should find a lovely position from the draw and be in the right position to make the move when required.
Then to the last where Flying Missile has to be a very dangerous commodity in this grade and with this weight.
Even if she's not really an apprentice's horse, she raced with such positivity over the Summer in events like the Belgravia, Burgess Queen, Placid Ark and Lee-Steere Classic – and not afraid to race the boys either.
More than capable of sitting forward, you just want them to use the barrier and if not leading then right with the lead division.
She can be tough so make the others get by her.
BEST FROM THE WEST
BET OF THE DAY (1): Race 8 #1 Rokanori @ $4.00
BET OF THE DAY (2): Race 9 #5 Flying Missile @ $5.50

Raconteur Stakes (LR)
Age: 3yo Type: OPEN
FP
Silk
Horse, Age & Sex
Sire & Dam
Jockey
Trainer
SP
WT

1st

5. DEVOTED (AUS) 3yo G


XTRAVAGANT (NZ) - MORNING MIST (AUS)

CLINT JOHNSTON-PORTER
MICHAEL GRANTHAM
$4.50
56.0kg
Peters Investments Pty Ltd

2nd

1. ROKANORI (AUS) 3yo C


AWESOME ROCK (AUS) - NISHIKAWA (AUS)

CHRIS PARNHAM
GRANT WILLIAMS
$4.00
57.0kg
N J Pinner, Ungar Family (Mgr: T M Ungar), A J F Buhagiar, T H McLernon, H McLernon, J L McLernon, G B Ralston, A J Davidson, C W Chalwell, R W Fitzgerald, C S Sherry, B J Starkie, T J Nisbett, A D Young, N F Warburton, M Banks, Mrs A D Williams & L D Trevanion

3rd

8. BLACK FANTASY (AUS) 3yo G


BLACKFRIARS (AUS) - DREAMALONG (AUS)

LUCY F WARWICK
DANIEL & BEN PEARCE
$41.00
55.0kg
Pearce Racing (Mgr: D S Pearce), G B Facey, M E Bai, G J Smith, O J Hubber, S G Bennier, A A Gotti, W J Cousins, Charrywood Racing Syndicate (Mgr: C J McElroy), A H Price, Mrs C G Price, Best And Fairest 3 (Mgr: M A Shepherdson), B A Archibald, C D Salt, C L Madaffari, R W Facey & Miss L M Facey
4th
4. SEARCHIN' ROC'S (AUS) 3yo F


AWESOME ROCK (AUS) - STILL SEARCHIN' (AUS)

MS K YUILL
D R HARRISON
$3.50
56.0kg
5th
2. ABOVE THE PEG (AUS) 3yo G


BLACKFRIARS (AUS) - SKY RUMBA (AUS)

PATRICK CARBERY
SIMON A MILLER
$15.00
56.5kg
6th
11. HARDLY EVER (AUS) 3yo F


NICCONI (AUS) - SHE MAKES MY DAY (AUS)

NATASHA FAITHFULL
SIMON A MILLER
$7.50
54.0kg
7th
9. OUTSPOKEN LAD (AUS) 3yo G


AWESOME ROCK (AUS) - OUT SPOKEN LADY (AUS)

SHAUN O'DONNELL
DANIEL & BEN PEARCE
$31.00
55.0kg
8th
3. LIWA (AUS) 3yo F


MULAAZEM (AUS) - SBOOG (AUS)

TROY TURNER
SIMON A MILLER
$17.00
56.0kg
9th
6. PAT'S GOT SASS (AUS) 3yo F


PATRONIZE (AUS) - SASSY FLYER (AUS)

JASON WHITING
D R HARRISON
$31.00
55.0kg
10th
7. STAY SAFE (AUS) 3yo G


SAFEGUARD (AUS) - ACCLAIMED (AUS)

BRAD PARNHAM
SIMON A MILLER
$17.00
55.0kg
11th
10. KAYMAY (AUS) 3yo F


AWESOME ROCK (AUS) - DARK QUEEN (AUS)

JADE MC NAUGHT
SUE OLIVE
$31.00
54.5kg