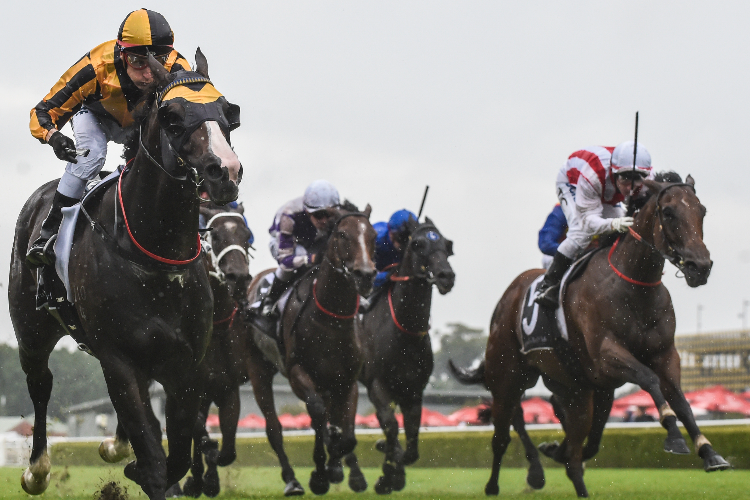 CANTERBURY June 22
RACE 5: (6) Reach Beyond (Value)
RACE 6: (11) No Laughing Matter (EW)
RACE 7: (2) Camaguey (EW)
RACE 1: 1-2-8-11
RACE 2: 5-14-6-8
RACE 3: 10-3-9-8
RACE 4: 6-7-3-5
RACE 5: 6-7-4-3
RACE 6: 11-2-13-1
RACE 7: 2-1-10-3
TRIAL WATCH REPORT
NOTED TRIAL RUNNERS
CANTERBURY WEDNESDAY: Alberich (R1); Pozesana (R2); Wolves (R3); Roma Avenue (R3); Pretes (R3); Marooniyah (R6)
GOSFORD THURSDAY: Secret Revolution (R3); San Lucido (R3); Change Is Coming (R3); Shenthara (R3); True Crime (R3); Exile (R3); Quatum (R6); Lady Brook (R8); Humble Star (R8)
RECENT TRIAL WATCH WINNERS: Beer Palace; Brudenell; Reach For Gold; The Milky Bar Kid; Eponymous; Tashi; The Himalayas; Rita May; Cliff's Art; Waihaha Falls; Resistible; Osipenko; Kiku; Pinnace; Parlayed; Kibou; Saquon; Cinderella Days; Emilia Romagna; Cruel Summer; Cross Talk.
TRIAL POINTERS
RANDWICK June 14 (Poly): SECRET REVOLUTION has one placing from four race starts but a maiden win looks close for this Russian Revolution youngster if he can produce the same speed he displayed to run away with his 1080m heat by more than 10 lengths in fast time (63.65; 34.28), almost a second quicker than the next best time over the distance. Pulled his way to the front after 100m and kept extending the margin with Tommy Berry sitting hard against him.
ROSEHILL June 7: The Matt Dunn-trained QUATUM made an impression in his recent first-up trial win at Warwick Farm and did it again with a strong front running effort in the fastest of the two 1030m heats (63.17; 36.18). His trials indicate he is in much improved form since his last preparation.
RANDWICK June 3: The 3YO filly WOLVES, previously noted with a sharp trial at Gosford on May 18, was ridden confidently by Hugh Bowman to cover ground but still win her maiden heat over 1045m (65.43; 36.18) with something in reserve.
WARWICK FARM May 27: The first trial by Capitalist gelding CHANGE IS COMING points to him making an impression when he debuts in a suitable 2YO event. Travelled easily outside the lead before lengthening stride and forging clear for a strong win in his 805m heat in sharp time for the session (42.28; 34.88).
ROSEHILL May 20: SHENTHARA, a 2YO filly by Not A Single Doubt, made a good impression with a classy win in 900m heat in her first trial since she debuted with a fifth at Randwick in February. The time was slow (57.00; 36.31) but it doesn't detract from the way she dictated the heat under an easy ride from Willie Pike.
BLACKBOOK REPORT
Eligible Blackbook Runners – June 22
CANTERBURY WEDNESDAY: Stormy Rock (R6)
RECENT BLACKBOOK WINNERS: Wicklow; Skyman; Jojo Was A Man; Vinco; Political Debate; Sibaaq; Vitruvius; Surreal Step; Brosnan; Extremely Lucky; Zapateo; Twin Stars; Soxagon; Rustic Steel; Premium Choice; Aleas; Indifference; Rights Of Man; Bandersnatch; Je Suis Belle; Milford.
Blackbookers – Selected June 18
(Follow for next 3 starts)
IRISH LEGEND: Capable import with plenty of upside.
MAYBE THE BEST: Made the grade but left it too late.
OSIPENKO: Will make a nice 3YO.
SEARCHIN ROC'S: Quality filly. Best over a longer trip.
TAVIDANCE: Worked home nicely first-up. Fitter next time.