3 minute read
Selections, Trial Watch and Blackbook reports from Chris Scholtz for the Randwick Kensington meeting on June 15.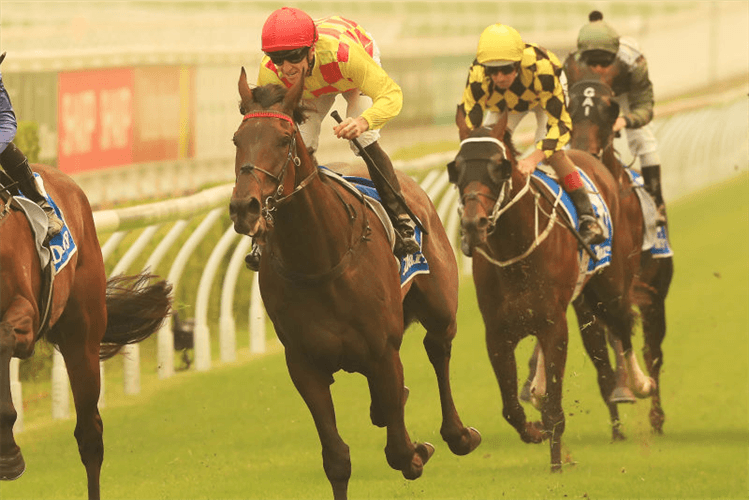 RANDWICK KENSINGTON June 15
RACE 1: 7-5-11-17
RACE 2: 13-12-14-1
RACE 3: 7-3-4-9
RACE 4: 4-3-6-2
RACE 5: 8-10-5-9
RACE 6: 8-10-3-4
RACE 7: 3-4-2-10
TRIAL WATCH REPORT
NOTED TRIAL RUNNERS
RANDWICK WEDNESDAY: Eponymous (R1); Himalaism (R1); Super Chilled (R1); Sorgente (R1); Viburnum (R1); Cabarca (R2); Tashi (R2); Tragara (R2); Sneaky Paige (R5); Asherla (R5); Steel Diamond (R7);
WYONG THURSDAY: Vengeful (R4); Miss Mya (R4); Siyata (R8)
RECENT TRIAL WATCH WINNERS: The Himalayas; Rita May; Cliff's Art; Waihaha Falls; Resistible; Osipenko; Kiku; Pinnace; Parlayed; Kibou; Saquon; Cinderella Days; Emilia Romagna; Cruel Summer; Cross Talk; Marieller; Extraweird; The Rockwell Place; Koshu; Baroque Road.
ROSEHILL June 7: Unraced I Am Invincible colt EPONYMOUS was having his fifth trial and his winning performance was superior to anything he had shown in previous appearances. He had no trouble taking up the running from the start in his 900m heat and was held back to them until the 200m where he extended easily, cruising through his last 200m with plenty in hand (55.13; 35.83). He's ready to go to the races as it seems the penny has dropped with this colt. Stablemate SUPER CHILLED has trialled twice since his first start in February and there was plenty to like about the improvement he showed here to win his 898m heat (55.42; 36.11) after covering ground from the start. He sat off the leaders travelling three deep but was always under a good hold and while the margin wasn't big at the finish he worked well within himself to hold off his rivals over the last 200m. Waller also won another 2YO heat over 900m with previously noted SORGENTE (55.57; 36.10) and you can also mark down HIMALAISM, POZESANA and CABACA as other youngsters in his team to keep an eye on. In the open heats over 900m the maiden runner VENGEFUL, beaten at short odds in his only start at the provincials, has definite prospects on his strong second behind the well-performed Overlord (54.51; 34.98).
GOSFORD June 4: Lightly raced Astern filly ASHERLA won a Gosford trial on May 18 and had no trouble repeating in her 800m heat (50.75; 37.11), dictating the pace with ease and running to the line at her own leisure for a soft win by 2.7 lengths, notably wearing ear muffs.
RANDWICK June 3: The imported UK winner SIYATA, beaten at Scone in her Australian debut for John O'Shea, showed better form to win her 1045m open heat (64.96; 35.31). Another 1045m heat was won by the running SNEAKY PAIGE (64.67; 34.66), a 3YO filly by Deep Field, has been noted in four trials since April and is set to run boldly first-up.
HAWKESBURY May 30: The fastest 1000m heat was won by Godolphin's racy Frosted gelding VIBURNUM (59.38; 33.84).
GOSFORD May 18: In the 800m heats the Kris Lees-trained ASHERLA recorded a soft win in good time (50.09; 36.57) in her first trial since January. Expect her make further progress.
RANDWICK May 16: The 742m heat winner TRAGARA (45.35; 34.92) did enough to be noted as a youngster with good prospects.
BLACKBOOK REPORT
RECENT BLACKBOOK WINNERS: Jojo Was A Man; Vinco; Political Debate; Sibaaq; Vitruvius; Surreal Step; Brosnan; Extremely Lucky; Zapateo; Twin Stars; Soxagon; Rustic Steel; Premium Choice; Aleas; Indifference; Rights Of Man; Bandersnatch; Je Suis Belle; Milford; Juan Diva; Mamounia; Enterprise Prince; El Patroness.
Blackbookers – Selected June 11
(Follow for next 3 starts)
GOOD AND PROPER: Will be fitter. Suited over a middle distance.
LORD ARDMORE: Set for a successful winter.
METALLICITY: Costly to date but don't sell out just yet.
SALATEEN: Like to see her in something longer.
SNIPPY FOX: Lovely return. Sure to train on.
THRONE BONE: Warmed up late. Has prospects.