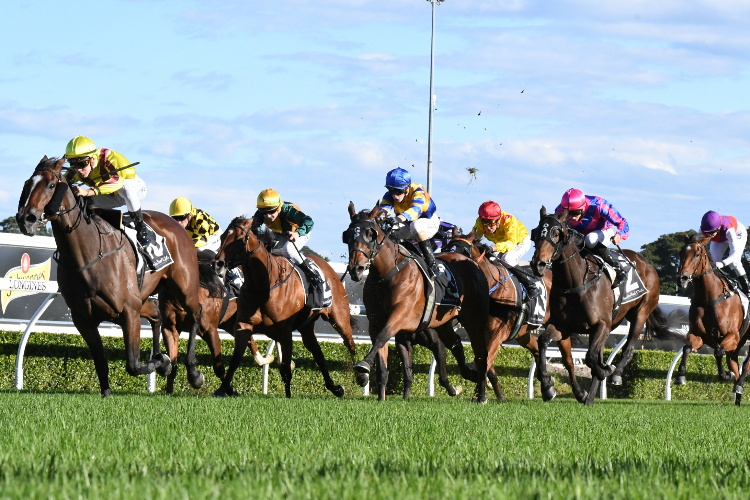 RANDWICK KENSINGTON May 18
RACE 6: (6) PO KARE KARE
RACE 7: (7) COMME BELLA FILLE (EW)
RACE 8: (7) DEEP FINESSE
RACE 1: 2-1-7-15
RACE 2: 9-2-6-11
RACE 3: 1-2-5-7
RACE 4: 1-2-3-8
RACE 5: 1-3-4-5
RACE 6: 6-4-7-11
RACE 7: 7-3-12-1
RACE 8: 7-10-6-12
TRIAL WATCH REPORT – May 18
NOTED TRIAL RUNNERS
RANDWICK KENSINGTON: Baroque Road (R1); Red Card (R1); Oriental Tycoon (R1); Shadow Vampire (R2); Fire Power (R2); Secret Revolution (R2); Lucky Variety (R2); Koshu (R2); Po Kare Kare (R6)
HAWKESBURY THURSDAY: Diamond Flare (R4); Ovoid (R4); The Rockwell Scale (R4); Conspiracist (R5); Tocomah (R9); Sepoy Star (R9)
RECENT TRIAL WATCH WINNERS: Zapateo; Mazu; Vegas Raider; Baltic Coast; Divine Okay; Show Me Your Love; Rustic Steel; Showtime Lady; Portray; Oryx; Amati; Tycoonist; Thorpe; African Daisy; Excelladus; Bethencourt; Essonne; Podium; Democracy Manifest; Kementari; Najmaty.
TRIAL POINTERS
HAWKESBURY May 3: She's returning from a fetlock injury but I'm sure lightly raced 4YO mare SEPOY STAR will be well fancied when she resumes. The way she savaged the line with a sharp turn of foot over the last 50m to win her 1000m heat (60.54) was a quality bit of work.
RANDWICK May 2: DIAMOND FLARE has had an interesting 12 months since his only start last season, having had a name change (formerly Dickson Horse), six trials and three suspensions for bad barrier behaviour. With a stallion chain added he was on his best behaviour to record a most impressive win in his 1045m maiden heat in fast time (64.94; 36.30), cruising in the lead and having plenty in reserve as he strolled home by almost six lengths.
ROSEHILL April 29: Unraced 3YO CONSPIRACIST is another budding star for Team Hawkes. Kept on ice since winning his first trial in December, he was a class above his rivals dictating from the front in his 900m heat (55.62; 35.24) with Willie Pike having plenty of horse under him over the last 200m as he ran out a soft winner by 1.15 lengths, a margin that flattered his rivals. An unraced youngster making a good impression was the 1030m heat winner SECRET REVOLUTION (64.26; 35.79).
NEWCASTLE April 26: A show of strength from the Kris Lees stable, with the leading trainer winning 10 of the 18 heats from 37 runners. There were some nice prospects among the 2YOs including LUCKY VARIETY.
WARWICK FARM April 22: Another strong trial from robust maiden 3YO THE ROCKWELL SCALE. He was very eager to run through the first half of his 807m trial and was never off the bit to clock fast time (48.18; 34.30). He's now won two trials since he was placed in his first race start in December and is ready to compete when he resumes
WARWICK FARM April 11 (Polytrack): In the 2YO heats the Godolphin filly RED CARD made an impact with a sharp win in the fastest of the 18 trials over 740m (43.76; 33.40), doing it easily in a sure sign she has improved since her debut effort in December. She is a Godolphin homebred by Ribchester, a breed the stable expects to come to the fore as late 2YOs.
BLACKBOOK REPORT
Eligible Blackbook Runners – May 18
SUNSHINE COAST: Savagal (R5); Fearless Knight (R6)
RECENT BLACKBOOK WINNERS: Zapateo; Twin Stars; Soxagon; Rustic Steel; Premium Choice; Aleas; Rights Of Man; Bandersnatch; Je Suis Belle; Milford; Juan Diva; Mamounia; Enterprise Prince; El Patroness; Mr Brightside; Bullfinch; Daisies; Athelric; Maserartie Bay; Express Pass; Blackcomb.
Blackbookers – Selected May 7
(Follow for next 3 starts)
AND WE DANCED: Good filly. Stay with her.
CABOCHE: Will benefit from run over the trip.
ELEVEN ELEVEN: Excellent preliminary for Brisbane.
HOW WOMANTIC: Should find a suitable sprint.
ENTRIVIERE: Huge effort. She's a class act.
POLTICAL DEBATE: Not just a topical tip. Improver.