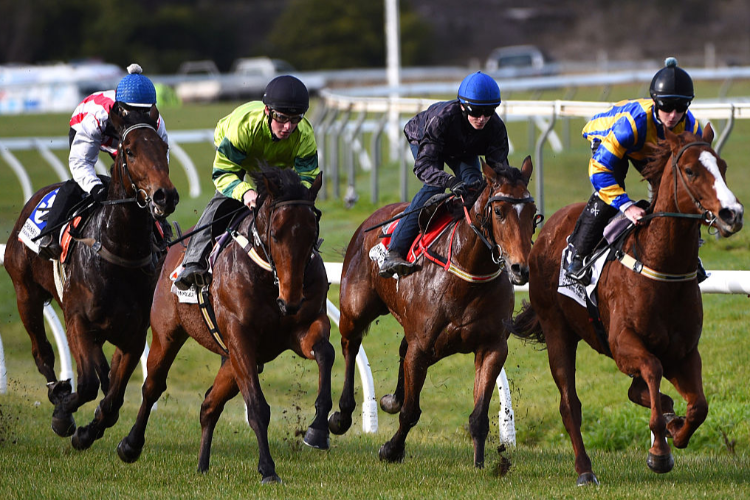 WARWICK FARM November 3
Inside Grass/Polytrack; Good 4
Inside Grass 14 Heats – 2 x 1200m (2 Open); 4 x 805m (2 2YO; 2 Open); 4 x 803m (1 Open; 1 3YO; 2 Maiden); 4 x 800m (4 Maiden)
Polytrack 6 Heats – 1 x 1175m (Open); 5 x 740m (5 open)
Expect some quality performers to emerge from the 3YO and maiden heats. Even the polytrack heats had some depth.
DRAGONSTONE (Mark Newnham): Showed plenty of potential last season and his return trial points to him going right on with it as a 3YO. Tracked the speed on the fence in his 803m heat and when it opened up he railed through quickly and showed sharp acceleration to quickly put the trial away, cruising through the line under a soft ride (46.66; 33.20).
"The trial is all over just like that."@mark_mnracing three-year-old Dragonstone overcomes a stumble at the start to win a trial at Warwick Farm on Wednesday over @godolphin duo Salamanders and Telluride. @tabcomau pic.twitter.com/p5pqMzWkLR

— Racing NSW (@racing_nsw) November 3, 2021
ARGENTADO (James Cummings): Unraced Lonhro filly went into the blackbook after a debut trial win at Hawkesbury on October 18 and this effort confirmed her quality. Allowed to settle well of the speed and deep early in her 800m heat and was six lengths off the lead when she was taken widest on the turn to start her run. Never off the bit as she cruised up to the leaders in the last 50m and was easily the best through the line under no pressure, finishing third behind COOL LAD (46.98; 33.61). Has a future.
BOOMSONG (Mark Newnham): Second trial by this unraced Your Song 3YO really took the eye in his 800m heat (46.71; 33.26). He jibbed at the start but accelerated quickly through the pack to be travelling behind the leaders at the 500m before peeling widest on the turn. Extended easily under a cold ride to run past the leaders and win with plenty in hand. Keen to see where he is placed first-up.
CAPO STRADA (James Cummings): Finished second to the unraced DERRY GROVE in his 800m trial (46.81; 33.,47) in what should prove a strong form heat. DERRY GROVE controlled the trial form the front and did it easily to win with his ears pricked but CAPO STRADO was the flashing light trial running home strongly to be beaten a half length into second place. He was four lengths back on the fence at the 600m and was quietly ridden as he railed up full of running inside the last 200m where he had to come off the heels of the winner to get clear air. Loved the way he ran through the line late to confirm the talent he had shown in a Hawkesbury trial win on October 18.
Our Bellagio Miss, the inaugural Midway winner, takes out a trial at Warwick Farm on Wednesday, downing Exotic Ruby with Edge Of Darkness in third. @tabcomau @HickmanRacing pic.twitter.com/M11Ymsyw4C

— Racing NSW (@racing_nsw) November 2, 2021
The time standard for the morning was set by the good mare OUR BELLAGIO MISS doing it well to cover ground and win a fast run 803m heat (46.19; 33.19).
In the 2YO heats over 805m the Vancouver colt VANCOUVER'S CROWN showed talent to win his heat (47.61; 33.92) although the pacy Snitzel filly MARMOOGA went quicker in the heat for her sex (46.27; 33.95) winning narrowly from MATISSE"S COMET after they paired off from the rest of the field. VANCOUVER'S CROWN sat three deep under a hold from the start and was doing best at the finish under no pressure. He's a strong colt with a good action.
Vancouver's Crown, trained by @jcoyleracing, hits the line well to win a 2yo trial at Warwick Farm on Wednesday from Karedada (Wandjina) with Shalaa Magic (Shalaa) in third. @tabcomau pic.twitter.com/Lil8D1Grme

— Racing NSW (@racing_nsw) November 2, 2021
Snitzel filly Marmooga, trained by @cmaherracing & David Eustace, wins a 2yo trial at Warwick Farm on Wednesday over Matisse's Comet (Your Song) with Cleudo (Highly Recommended) in third. @tabcomau pic.twitter.com/ZRmJCJUzpt

— Racing NSW (@racing_nsw) November 2, 2021
The form in the polytrack heats over 740m looks solid enough with some smart wins by the THE HALO (44.79; 34.20); MANDALONG ROMAN (44.03; 33.70), QUEEN BELLISSIMO (44.69; 34.20) and TINKER McPHEE (44.28; 33.95) and an eye catching second by EXPAT in his heat won by TANZIMAT (44.55; 33.80).
NOTED TRIALS
XX Argentado; Boom Song; Capo Strada; Dragonstone
X As Your Were; Cool Lad; Derry Grove; Expat; Good Chat; Mandalong Roman; Marmooga; Matisse's Comet; Miss Jay Fox; Our Bellagio Miss; Paper Daisy; Quatenus; Queen Bellissimo; Rebel Shadow; Roma Avenue; Star Patrol; Tinker McPhee; Vancouver's Crown; Rule Of Law; The Halo; Wolf Queen
RANDWICK October 29
A Grass; Good 4
13 Heats – 1 x 1200m (Open); 6 x 1045m (1 Open; 1 2YO; 4 Maiden); 6 x 735m (2 2YO; 1 Open; 3 Maiden)
There should be some nice winners out of the 2YO and maiden heats.
EBHAAR (Peter & Paul Snowden); Some good 2YOs have carried the Emirates Park colours and this I Am Invincible filly could be their next juvenile star. Stylish debut trial as she settled comfortably in midfield in her 1045m heat before starting a wide run from the 500m, going four deep but travelling well within herself as she easily reeled in the leaders inside the last 200m. Never came off the bit to win with plenty in hand in time that was comparable to the other heats over the distance (63.85; 35.60). Her stablemate CALGARY STAMPEDE, by Snitzel, impressed with a strong third and appeals as another youngster with good prospects.
I Am Invincible filly Ebhaar, trained by @SnowdenRacing1, wins a 2yo trial at Randwick on Friday from Lean Hero (Maurice) and Calgary Stampede (Snitzel). @tabcomau @EmiratesPark pic.twitter.com/LkJZSt9aAx

— Racing NSW (@racing_nsw) October 28, 2021
MISS GLENN (Richard &Michael Freedman): This 3YO filly by Written Tycoon went into the blackbook after two stylish trials in July and this effort confirmed that she is a filly with good potential. Went through the motions under no pressure to finish third in her 735m heat won by TIGHTWAD, giving the impression she could have easily had their measure if asked to extend. The heat time (43.88; 33.90) was equal fastest among the six trials over the distance.
Quality sprinter SPLINTEX won the open heat over 1045m (63.41; 34.50) but there was a brace of eye catching efforts behind him from SHADOW CRUSH, RESILIENT STAR, WAIHAHA FALLS and GRAND PIANO.
A @mark_mnracing one-two with Splintex holding off Shadow Crush to win a trial at Randwick on Friday with Resilient Star in third. @tabcomau pic.twitter.com/3CLIQsMqwO

— Racing NSW (@racing_nsw) October 28, 2021
The unraced maiden mare CONCORDIA posted the quickest time in the 1045m heats (63.06; 35.30). Previously noted maiden pair WEALTH ENOUGH (63.53; 35.31) and CARARTIE (63.70; 35.51) again impressed winning their heats, confirming they are in good form for their race debuts.
Shalaa filly Seven Veils, trained by @mark_mnracing, arrives to win a 2yo trial at Randwick over Diamond City (Ilovethiscity) and Invictus Lad (I Am Invincible). @tabcomau pic.twitter.com/ggLHc60Zd5

— Racing NSW (@racing_nsw) October 28, 2021
The fastest time in the six 735m heats was posted by the Mark Newnham-trained juvenile filly SEVEN VEILS (43.79; 33.80). She chased keenly to get the better of the leader and the form behind her is strong as fourth placed LADY LAGUNA came out of this heat to win her debut at Eagle Farm. In the other 2YO heat the Pierro filly UNCORKED responded well for a strong win in slower time (44.04; 33.89).
Pierro filly Uncorked, trained by @GaiWaterhouse1 & Adrian Bott, wins a 2yo trial at Randwick on Friday over @ANeashamRacing stablemates Birdonawing (Fastnet Rock) and Bohemian Daisy (Hellbent). @tabcomau pic.twitter.com/RxLgJbtHIa

— Racing NSW (@racing_nsw) October 28, 2021
NOTED TRIALS
XX Ebhaar; Miss Glenn
X Ahso; Baden Road; Calgary Stampede; Carartie; Concordia; Forzanini; Grand Piano; Invictus Lad; Orchid Road; Resilient Star; Sacred Alba; Seven Veils; Shadow Crush; Short Shorts; Sneaky Paige; Swift Sweet; Tightwad; Uncorked; Waihaha Falls; Wealth Enough;
An all the way win for @SnowdenRacing1 mare Forzanini in a trial at Randwick on Friday, she downed Twitch by half a length with Mensa Missile in third. @tabcomau pic.twitter.com/WyBpHHRZjj

— Racing NSW (@racing_nsw) October 29, 2021
NEWCASTLE October 27
Beaumont Track; Good 4
19 Heats – 2 x 1200m (Open); 9 x 1000m (4 Open; 5 Maiden); 8 x 800m (1 2YO; 2 Open; 5 Maiden)
A big morning for the Kris Lees stable with the leading trainer winning nine of the 19 heats. Several of his winners are set for good campaigns over the summer months..
ACQUITTED (Kris Lees): A 5YO newcomer from the UK by Night Of Thunder with two wins from 11 starts up to 1600m. Looks a nice prospect judging by the way he worked to the line strongly over the last 200m from back in the field for a soft win his 1000m heat (60.11; 34.26).
GRAND RUMORE (Kris Lees): Another of the stable's imports who has been down on form in three recent starts but she looks set to turn that around after an impressive win in her 1000m heat (60.70; 34.28). Settled at the back of the field before surging down the outside with an impressive sprint over the last 200m.
NO LAUGHING MATTER (Kris Lees): Progressive 4YO mare looks set for a good campaign after her strong win in a fast 800m heat (47.42; 32.78). Sat behind the speed but was always travelling strongly and had plenty in hand picking up the leader in the closing stages.
Another Lees runner STRANGE CHARM posted the fastest 1000m heat win (58.86; 33.61). The maiden heats over 1000m featured sharp wins by VIENNOISERIE (59.98; 34.91) and MINDREADER (60.45; 34.96). In the maiden heats over 800m there was a lot to like about the fast wins of ROCKBARTON RUBY (47.40; 33.15) and PREFER TO BE READY (46.57; 33.25).
NOTED TRIALS
XX Acquitted; Grand Rumore; No Laughing Matter
X Countofmontecristo; Diamond Tipped; Excelness; Gem Song; Jet Pack; La Brea; Mindreader; Moroccan Lad; Prefer To Be Ready; Rockbarton Ruby; Spellcatcher; Strange Charm; Two Big Fari; Viennoiserie