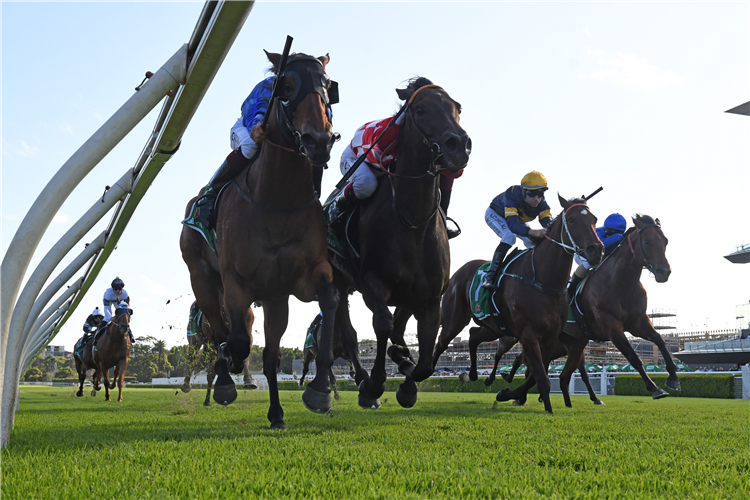 CANTERBURY June 8
RACE 1: (13) Lucky Variety (EW)
RACE 4: (10) Yggdrasil (EW)
RACE 6: (5) Pleading (EW)
RACE 7: (9) Karlstad (EW)
RACE 1: 13-6-5-14
RACE 2: 7-10-5-2
RACE 3: 9-8-6-3
RACE 4: 10-5-8-2
RACE 5: 3-5-6-4
RACE 6: 5-8-7-9
RACE 7: 9-4-5-12
TRIAL WATCH REPORT – June 8-11
NOTED TRIAL RUNNERS
CANTERBURY WEDNESDAY: Arch Of Titus (R3); Operative (R3); Bartoselli (R5)
GOSFORD THURSDAY: Exo Angel (R3)
RANDWICK SATURDAY: Blesk; Jai Lei; Waihaha Falls; Tamerlane; Cadre Du Noir; Gilmore; Lackeen; Cliff's Art
NEWCASTLE SATURDAY: Gilmore; Asva; Chameleon Choice; Resistible; Whinchat
RECENT TRIAL WATCH WINNERS: Osipenko; Kiku; Pinnace; Parlayed; Kibou; Saquon; Cinderella Days; Emilia Romagna; Cruel Summer; Cross Talk; Marieller; Extraweird; The Rockwell Place; Koshu; Baroque Road; Zapateo; Mazu; Vegas Raider; Baltic Coast; Divine Okay.
TRIAL POINTERS
RANDWICK June 3: The 3YO heat over 742m was won by Why Doubt in slow time (45.07; 34.28) but the runner-up BARTOSELLI worked well within himself and could have won the trial if put under the same pressure as the winner. The John O'Shea stablemates BLESK and JAI LEI took the eye finishing second and third in their 1045m heat won by the running Sneaky Paige (64.67; 34.66). They are in the right form to resume as both had their efforts noted in earlier trials last month.
GOSFORD JUNE 3: Maiden filly CHAMELEON CHOICE came from Warwick Farm to post the quickest time in the seven heats over 1000m (63.19; 37.52), doing it with some style to cruise through the heavy going and clear out to score by almost eight lengths. One placing in three starts last year before two recent trials that indicate she has improved.
HAWKESBURY May 30: In the 2YOs trials youngsters to make an impression included heat winner WHINCHAT (1000m – 59.70; 34.61) and the placegetter RESISTIBLE.
WARWICK FARM May 27: The open trials over 1200m featured an impressive late surge from last by the good mare CLIFF'S ART to finish second in her heat.
ROSEHILL May 20: The fastest win in the six 2YO heats over 900m was recorded by OPERATIVE (55.00; 34.95), an unraced Written Tycoon colt from the Waller stable who was too sharp for his rivals, sprinting home 3.3 lengths clear under an easy James McDonald ride.
RANDWICK May 16: In the 742m trials for 2YOs heat winner ASVA (46.34; 36.04) did enough to be noted as a youngster with good prospects.
BLACKBOOK REPORT
Eligible Blackbook Runners – June 8
SALE WEDNESDAY: Sacred Command (R8)
RECENT BLACKBOOK WINNERS: Vinco; Political Debate; Sibaaq; Vitruvius; Surreal Step; Brosnan; Extremely Lucky; Zapateo; Twin Stars; Soxagon; Rustic Steel; Premium Choice; Aleas; Indifference; Rights Of Man; Bandersnatch; Je Suis Belle; Milford; Juan Diva; Mamounia; Enterprise Prince; El Patroness; Mr Brightside.
Blackbookers – Selected June 4
(Follow for next 3 starts)
AMERICAIN ANGEL: Strong first-up placing. Fitter next time.
GRAND POPE: Eye catching return. Has obvious talent.
HIGH BLUE SEA: Good prospects with more experience.
HONEY POT: Sure to win a maiden.
SHARP 'N' SMART: Quality Kiwi. Watch his progress with interest.
WICKLOW: Not much went his way first-up. Sure to improve.