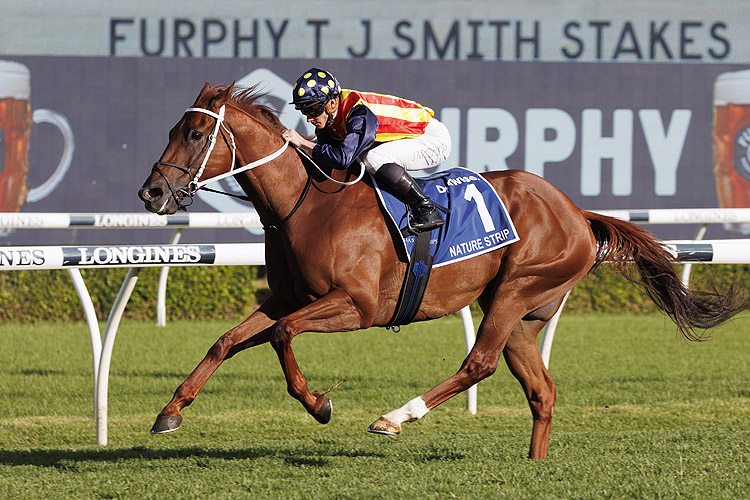 WARWICK FARM May 9
Inside Grass; Soft 7
13 Heats – 1 x 1200m (Open); 3 x 800m (3 Open); 3 x 797m (3 2YO); 3 x 393m (2 2 YO; 1 3YO); 3 x 790m (3 Maiden)
Ciaron Maher and David Eustace are making a habit of sending the right young horses to Sydney for suitable races.
They won two heats at this session with the promising unraced 2YO filly MINOKAWA and 3YO filly LADY FRAULEIN, a veteran of one start who has shown ample ability in a number of trials.
Spirit Of Boom filly MINOKAWA was having her second trial and showed plenty of natural speed to dominate her 793m heat (47.88; 37.25). Panzer Division filly LADY FRAULEIN failed at her only start on a soft track in September but she has won two her three subsequent trials with her strong victory in this 790m heat in fast time (46.27; 36.40) underlining that she will be hard to beat in a suitable maiden.
The fast mare LASHES had her skates again to win her 800m heat in a fast 46.36 (35.70) while the Joe Pride-trained CINDERELLA DAYS, an unraced 2YO by Astern, improved off two earlier trials to win her 793m heat in fast time (46.78; 36.58).
Easy work for @mcsmithracing mare Lashes as she wins a trial at Warwick Farm in the blinkers, running a slick 46.36 to down Rainbow Connection with Shadow Crush in third. @tabcomau pic.twitter.com/u0WpJynkSy

— Racing NSW (@racing_nsw) May 8, 2022
Good class performers to take the eye with their easy trials included TAKSU and LAURE ME IN. Watch the progress of AMERICAN WHISKEY, a Victorian maiden winner for the Hawkes stable who has been off the scene since 2020 but is now under the care of David Pfieffer.
NOTED TRIALS
X American Whiskey; Cinderella Days; High Plateau; Lady Fraulein; Lashes; Laure Me In; Micro; Minokawa; Shadow Vampire; Sunshine In Paris; Taksu
ROSEHILL May 6
Inside Grass; Soft 7
11 Heats – 8 x 900m (2 Open; 4 2YO; 2 3YO); 3 x 1030m (2 Open; 1 2/3YO)
NATURE STRIP stepped out for an easy 900m trial as he prepares to travel to the UK for his Royal Ascot appointment.
He finished a close third in his 900m trial but you only have to watch the replay to appreciate how much he had in the locker as James McDonald had him under a huge hold going to the line. He did his work early in the trial as he jibbed out of the gates to settle last before circling the field at his leisure to lead for home.
His stablemate EL BUENA sprinted up late to win the heat in a promising trial ahead of his return. Watch for him in a suitable sprint first-up.
SKY COMMAND (Gerald Ryan/Sterling Alexiou): Quality filly had her first trial since a stable switch from Gary Portelli and is ready to run first-up after sprinting away with his 900m heat in easily the fastest time of the session (54.77;34.36). She had the handy mare BITCOIN BABY for company until the 200m where Brenton Avdulla allowed the filly to sprint clear under a soft ride and win the heat by more than four lengths with more than nine lengths to third. Impressive work.
NOTED TRIALS
XX Sky Command
X Altivo; Caboche; El Buena; Fire Power; Kalino; Nature Strip; Osipenko; Ovoid; Vegas Raider; Zougotcha
TJ Smith & #TABEverest champ Nature Strip has an easy time in a trial at Rosehill on Friday, finishing a close third behind @cwallerracing stablemates El Buena and Sindacato. @tabcomau @7horseracing pic.twitter.com/x32imy8UQg

— Racing NSW (@racing_nsw) May 5, 2022
HAWKESBURY May 3
Inside Grass; Heavy 8
22 Heats – 1 x 1250m (Open); 9 x 1000m (); 12 x 800m
Godolphin will launch a strong Brisbane carnival assault off the back of these trials.
KEMENTARI was the headline act and showed he was in ripe form for his next target race after an easy 800m trial that saw him get into his work late and surge through the line in fine style. He finished fifth but it was the manner of his work after the line that really took the eye. PAULELE, ROHERYN and ZAPATEO also had quiet trials but did more than enough to ensure they are ready to perform.
SEPOY STAR (Brad Widdup): I'm sure this lightly raced 4YO mare will be well fancied when she resumes. She had only two starts last winter for a Kembla Grange win and Kensington second and the way she savaged the line with a sharp turn of foot over the last 50m to win her 1000m heat (60.54) was a quality bit of work. This was her second recent trial and the top local stable has her ready to run.
O'TYCOON (Bjorn Baker): Another impressive trial win that kept the unbeaten record of this Written Tycoon colt intact since he made his first trial appearance in December. He again dominated his 800m heat (48.77; 34.03), leading under no pressure with a lovely relaxed action that conserves his energy. Ready to win when they decide to press the button.
NOTED TRIALS
XX O'Tycoon; Sepoy Star
X Controlocracy; Esprit Lucand; Exile; Freeways; Indifference; Kementari; Kyalla; Outlawed; Rock Chant; Sandpaper; Sheer Elegance; Shirsov; Siberian Larch; Tocomah; Zapateo