3 minute read
PA & HR/ Horse Logistics Manager at Eureka Stud.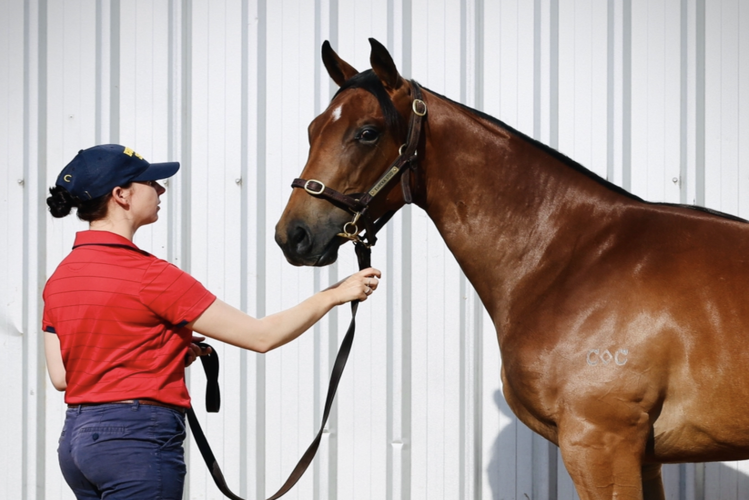 Jordan Priest
Age: 29

Current job title and time in that role:
Executive PA & HR/Horse Logistics Manager at Eureka Stud. I've been doing this for 18 months now, but I've been working the sales for them for four and a half years. I'm also owner and director of Darling Downs Riding Centre which educates horse riders to competition level with a strong focus on re-educating retired racehorses.

How did you get into the industry?
When I was a groom for top dressage rider Lizzie Wilson-Fellows when I needed some more money to pay for my competition horses, so Lizzie called Darren Smith whose stables were opposite her farm and got me a job there morning and afternoons seven days a week.
What was your first job in racing?
As above, Darren Smith's Racing Stables, my main jobs were cleaning stables, hosing and lunging racehorses. I then went on to work for Patinack Farm pre-trainers in Hawkesbury, before returning back to Newcastle to begin my university degree (Bachelor of Business majoring in management) and became a vet assistant for the travelling vet who did Darren Smith's and Evergreen Stud's vet work, which eventually led to me going to Magic Millions Sales as a leader for Evergreen.
What is your first racing memory?
Running home from school to my friend's house to watch Media Puzzle win the 2002 Melbourne Cup.
Who has been the biggest influence on your career to date?
There are two standouts as major influences in my career:
Lizzie Wilson-Fellows, who trained me from a young age up to competitive level in dressage, show jumping and eventing. But it wasn't just the riding she taught me, she helped build my business brain and prepared me for getting into the industry. She taught me how to retrain thoroughbreds (Lizzie has retrained thoroughbreds who went on to compete at international level) and taught me how to break and train young horses, a skill I use every single day still.
Scott McAlpine is one of the best horsemen I know, but he is also exceptional at managing staff and general farming. Scott and the McAlpine's have been a huge influence for showing me how to create strong relationships with people within the thoroughbred industry and how important it is to always do the right thing by people and act transparently. The McAlpine family has a massive work ethic, which has been inspiring to me and critical to learn from when I was establishing my own business.
What is the one job you would like and why?
I always thought it would be really cool to be able to work with Katie Page. I find her inspiring because she is not only a horse woman but also a business leader. She is inspiring for women within the industry and is an active promoter of women in sports and that is something I really admire.
If there is one thing you could change about the racing / bloodstock industry in Australia what would it be and why?
It would be great to get some more awareness within the racing/ bloodstock industry into the rehoming of racehorses once they have retired. I do it as a bit of a love job, but there really isn't money to be made from retraining and selling retired racehorses once you add up all the hours spent doing it properly. If we could change the industry to be heavy promoters of what happens when they retire I think we could really get somewhere with it all. I think we are already on the right path to improvements, but I would love for everybody to care where they go when they have retired instead of the select few owners, trainers and studs.
What do you think racing could do to attract more people?
I think we need to think of ways in particular to attract more people in their 20's, 30's and 40's. These people are at an age where they are financially stable and can spend some money going to the races or buying into a racehorse. We need the younger generation to come through to continue the breeding and training of racehorses.

We need to promote the reasons we are all in the industry and the love we have for these horses.
The Thrill - watching your horse cross the finish line first, is there anything better?
The Gamble - going into your first broodmare to breed a yearling for the sales, anxiety kicks in when you're not sure what that mare is going to give you, then the long months to follow to get that yearling into the sale ring, and the celebrations after the gabel goes down.
The Joy watching a horse you bred, killing it on the track, even better when you still own the mare.
The Excitement - looking through 800 yearlings at the sales, to have a bloodstock agent bidding on one for you in the ring. Not being able to take a breath while you see if it's going to be yours!
All of the above is possible, but few of the Aussie population would know they can get into this….or what Joy it can bring to friends and family. Promote Promote Promote - The Thrill, The Gamble, The Joy, The Excitement!
What effect do you think the ongoing Covid pandemic will have on the Australian industry?
Things are still looking strong in the market, yearlings are still selling. I think we were lucky racing still continued during the pandemics shut down. It is definitely making it tricky for studs to get sales staff, but all in all I think it has been super positive and thankfully something that offered entertainment while things were looking really grim during the pandemic. Who knows it might bring in some more investors to the industry if people are bored at home! Increases in the use of technology to continue to operate will definitely continue, we've already seen online yearling and stallion parades. We are super lucky in Australia compared to overseas so I am conscious not to get smug and remember other countries are heavily feeling the effects.
If you didn't work in racing what would you do?
If I didn't work in racing I would be a paramedic for sure, they are unbelievable in such a high pressure role. I am the WHS officer at Eureka and am the annoying one who asks too many questions in the annual First Aid course when everybody wants to go home.
Your favourite racehorse of all time?
BOOMSARA. He's the best! He won the Magic Millions 3YO Guineas, watching him win was one of the best days of my life! He brought so much joy to the family and the after party was unreal! Hopefully Scott will let me have him when he retires and not give him to Angus as a lead pony!